2018 Mercedes-AMG CLA45

Car and Driver
9/5/2018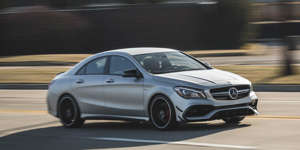 Overall Rating:
Explosive takeoffs and extraordinary cornering are standard on the unholy Mercedes-AMG CLA45, a juiced-up version of the automaker's smallest sedan. The pocket-size rocket houses a 375-hp turbocharged four-banger that shoots it to 60 mph in 3.8 seconds-hot damn! But its aggressive styling is matched by an equally aggressive ride. Likewise, its compact competitors are as impressive at the track and more merciful on the backs of their passengers. Thankfully, the compact AMG has ample cargo space and is surprisingly fuel efficient. Therefore, those willing to take the good with the bad will appreciate the sensory arousal that this vehicular Viagra regularly provides.
What's New for 2018?
Research the Mercedes-Benz CLA-Class on MSN Autos | Find a Mercedes-AMG CLA45 near you
Until the new Mercedes-Benz A-class sedan arrives in America, the CLA-class—including this hot-rod AMG version—represents the company's least expensive models. While the AMG CLA45 received more power for 2017, the latest changes are small. Buyers can now choose the new AMG Performance Studio package, which includes unique AMG equipment and distinct yellow accents inside and out.
Trims and Options We'd Choose
Theoretically, the CLA45 only has two true competitors: the BMW M2 and the Audi RS3. Both are more expensive in base form than the CLA45, however, which starts at $51,395 ($450 more than last year). However, the CLA45 also competes against its kin: the GLA45 hatchback ($51,595) and the AMG-tuned C-class sedans, which start at $54,395 for the 362-hp C43. Loaded up with options, our CLA45 test car crested $69,000—an amount that approaches the entry point for the more desirable 503-hp C63 S sedan. Assuming we were to prefer the CLA45 over all of these (truthfully, it's our least favorite), we would keep the price low and promote performance with our options, such as: 
• AMG Dynamic Plus package (sport suspension with adaptive dampers, limited-slip front differential, Race drive mode, top speed increased to 167 mph) for $2800
• AMG performance exhaust system ($650)
These add-ons help preserve the impressive track stats of our test car without bloating its bottom line. Left off the list were options such as the AMG performance seats ($2250), the Driver Assistance package (adaptive cruise control and lane-keeping assist for $1500), and the Black Red Cut interior package, which costs $1650. The final tally is $54,845—slightly less than a no-options RS3. 
For details about the 2017 Mercedes-AMG CLA45, see our in-depth review.
Continue Reading:

• 2018 Mercedes-AMG CLA45 – Overview and Pricing
• Engine and Transmission
• Fuel Economy and Driving Range
• Performance and Driving Impressions
• Interior and Passenger Space
• Audio and Infotainment
• Cargo Space and Storage
• Exterior Design and Dimensions
• Safety and Driver Assistance
• Warranty and Maintenance Coverage
• Video Overview: Interior, Infotainment, Cargo Space
Follow MSN Autos on Facebook and Twitter