2018 Nissan 370Z: What You Need to Know

US News & World Report - Cars
10/26/2017
The 2018 Nissan 370Z exhibits a rawness reminiscent of a traditional sports car, when muscle was a necessity to wield the car, and no computerized systems compensated for reckless antics. Some enjoy these rough edges, but overall, they lower the 370Z's position in our ranking.
The 2018 Nissan 370Z is ranked:
Is the Nissan 370Z a Good Car?
Despite the 370Z's low standing in our ranking of the best sports cars, this is not a bad car; it's a very specific car. Drivers who like the taste of an old-school sports car will find its coarse driving dynamics enjoyable. Spirited drivers looking to spice up their commute may find it too rough for a comfortable daily driver. The final call on this is purely personal.
Should I Buy the Nissan 370Z?
Nissan enthusiasts who salivate over the trenchant GT-R – but can't afford its six-figure sticker price – will find a lot to like about the 370Z. If you're on the fence between brands, you'll favor the 370Z if your personal taste leans toward a raw driving experience with few frills to distract from the road. Shoppers need to decide if they like this level of boorishness or if they need to have an occasional back seat (see the Ford Mustang) or favor fresher technology (as demonstrated in the Audi TT).
We Did the Research for You: 62 Reviews Analyzed
This overview includes analysis of 62 professional Nissan 370Z reviews, combined with details such as performance specs, a rundown of standard features, and fuel economy estimates.
Nissan last redesigned the 370Z for the 2009 model year and has since made minor tweaks but no substantial changes. As a result, our 2018 Nissan 370Z review includes relevant research from the 2009 through 2018 model years.
Why You Can Trust Us
U.S. News & World Report, which has been in business for more than 80 years, provides expert advice for life's important decisions. We've been ranking and reviewing cars, trucks and SUVs for a decade, and we publish annual awards like the Best Cars for the Money. To ensure objectivity, our Best Cars team does not accept expensive gifts or trips from automakers, and an outside team handles our advertising.
How Much Does the Nissan 370Z Cost?
The Nissan 370Z is one of the most expensive models in our sports car rankings. 370Z coupes start at $29,990 and top out at $39,590 for the Touring trim. The 370Z roadster comes in three trim levels, with starting prices ranging from $41,820 to $49,400. Expect to pay $45,690 or more for the performance-oriented Nissan 370Z Nismo Tech.
Check out our U.S. News Best Price Program for great savings at your local Nissan dealer. You can also find excellent manufacturer incentives on our Nissan deals page.
Nissan 370Z Versus the Competition
Which Is Better: Nissan 370Z or Chevrolet Camaro?
Powertrain options in the Chevrolet Camaro beat the 370Z's specs for fuel economy (with the standard turbocharged four-cylinder) and horsepower (the V8-powered ZL1 has a 650-horsepower rating). Performance options like Magnetic Ride Control make the Camaro both a comfortable daily driver and a track-worthy sports car.
 Which Is Better: Nissan 370Z or Ford Mustang?
Like the Chevrolet Camaro, the Ford Mustang's numerous powertrain options, approachable handling, and high-class cabin give it an edge over the 370Z in our rankings. The Mustang also does better in crash tests than most sports cars.
Which Is Better: Nissan 370Z or Audi TT?
Shoppers with the ability to spend a bit more may want to consider the Audi TT. This sports car is light and lively, and though it isn't meaty like the 370Z, the TT is refined inside and out. A cutting-edge driver's display is among the TT's standout tech features.
370Z Performance
370Z Engine: Meaty V6
The 3.7-liter V6 engine powering the 370Z feels almost as authoritative as a V8. It comes standard with a six-speed manual transmission, and the available SynchroRev Match system does an excellent job adjusting the throttle for a cleaner shift. A seven-speed automatic transmission is available. The Nismo Tech edition (which has the same size engine and same transmission options) raises the horsepower rating from 332 to 350.
370Z Gas Mileage: Typical for a V6
The 370Z gets up to 19 mpg in the city and 26 mpg on the highway. While that's thirstier than rivals with a four-cylinder engine, it's typical for a V6-powered sports car.
370Z Ride and Handling: Planted and Athletic
The rear-wheel-drive 370Z is a joy to drive through twisty canyons, and it's capable of holding its own on the track. Its precise steering and first-rate grip add to its athletic appeal. The sport-tuned suspension minimizes unwelcome body movements but may feel overly stiff for those unaccustomed to riding in an authentic sports car.
Read more about performance »
370Z Interior
How Many People Does the 370Z Seat?
Because reviews are mixed on the comfort of the two-person 370Z, we recommend taking an extended drive to judge the cushions, bolsters, and adjustments for yourself. Pay particular attention to the visibility – if you find the view out the rear too limiting, you'll want to buy a trim that comes with a rearview camera. Cloth upholstery is standard in this sports car, and seating options include leather seats, heat, and Recaro sport seats.
370Z and Car Seats
Non-Nismo 370Zs have a tether anchor for the front passenger seat.
370Z Interior Quality
Like seating comfort, appraisals of the 370Z's interior styling depend on personal taste. The design itself is getting long in the tooth (this is the ninth production year for the current generation), but enthusiasts welcome the driver-focused cockpit. Materials are a mix of cloth and hard plastic, with higher quality elements such as leather, Alcantara, and aluminum showing up in upper trim levels.
370Z Cargo Space
Underneath the hatchback of the 370Z is 6.9 cubic feet of cargo space – enough room for a couple pieces of luggage, but not much else. In comparison, the Audi TT has as much as 12 cubic feet of trunk space.
370Z Infotainment, Bluetooth, and Navigation
The description of the 370Z as a driver's car is evident when you look at the car's technology. Its infotainment system is basic: The standard Bluetooth connection doesn't support audio streaming, and only the top two trims come with a touch screen, navigation, and a rearview camera. The technology is user-friendly, though, and shoppers who prefer a distraction-free cockpit will have few complaints.
370Z Reliability
Is the Nissan 370Z Reliable?
2018 reliability ratings aren't available yet. Recent 370Z models from this generation – which are nearly identical – received predicted reliability scores of between three and 3.5 (out of five) from J.D. Power.
Nissan 370Z Warranty
The 2018 370Z comes with a three-year/36,000-mile basic warranty and a five-year/60,000-mile powertrain warranty.
370Z Safety
370Z Crash Test Results
The 370Z – like most low-production models – doesn't undergo crash test analysis by the Insurance Institute for Highway Safety or the National Highway Traffic Safety Administration.
370Z Safety Features
The 370Z doesn't come standard with any advanced safety technology. A rearview camera comes only in select trims.
Which Nissan 370Z Model Is Right for Me?
Nissan 370Z models are split into three main categories: coupe (with four trim levels to choose from), roadster (available in three trims), and the high-performance Nismo Tech. The non-Nismo cars come with a 332-horspower V6, paired to either a standard six-speed manual transmission or an available seven-speed automatic. More details on the notable standard features of each trim is listed below. Unless you're in the market for a minimalistic driver's car, we recommend the 370Z Sport. Between its Bose sound system and two active noise systems, your audio experience is enhanced. Its price strikes a good middle ground between the base model and higher trim levels, though it does lack the Sport Tech's touch screen and navigation.
Nissan 370Z
The base 370Z coupe ($29,990) comes with cloth seats, automatic climate control, Bluetooth, a USB port, a six-speaker sound system, iPod integration, a proximity key, and push-button ignition. Upgrading from the manual transmission to the automatic adds $1,400 to the price; add $11,830 to the base MSRP for the convertible roadster.
Nissan 370Z Sport
The 370Z Sport comes only as a hardtop coupe, with prices starting at $33,570. Standard features include an eight-speaker Bose premium audio system, active noise cancellation (a system to minimize low-frequency engine noise), and active sound enhancement (which boosts the sound of the engine in the cockpit). Larger wheels and a limited-slip differential are also included.
Nissan 370Z Sport Tech
Navigation, a rearview camera, a 7-inch touch-screen display, voice recognition, and satellite radio are among the upgrades added to the 370Z Sport Tech. This $37,070 trim is only available in the coupe body style.
Nissan 370Z Touring
Leather seats with heat and power adjustments come in the range-topping 370Z Touring trim, along with most standard features from the Sport Tech edition. Choices under this trim level include the 370Z Coupe Touring ($39,590), the 370Z Roadster Touring ($46,570), and the performance-oriented 370Z Roadster Touring Sport ($49,400).
Nissan 370Z Nismo Tech
Nissan has slightly adjusted its top performance edition of the 370Z for 2018, releasing it as the 370Z Nismo Tech ($45,690). It's powered by a 350-horsepower V6 mated to a six-speed manual transmission; you can upgrade to a seven-speed automatic transmission with paddle shifters for $1,400. Nismo models have sport-tuned brakes and sport-tuned suspension and exhaust systems. They also include a limited-slip differential, Recaro sport seats with Alcantara inserts and leather trim, and the same level of infotainment technology as the Sport Tech edition.
Check out our U.S. News Best Price Program for great savings at your local Nissan dealer. You can also find excellent manufacturer incentives on our Nissan deals page.
The Final Call
Unlike cars that can speak to many types of buyers, the 2018 Nissan 370Z calls out specifically to one market: enthusiasts yearning for a rear-wheel-drive coupe that handles like a traditional sports car. In other words, the emphasis is on the driver, the road course, and little else. Spirited drivers will thrill over the robust engines and athletic handling that Z cars are renowned for, with few technology diversions to water down the experience. Others will find this effect too brash for their taste.
Don't just take our word for it. Check out comments from some of the reviews that drive our rankings and analysis.
Read the full 2018 Nissan 370Z reviewon U.S. News & World Report for more details, photos, specs and prices.
More from U.S. News & World Report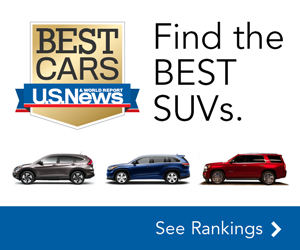 US News & World Report - Cars