2018 Nissan Versa Note – Audio and Infotainment

Car and Driver
10/10/2018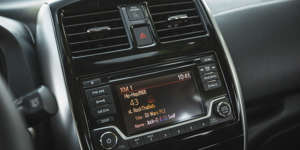 Audio and Infotainment Rating:

© Car and Driver Interior and Passenger Space

Beginning in spring 2018, Nissan began fitting the Versa Note with a standard 7.0-inch touchscreen; earlier models had either a 5.0-inch display or a 5.8-inch touchscreen. The hatchback does offer an optional 4G LTE mobile hotspot, but smartphone integration is hampered by the lack of Apple CarPlay and Android Auto.
Infotainment Features
Both the Honda Fit and the Kia Rio have more available infotainment features, but neither offer mobile Wi-Fi. On the Versa Note, that dealer-installed accessory costs $495. Our test car was equipped with the older 5.8-inch touchscreen, which had minimal functionality and low-resolution graphics. Although the Versa Note's stereo is only available with four speakers, the top-tier SR trim has an optional Rockford Fosgate system for $595. It includes an amplifier and two 6.0-inch subwoofers in the cargo area, but they must be disconnected to access the adjustable load floor.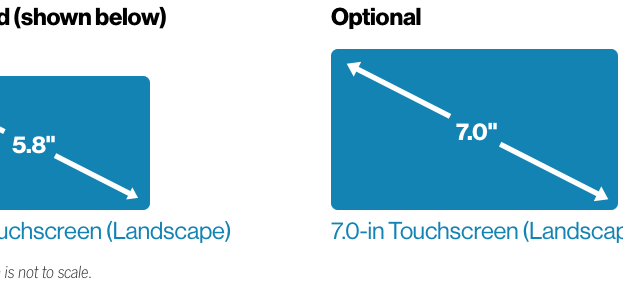 Audio and Infotainment
© Car and Driver
Infotainment Performance
Research the Versa Note on MSN Autos | Find a Nissan Versa Note near you
Infotainment Controls


We measure the electrical current that each USB port provides. All USB ports found in a vehicle provide 5.0 volts, per the USB standard. Current, measured in amps, varies and dictates the charge times of devices. The higher the amps, the quicker a device's charge time. Not all USB devices are created equal. Most modern smartphones can charge at 2.0 amps, while slow or stagnant charging can result from using current at 1.0 amp or lower when the device is in use.
Test Results: USB Performance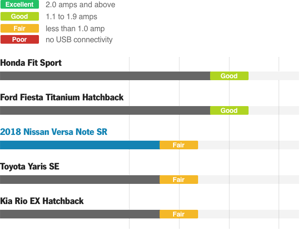 Audio System and Features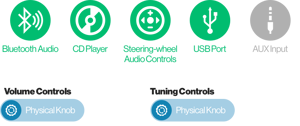 Continue Reading:
• 2018 Nissan Versa Note – Overview and Pricing
• Engine and Transmission
• Fuel Economy and Driving Range
• Performance and Driving Impressions
• Exterior Design and Dimensions
• Audio and Infotainment
• Interior and Passenger Space
• Cargo Space and Storage

Read more auto reviews on MSN Autos