2018 Nissan Versa Note – Performance and Driving Impressions

Car and Driver
10/10/2018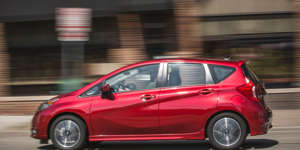 Performance and Driving Impressions Rating:

The Nissan Versa Note produces zero driving excitement, but it does provide comfortable transportation to and from destinations. Those who care about passing power or handling ability should know that the Nissan does not.
Research the Versa Note on MSN Autos | Find a Nissan Versa Note near you
Acceleration
The Versa Note is not peppy or quick, but it pulls away from stoplights without hesitation-or urgency. On the highway it is best experienced at steady speeds, with any hard acceleration causing a noisy outburst from the four-cylinder engine and continuously variable automatic transmission (CVT) combination. The gas-pedal response is always dull, with ample application of the right foot needed to coax the car ahead.
Test Results: Acceleration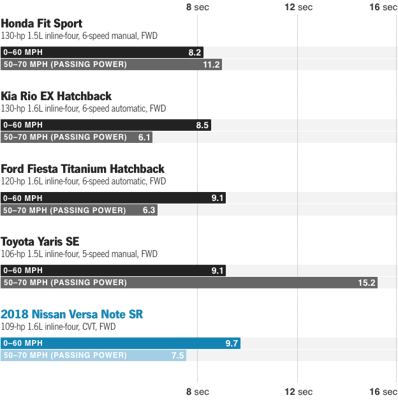 Ride, Handling, and Steering
During our time with the Versa Note SR, which wore 16-inch wheels versus the standard 15-inch set, we were impressed with its smooth ride quality that was only disrupted on uneven roads. Still, its poor handling was most apparent when hitting an exit ramp at increasing speed and feeling the body lean awkwardly. The hatchback's demeanor was calmer at a slower pace where its small size made driving in traffic and tight spaces easy. While the Nissan's lifeless steering felt slow and heavy, it won't bother people who simply want their trip to be as short as possible.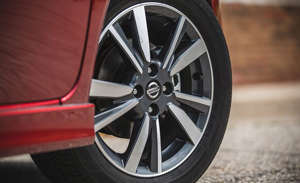 Braking
Hard stops at highway speeds are not a normal part of daily driving, but in the event of an emergency, the ability to do so is important. Unfortunately, the Versa Note had the longest stopping distance among these competitors. Otherwise, its firm brake pedal reacted smoothly to our inputs in mixed driving conditions.
Test Results: Maximum Braking Capability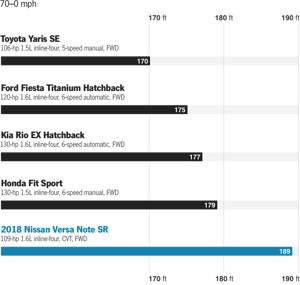 Continue Reading:
• 2018 Nissan Versa Note – Overview and Pricing
• Engine and Transmission
• Fuel Economy and Driving Range
• Performance and Driving Impressions
• Exterior Design and Dimensions
• Audio and Infotainment
• Interior and Passenger Space
• Cargo Space and Storage

Read more auto reviews on MSN Autos