2018 Porsche 718 Cayman – Fuel Economy and Driving Range

Car and Driver
8/9/2018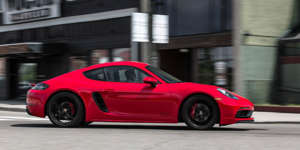 Fuel Economy Rating:

Despite lopping off two cylinders from 2016's engines, the four-cylinder 718 Cayman is no more fuel efficient than the six-cylinder model before it. That being said, the 718 Cayman sips fuel at a reasonable rate given its potent performance.
What's New for 2018?
Research the Porsche 718 on MSN Autos | Find a Porsche 718 Cayman near you
The 718 Cayman and Cayman S's EPA fuel-economy ratings are unchanged for 2018. The new GTS trim isn't as efficient as the other two-at least as far as the EPA is concerned.
Fuel Economy Ratings Compared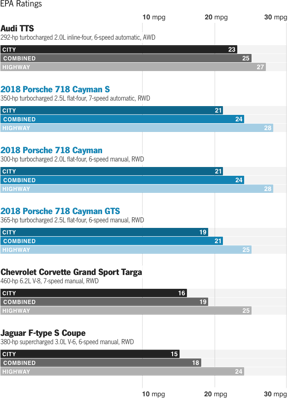 We've devised our own fuel-economy test in an attempt to replicate how most people drive on the highway. Our procedure entails a 200-mile out-and-back loop on Michigan's I-94 highway. We maintain a GPS-verified 75 mph and use the cruise control as much as possible to mimic the way many drivers behave during long trips.
Test Results: Highway Fuel Economy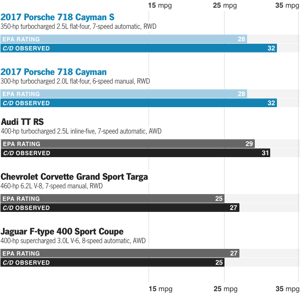 Test Results: Highway Range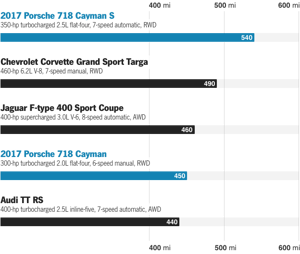 The fuel economy ratings for the 2018 Porsche Cayman are unchanged from 2017. To learn more about the fuel-economy ratings, read our in-depth review of the 2017 Porsche Cayman and Cayman S.

Continue Reading:
• 2018 Porsche 718 Cayman - Overview
• Engine and Transmission
• Fuel Economy and Driving Range
• Performance and Driving Impressions
• Interior and Passenger Space
• Audio and Infotainment
• Cargo Space and Storage
• Exterior Design and Dimensions
• Safety and Driver Assistance
• Warranty and Maintenance Coverage
• Video Overview: Interior, Infotainment, Cargo Space