2018 Porsche 718 Cayman – Interior and Passenger Space

Car and Driver
8/9/2018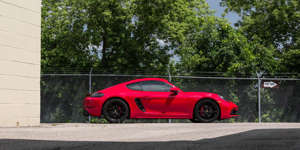 Interior Rating:

Clear gauges, comfortable seats, and well-placed controls give the Cayman's cabin a form-fitting feeling, not unlike a superhero's suit. Still, a plethora of hard buttons and a number of cheap plastic pieces prevent the interior from standing out in this class.
What's New for 2018?
Research the Porsche 718 on MSN Autos | Find a Porsche 718 Cayman near you
Buyers of the new-for-2018 GTS model are treated to faux-suede interior accents and embroidered GTS logos on the headrests. The Sport Chrono package-optional on 718 Cayman and Cayman S models-is standard on the GTS and adds a lap timer to the dashboard.
Front-Seat Passenger Space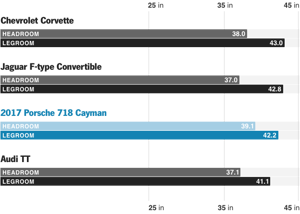 To measure a vehicle's interior quietness, we use a sound meter to take two measurements at the height of the driver's ear while traveling at 70 mph. We then average the results. As illustrated by the graphic below, decibels are a logarithmic unit, so a rating of 60 decibels isn't 1.5 times the sound pressure of 40 decibels; it is 10 times the sound pressure.

Test Results: Interior Sound Levels at 70 mph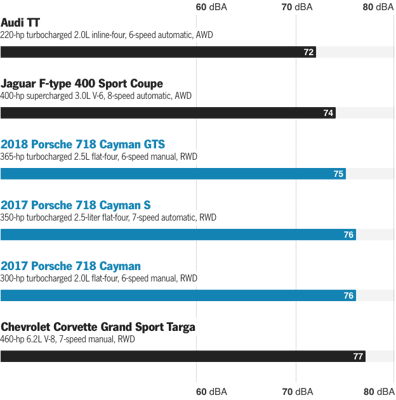 Roof pillars protect occupants in a rollover crash, but they also create blind spots. We determine visibility by measuring the location and width of each pillar using an H-Point Machine and a laser beam (surrogates for a driver and eyeball, respectively). Front and rear visibility are calculated by subtracting the viewable area blocked by the pillars from a perfect 180-degree score.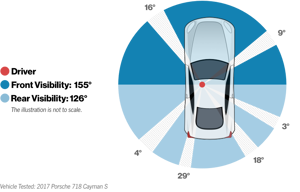 The rest of the interior of the 2018 Cayman is the same as the 2017 model. To see more about the interior, read our in-depth review of the 2017 Porsche Cayman and Cayman S.

Continue Reading:
• 2018 Porsche 718 Cayman - Overview
• Engine and Transmission
• Fuel Economy and Driving Range
• Performance and Driving Impressions
• Interior and Passenger Space
• Audio and Infotainment
• Cargo Space and Storage
• Exterior Design and Dimensions
• Safety and Driver Assistance
• Warranty and Maintenance Coverage
• Video Overview: Interior, Infotainment, Cargo Space
Follow MSN Autos on Facebook and Twitter