2018 Range Rover Sport – Cargo Space and Storage

Car and Driver
9/21/2018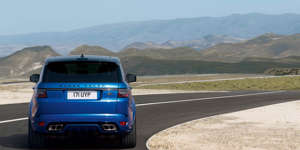 Cargo Space and Storage Rating:

The Range Rover Sport Supercharged has less cargo space than many competitors, but it still offers enough storage for most everyday usage. Cabin cubbies are ample, especially in the front row.
What's New for 2018?
Research the Land Rover Range Rover Sport on MSN Autos | Find a Land Rover Range Rover Sport near you
Land Rover hasn't changed anything that would require our retesting the Range Rover Sport Supercharged's cargo-hauling capability for 2018. We expect it to hold the same number of our carry-on suitcases and provide just as much space for smaller items throughout its various cabin cubbies and bins as the 2017 model in the illustrations below.
Carry-On Luggage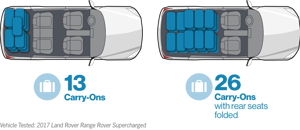 Lift-Over Height

This vehicle's cargo and storage areas are unchanged for 2018, so see our in-depth review of the 2017 Range Rover Sport Supercharged for more details.
Continue Reading:
• 2018 Range Rover Sport – Overview and Pricing
• Engine and Transmission
• Fuel Economy and Driving Range
• Performance and Driving Impressions
• Interior and Passenger Space
• Audio and Infotainment
• Cargo Space and Storage
• Safety, Driver Assistance, and Warranty