2018 Volkswagen Golf Alltrack

Car and Driver
7/24/2018
WHAT WE LIKE: The Volkswagen Golf Alltrack's ability to carry people and stuff comfortably through a wide variety of conditions while providing a genuinely satisfying driving experience. More attractive to our eye than most crossovers but just as capable as many of them, this all-wheel-drive wagon proved to be a fine winter warrior on its Nokian Hakkapeliitta R2 tires and has ably hauled firewood, large coolers, and even 600 pounds of sand in its cargo area. It's "one of the greatest arguments against compact SUVs," asserted one logbook commenter. As we now enter summer road-trip season, the Golf continues to earn praise for its smooth and strong 1.8-liter turbocharged inline-four, its solid feel, and the distinctive Great Falls Green Metallic exterior color that one driver described as " '80s-tastic."
For even deeper coverage of the Golf Alltrack, view our Buyer's Guide in-depth review.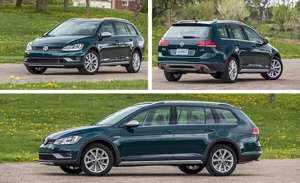 WHAT WE DON'T LIKE: It's telling that our qualms with the Alltrack are nitpicky details. Early on in the car's stay, some remarked that the clutch pedal was squeaking annoyingly; the noise was worse in cold weather and has since disappeared. Online copy chief Rusty Blackwell also felt pestered by the low-washer-fluid warning, which aggressively and frequently flashes a message in the gauge cluster while also sounding a chime loud enough to awaken his passenger from a nap.
WHAT WENT WRONG: Technical editor David Beard noticed abnormally dim illumination from the halogen headlights while driving on a country road. We took the car to the dealer, where technicians confirmed that the lights were pointed too low and readjusted them to factory spec. While the car was still fitted with the Nokian winter tires, a few drivers experienced false and intermittent low-tire-pressure warnings. The car that cried wolf eventually did get a nail in one of those tires, which we had patched for $20; we haven't noticed the issue since refitting the factory all-season rubber. A rock hit the Golf's windshield on the freeway and cracked it, which necessitated a replacement for $533. Finally, a routine 10,000-mile service cost $134 and included an oil change and a multipoint inspection.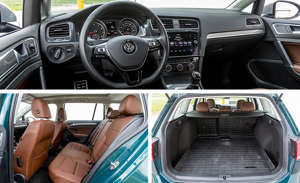 WHERE WE WENT: The Alltrack has mostly stayed in Michigan, making a few trips north to visit various lakes and other outdoorsy destinations.
Months in Fleet: 7 months Current Mileage: 10,709 miles
Average Fuel Economy: 26 mpg
Fuel Tank Size: 14.5 gal Fuel Range: 370 miles
Service: $134 Normal Wear: $0 Repair: $0 Damage and Destruction: $553