2019 Chevrolet Bolt EV – Interior and Passenger Space

Car and Driver
10/12/2018
Interior and Passenger Space Rating:

Although spacious and practical, the Chevy Bolt EV's interior quality and appearance don't befit its $30,000-plus price point. It looks and feels more as if it belongs in a cheaper economy car. It's clear where General Motors spent its money: on the Bolt's big battery.
What's New for 2019?
Research the Chevrolet Bolt EV on MSN Autos | Find a Chevrolet Bolt near you
The Bolt enters 2019 without changing the interior design and materials or updating the standard features and options. While it remains incredibly spacious inside-and crossover lovers will enjoy its raised seat height-the Chevy's many hard plastics and unremarkable list of features (no power-adjustable seats are one example) continue to draw comparisons with cheaper consumer cars.
Front-Seat Passenger Space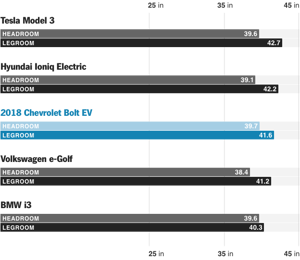 Back-Seat Passenger Space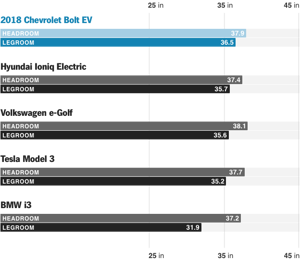 Blind Spots, Visibility, and Obscured Roadway
Roof pillars protect occupants in a rollover crash, but they also create blind spots. We determine visibility by measuring the location and width of each pillar using an H-Point Machine and a laser beam (surrogates for a driver and eyeball, respectively). Front and rear visibility are calculated by subtracting the viewable area blocked by the pillars from a perfect 180-degree score.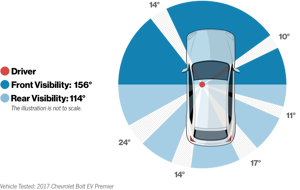 The cabin of the 2019 Bolt EV is the same as the 2018 version. For more information on the interior, read our in-depth review of the 2018 Chevrolet Bolt EV.

Continue Reading:
• 2019 Chevrolet Bolt EV – Overview and Pricing
• Powertrain and Charging
• Fuel Economy and Driving Range
• Performance and Driving Impressions
• Audio and Infotainment
• Cargo Space and Storage
• Exterior Design and Dimensions
• Interior and Passenger Space
• Safety, Driver Assistance, and Warranty
• Video Overview: Interior, Infotainment, Cargo Space

Read more reviews of the latest EVs and hybrids on MSN Autos