2019 Chevrolet Bolt: What You Need to Know

US News & World Report - Cars
10/16/2018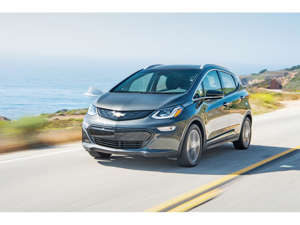 The 2019 Chevrolet Bolt is a lively electric vehicle with a spacious cabin and a generous helping of standard features. It also has a longer electric-only range than other EVs at or below its price point. As an EV, however, the Bolt is an outlier that ranks in the bottom half of a very competitive class.
The 2019 Chevrolet Bolt is ranked:
Is the Chevrolet Bolt a Good Car?
The Chevrolet Bolt is a good compact car and a great all-electric vehicle. However, many rivals offer nicer interiors and comparable features for less. For its price, the Bolt has one of longest all-electric ranges of any EV on the market, but it also has ample power and brisk acceleration that rivals the best in the class. Its long list of standard equipment further adds to its appeal. However, the Bolt's interior quality is a little disappointing considering this vehicle's base price, and insufficient cushioning makes the seats feel uncomfortable on longer trips.
Should I Buy the Chevrolet Bolt?
If you're considering the Chevrolet Bolt EV, chances are you're looking for an all-electric vehicle with a long range. In that case, this vehicle is a great pick. Outside of a Tesla model, it has one of the longest ranges available among electric vehicles. You can charge this car overnight with a 240-volt charger, or use the available DC fast charger to get up to 90 miles of range in a half an hour. Unlike some hybrids, the all-electric Bolt feels lively when taking off from a stop or passing other cars on the highway.
The Bolt is a good car to buy, but it's pricey. Chevrolet has it starting around $36,620. There are federal and state tax credits available to offset that price, but you might want to consider the competition as well. The Nissan Leaf is another electric vehicle starting at around $30,000, and the Hyundai Ioniq hybrid is expected to cost a little more than $22,000. Both are likely to save you a little money over the Bolt. The Tesla Model 3 has an even longer range, but its starting price is almost $13,000 higher.
Should I Buy a New or Used Chevrolet Bolt?
Chevrolet launched the Bolt as an all-new car for the 2017 model year. Neither the 2018 nor 2019 Bolt have received any significant updates. While this often means that you'd save money by shopping used, it isn't so clear cut here. The federal tax incentive available for the Bolt EV ($7,500 as of this writing) does not apply to used vehicles. Because of that, you might actually save money with a new Bolt in some circumstances.
To research some other models in this generation, check out our reviews of the 2017 and 2018 Chevrolet Bolt. If you decide an older model is right for you, check out our Used Car Deals page to learn about savings and discounts on used vehicles.
We Did the Research for You: 22 Reviews Analyzed
Our goal is to provide you with the information you need to make car shopping a breeze. You'll find everything you need to know about the Chevrolet Bolt in our comprehensive review. It combines concrete data (like fuel economy estimates, safety scores, and cargo space dimensions) with professional evaluations from more than two dozen automotive sources. This Chevrolet Bolt review incorporates applicable research for all models in this generation, which spans the 2017 through 2019 model years.
Why You Can Trust Us
We've been reviewing cars since 2007, and our Best Cars team has more than 75 years of combined automotive experience. We also award the Best Cars for the Money, Best Cars for Families, and Best Vehicle Brands on an annual basis. To ensure our impartiality, a third party handles our advertising, and we don't accept expensive gifts from automakers.
How Much Does the Chevrolet Bolt Cost?
Chevrolet's new Bolt EV has an MSRP of $36,620. That's a little higher than most rivals, though some shoppers may qualify for select tax credits, including a $7,500 federal credit. For more info, check out our coverage on how the electric car tax credit works. With its lengthy list of standard features, the base LT trim is a fairly good value. You can find more convenience and safety features in packages and in the Premier trim, which has a starting price of around $40,900.
Check out our U.S. News Best Price Program for great savings at your local Chevrolet dealer. You can also find excellent manufacturer incentives on our Chevy deals page.
Chevrolet Bolt Versus the Competition
Which Is Better: Chevrolet Bolt or Hyundai Ioniq?
The Hyundai Ioniq is available nationwide as a hybrid, and in certain regions of the country, it also comes as plug-in hybrid or EV. The 2019 Ioniq Electric actually has a larger battery and higher MPGe rating than the Bolt, but the Bolt has nearly double the all-electric driving range on a full charge. Both EV models have a similar set of features. The Ioniq Electric's starting price is about $7,000 less than the Bolt, though it's only available in select markets, and the hybrid and plug-in hybrid Ioniq versions are even more affordable. Both are good EVs, but go with the Bolt if the Ioniq Electric's limited availability and lower electric range concern you.
Which Is Better: Chevrolet Bolt or Chevrolet Volt?
The plug-in hybrid Chevrolet Volt is another decent compact car. Both it and the Bolt have quick acceleration, smooth brakes, many tech features, and an all-electric driving capability. Both also have some low-rent cabin materials. In many areas – especially range – the Chevrolet Bolt EV exceeds the Volt. It has a longer electric range by 185 miles, livelier handling, and more trunk space. As a plug-in hybrid, however, the Volt can shift to its gasoline engine, making it a good pick for shoppers with range anxiety or those who plan to frequently take longer road trips.
Bolt Interior
How Many People Does the Bolt Seat?
The Chevrolet Bolt EV can seat up to five on standard cloth upholstery. Leather upholstery, heated front and rear seats, and a heated steering wheel are available. Head- and legroom are pretty good, and two adults can generally sit in the back without feeling too cramped. A tall driver's seat increases visibility, though the seat cushions are a little flat.
Bolt and Car Seats
For securing child car seats, the 2019 Chevrolet Bolt EV has two complete sets of LATCH connectors and a middle-seat tether anchor .
Bolt Interior Quality
Given the Bolt EV's high price point, its interior is a little disappointing. There are lots of hard plastics and low-rent materials scattered throughout the cabin. However, the Bolt looks and feels modern. Rivals such as the Hyundai Ioniq and Toyota Prius feature cabin materials of a higher quality.
Bolt Cargo Space
The Bolt EV's 16.9 cubic feet of space behind the rear seats are pretty good for a compact car, though a few rivals have more space, such as the Toyota Prius Prime and Volkswagen e-Golf. The back seat can be folded down to expand cargo space up to 56.6 cubic feet.
Bolt Infotainment, Bluetooth, and Navigation
Connectivity and technology rank among the Bolt EV's strong suits. Standard equipment includes the MyLink infotainment system with a 10.2-inch touchscreen, an OnStar 4G LTE Wi-Fi hot spot, Apple CarPlay and Android Auto smartphone integration, a six-speaker stereo, two USB ports, and satellite radio. For more information, read What Is Apple CarPlay? and What Is Android Auto? Then, see the Best Cars With Apple CarPlay and Best Cars With Android Auto.
The system's 10.2-inch touch screen is easy-to-use. It's in a good location on the dash, and it has redundant climate and audio control buttons underneath. MyLink provides both in-car entertainment and useful information for managing your charging and driving habits.
A seven-speaker Bose premium audio system, two rear-seat USB ports (for charging only), and Qi-compatible wireless device charging are available.
Bolt Performance
Bolt Engine: Like a Lightning Bolt
The Bolt EV is powered by an electric motor producing 200 horsepower and 266 pound-feet of torque. It's paired with a 60-kWh lithium-ion battery pack and a single-speed transmission. Acceleration in the Bolt is quite good for the class, and it can sprint from zero to 60 mph in about 6.5 seconds. This electric hatchback has ample passing power and makes a strong case for itself as a daily driver.
Bolt Mileage: Impressive Range
As a battery-electric vehicle, the Bolt EV's only power source is its lithium-ion battery pack. The EPA estimates its all-electric driving range to be around 238 miles on a full charge. By comparison, the 2019 Hyundai Ioniq Electric has an EPA-estimated 124-mile range, and the 2018 Nissan Leaf's range is projected to be just over 150 miles. The Bolt's range is excellent, though many Tesla models surpass 300 miles. Recharging the Bolt takes about 9.3 hours with a 240-volt charger. DC fast charging is available, providing 90 miles of electric range in just 30 minutes.
The Bolt also has an efficiency rating of 128 MPGe in the city and 110 MPGe on the highway. For more on decoding these ratings, check out What Is MPGe?
Bolt Ride and Handling: Energized and Enjoyable
Some hybrid vehicles have bland driving dynamics, but as an EV, the Bolt doesn't have this problem. It's fun to drive regardless of road conditions, and its battery pack gives the car a low center of gravity, granting extra stability and composure. Responsive steering and smooth, strong brakes only enhance the driving experience. This vehicle is also coordinated, with good road grip and minimal body roll.
Worthy of note is the Bolt's two driving modes that affect regenerative braking. In Drive mode, it operates much like a normal car. In Low mode, the regenerative brakes become more aggressive, allowing you to drive with one pedal. The car will slow down more aggressively when you simply let off the throttle. There is also a Regen on Demand feature, which activates aggressive regenerative braking by pulling a paddle on the back of the steering wheel. Keep in mind that the brake pedal may still need to be used in some situation.
Bolt Reliability
Is the Chevrolet Bolt Reliable?
The 2019 Chevrolet Bolt EV belongs to a generation that typically receives J.D. Power predicted reliability ratings of three out of five, which is about average.
Chevrolet Bolt Warranty
Chevrolet covers the Bolt with a three-year/36,000-mile limited warranty and an eight-year/100,000-mile battery warranty.
Bolt Safety
Bolt Crash Test Results
As of this writing, the Insurance Institute for Highway Safety has not conducted crash tests on the 2019 Chevy Bolt. The National Highway Traffic Safety Administration gave it five out of five stars in all areas except for front crash testing, in which it received four stars.
Bolt Safety Features
Standard driver assistance features on the LT trim include a rearview camera and the Teen Driver system, which lets you do things like set limits on audio and speed for secondary drivers. Several other safety features are available, including a surround-view parking camera, a rear camera mirror, blind spot monitoring, rear cross traffic alert, lane keep assist, lane departure warning, forward collision warning, automatic emergency braking, rear parking sensors, a following distance indicator, and automatic high beams.
That's a generous helping of safety features, though a few rivals – namely, the Tesla Model 3 – go above and beyond in providing near autonomous driving capability, but for a much higher price.
Which Chevrolet Bolt Model Is Right for Me?
Chevrolet offers the Bolt in two trim levels: LT and Premier. Both share the same powertrain and lithium-ion battery pack, so the main difference between the two trims boils down to convenience and safety upgrades. Of the two, the Bolt LT is the better value. It features a generous list of standard features, and it's also available with a number of packages that outfit it with some of the Premier's convenience and safety upgrades without reaching the Premier's price tag, which is higher by roughly $4,300 .
The Chevy Bolt EV LT starts at around $36,620 before any tax credits are applied. It comes with 17-inch alloy wheels, remote start, proximity keyless entry, push-button start, automatic climate control, cloth seats, a rearview camera, and the Teen Driver safety system. It also comes with the MyLink infotainment interface with a six-speaker stereo, satellite radio, a 10.2-inch touch screen, Apple CarPlay and Android Auto smartphone integration, OnStar with a 4G LTE Wi-Fi hot spot, two USB ports, and Bluetooth.
Several packages are also available. The Comfort and Convenience package costs around $560 and includes heated front seats, a heated and leather-wrapped steering wheel, and an auto-dimming rearview mirror. For about $500, the Driver Confidence package adds rear parking sensors, lane change alert, blind spot monitoring, and rear cross traffic alert. There's also the Driver Confidence II package, which features even more safety features such as forward collision warning, automatic emergency braking, a following distance indicator, lane keep assist, lane departure warning, and automatic high beams. This package is estimated to be around another $500.
In addition to gaining the features in the Comfort and Convenience package and Driver Confidence package, the Chevrolet Bolt EV Premier ($40,905) comes with leather upholstery, heated rear seats, a rear center armrest, a false cargo floor for increased versatility, and a surround-view parking camera. The Driver Confidence II package remains available, and there's also an Infotainment package (about $500) offering wireless charging, a seven-speaker Bose premium audio system, and two rear-seat USB charge ports.
Check out our U.S. News Best Price Program for great savings at your local Chevy dealer. You can also find excellent manufacturer incentives on our Chevrolet deals page.
The Final Call
The Chevrolet Bolt EV is an appealing pick as a daily commuter, thanks in large part to its 200-plus-mile range, swift acceleration, and lively handling. Its cargo area and seats are spacious, and the Chevy's nicely equipped infotainment system is user-friendly. There are compact cars in the class with more all-around appeal, but shoppers interested in an electric car will want to give this vehicle a close look.
Don't just take our word for it. Check out comments from some of the reviews that drive our rankings and analysis.
Read the full 2019 Chevrolet Bolt review on U.S. News & World Report for more details, photos, specs and prices.
More from U.S. News & World Report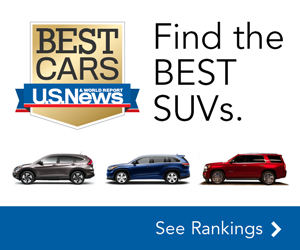 US News & World Report - Cars