2019 Chevrolet Spark: What You Need to Know

US News & World Report - Cars
10/10/2018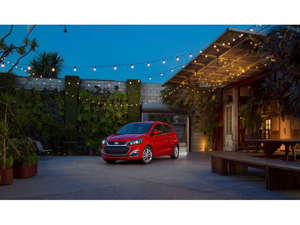 The 2019 Chevrolet Spark ranks low among subcompact cars because of its unimpressive acceleration, tight rear seat, and subpar cargo volume.
The 2019 Chevrolet Spark is ranked:
Is the Chevrolet Spark a Good Car?
The 2019 Spark is an OK car overall. While it feels underpowered on the highway, it has enough gusto for city driving. Its small size and easy steering help it feel at home on crowded streets and in tight places. Its impressive standard features list includes an infotainment system with Android Auto, Apple CarPlay, and Wi-Fi. However, overall interior quality is lacking. The front seats aren't that comfortable, the second row is cramped, and there isn't a lot of cargo room, despite being a hatchback.
Should I Buy the Chevrolet Spark?
One of the most appealing aspects of the Spark is its price. With a price tag of a little over $13,000, the Spark is one of the best deals in the class, especially given the standout features listed above. Buyers beware, though: That price won't get you things like power locks and windows.
The Spark is definitely a better buy than bargain-focused offerings like the low-ranked Mitsubishi Mirage. However, there are more well-rounded options that will only cost you a little more, like the Kia Rio. Before buying a Spark, shop around. You'll probably find something better.
Should I Buy a New or Used Chevrolet Spark?
The Chevy Spark was last fully redesigned for the 2016 model year. There were no major changes until Chevrolet refreshed the front styling and added optional low-speed automatic braking for the 2019 model year. If you're not interested in those updates, you may be better off shopping for a used 2017 or 2018 Spark instead of a new Chevrolet Spark. A used model will likely save you thousands of dollars. If you're interested in the all-electric Spark EV, however, you need to stick with a 2014, 2015, or 2016 model because the Spark EV was discontinued after the 2016 model year.
We Did the Research for You: 17 Reviews Analyzed
We analyzed 17 Chevrolet Spark reviews – along with performance specs, fuel economy estimates, and more – to help you decide if the 2019 Spark is the right new car for you. This 2019 Chevrolet Spark review incorporates applicable research for all model years in this generation, which spans the 2016 through 2019 model years.
Why You Can Trust Us
U.S. News & World Report has been ranking cars, trucks, and SUVs since 2007, and our team has more than 75 years of combined automotive industry experience. To remain objective, we don't accept expensive gifts or trips from car companies, and an outside team manages the advertising on our site.
How Much Does the Chevrolet Spark Cost?
The 2019 Chevrolet Spark starts at $13,220, which makes it one of the lowest-priced subcompact cars and one of the cheapest new cars you can buy. Three higher trim levels raise the price by a few thousand dollars. All trims come with a manual transmission, while an automatic is optional for $1,100. The highest Spark 2LT model with an automatic transmission starts at $17,720, and adding major options and packages pushes its price above $19,000.
The Mitsubishi Mirage's low base price of around $13,400 rivals that of the Spark. The Kia Rio also retails for under $14,000.
Check out our U.S. News Best Price Program for great deals at your local Chevrolet dealer. You can also find excellent manufacturer incentives on our Chevrolet deals page.
Chevrolet Spark Versus the Competition
Which Is Better: Chevrolet Spark or Mitsubishi Mirage?
The Mitsubishi Mirage is one of the lowest-rated vehicles on our site. It has some of the best fuel economy numbers in the class and impressive warranty terms, but that's about it as far as positives go. The Mirage's 78 horsepower (yes, you read that right) is a full 20 less than the Spark, and it accelerates at roughly the speed of a ride-on lawnmower. Both of these tiny cars have great maneuverability, but the Mirage has a poor ride quality. Inside, this Mitsubishi has low-rent materials, a cramped rear seat, and an uncomfortable driving position. Factor in unimpressive predicted reliability and safety ratings, and there's almost no reason to consider the Mirage over the Spark – or anything else.
Which Is Better: Chevrolet Spark or Kia Rio?
Fresh off a redesign for 2018, the Kia Rio ranks highly among subcompact cars. It boasts decent interior materials, a spacious back seat, and comfortable front seats. Those looking for a fun drive should find a lot to like in the Rio's peppy 130-horsepower engine, which gets the car up to speed easily. The Rio also has athletic handling and a cushioned ride. It has one of the lowest base prices in the class, and its range of higher trims is comparable to the Spark as well. For the money, the Rio is a much better buy than the Spark.
Spark Interior
How Many People Does the Spark Seat?
The subcompact 2019 Chevy Spark only seats four, and given the car's small size, even that's a stretch. Up front, there's sufficient shoulder- and headroom for tall drivers and passengers. The seats lack lateral support, however, and the main seating position is a little too upright. With only a handful of manual adjustments for the seats, you can't do much to increase comfort. The second row's skimpy legroom means that it's mainly suitable for children or smaller adults.
Spark and Car Seats
The Spark has a complete set of LATCH connectors for each of its rear seats. The Insurance Institute for Highway Safety gives the system an overall rating of Acceptable (the second highest) for its ease of use. The IIHS notes that the tether anchors are hard to find. The lower anchors are set deep in the seat cushions, but there's enough room to maneuver your hands around and attach the car-seat straps.
Spark Interior Quality
Cabin quality in the 2019 Spark is a mixed bag. The design is fairly sleek and modern, with a couple of nice materials. Most pieces, though, are hard plastic, and there's a general lack of satisfying fit and finish. A good amount of outside road and wind noise permeates the cabin – you won't enjoy a nice, quiet drive in the Spark.
Spark Cargo Space
The Chevy Spark has 11.1 cubic feet of cargo space behind its second row. That's less than what many class rivals offer. You can fold down the back seat to open up 27.2 cubic feet of space, which is very low for a subcompact hatch. Additionally, the back seats don't fold entirely flat, so you may have trouble fitting large or bulky items.
Both the Kia Rio and Mitsubishi Mirage hatchbacks have more than 17 cubic feet of space in standard configuration. The Rio has a maximum of about 33 cubic feet with the seats folded down, while the Mirage has an excellent 47 cubic feet.
Spark Infotainment, Bluetooth, and Navigation
The 2019 Spark has a surprising amount of standard features considering its low price point. The highlight is a touch-screen infotainment system with support for Android Auto and Apple CarPlay, along with a built-in 4G LTE Wi-Fi hot spot. This interface's menus are easy to navigate through, and the whole operation is straightforward. However, the screen sits high on the dash making it a little difficult to reach. Also, some buttons are small and hard to read from the driver's seat.
There are a couple physical controls below the touch screen, like a volume knob and buttons for audio adjustments. Three other big knobs make it easy to adjust the temperature.
Although the Spark comes standard with nice amenities, it's short on some very common features. Power locks and windows, key-fob entry, and cruise control are conspicuously absent from the base model.
Spark Performance
Spark Engine: Slow Ride, Take it Easy
The 2019 Chevrolet Spark comes with a 1.4-liter four-cylinder engine that produces a measly 98 horsepower. That's a miniscule amount, even for a small car. The Spark has perfectly adequate power for darting around a city and taking off from a stop, but it takes a while to get up to higher speeds, so plan your freeway merging and passing appropriately.
A five-speed manual transmission and front-wheel drive are standard, and a continuously variable automatic transmission (CVT) is optional. The manual is the better bet, if only because the CVT doesn't make the most of the car's little engine power.
Spark Gas Mileage: Good for the Class
The 2019 Spark gets an EPA-estimated 30 mpg in the city and 38 mpg on the highway with its automatic CVT. A manual-equipped Spark loses 1 mpg in the city. Those numbers are good for the class.
The Kia Rio is a tad less efficient, but the Mitsubishi Mirage is one of the best in the segment for fuel economy – it gets up to 37 mpg in the city and 43 mpg on the highway.
Spark Ride and Handling: Deft Driving
The Chevy Spark is most at home navigating tight city streets, traffic jams, or getting into places other cars can't. Its small size makes it easy to park, and a tight turning radius means great maneuverability. The car also has a fairly comfortable ride over bumps in the road at lower speeds. Cruising on the highway, the Spark feels a little floaty and can require some corrections to stay controlled.
Spark Reliability
Is the Chevrolet Spark Reliable?
As of this writing, the 2019 Chevrolet Spark doesn't have a predicted reliability rating. The similar 2018 Spark has a score of three out of five from J.D. Power, which is considered average for all new cars.
Chevrolet Spark Warranty
Chevrolet covers the Spark with a three-year/36,000-mile basic warranty and a five-year/60,000-mile powertrain warranty.
Spark Safety
Spark Crash Test Results
Neither the National Highway Traffic Safety Administration nor the Insurance Institute for Highway Safety has crash tested the 2019 Spark.
Spark Safety Features
The 2019 Spark comes standard with a rearview camera. The top trim 2LT comes standard with rear parking sensors. Also, 2LT models with the automatic transmission are available with an optional package that includes lane departure warning, forward collision warning, and low-speed automatic emergency braking.
Which Chevrolet Spark Model Is Right for Me?
The 2019 Chevrolet Spark is available in four trim levels: LS, 1LT, ACTIV, and 2LT. All trims come standard with a five-speed manual transmission, and an automatic transmission is optional for $1,100. The base model is well-equipped with amenities like an infotainment system, smartphone integration, and a Wi-Fi hot spot, but it lacks common features like cruise control, power windows, and power locks. For that reason, we recommend upgrading to at least the 1LT trim. ACTIV and 2LT have comfort amenities like leatherette upholstery and heated front seats, though you'll have to spring for the 2LT if you want driver assistance features other than the standard rearview camera.
The 2019 Chevy Spark LS starts at $13,220. Standard features include cloth upholstery, manual climate control, a rearview camera, a 7-inch touch-screen infotainment system, a four-speaker stereo, Bluetooth, two USB ports, Android Auto, Apple CarPlay, and a Wi-Fi hot spot.
The $16,220 Spark 1LT retails for $15,120 and adds power locks and windows, keyless entry, cruise control, steering wheel-mounted controls, a six-speaker stereo, and satellite radio. A sunroof is optional for $1,000.
The Chevy Spark ACTIV has a raised ride height and unique exterior design elements. It also includes leatherette upholstery, heated front seats, and a leather-wrapped steering wheel.
The Spark 2LT starts at $16,620 and features leatherette upholstery, heated front seats, a leather-wrapped steering wheel, proximity keyless entry, push-button start, and rear parking sensors. The $295 Driver Confidence package is only available in 2LT models with an automatic transmission. It includes lane departure warning, forward collision warning, and low-speed automatic emergency braking.
Check out our U.S. News Best Price Program for great savings at your local Chevrolet dealer. You can also find excellent manufacturer incentives on our Chevrolet deals page.
The Final Call
The 2019 Chevrolet Spark's tepid performance and uninspiring interior prevent it from standing out against rivals in the subcompact car class. It's a fine car for running errands around town, but your money is better spent on competitors that have more-powerful engines or more room for people and cargo.
Don't just take our word for it. Check out comments from some of the reviews that drive our rankings and analysis.
Read the full 2019 Chevrolet Spark review on U.S. News & World Report for more details, photos, specs and prices.
More from U.S. News & World Report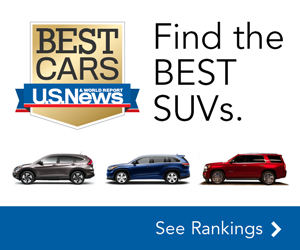 US News & World Report - Cars