2019 FIAT 124 Spider: What You Need to Know

US News & World Report - Cars
11/27/2018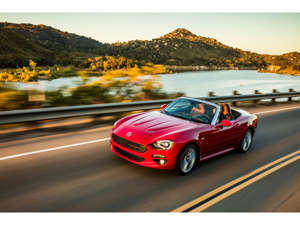 The 2019 Fiat 124 Spider ranks in the middle of its class. This two-seat convertible combines ample power and adept handling with a refined ride quality, but it lacks the brawn and roominess of some rivals.
The 2019 FIAT 124 Spider is ranked:
Is the Fiat 124 Spider a Good Car?
The 124 Spider is a pretty good sports car. While it may not have as much power as some rivals, its agile handling, responsive steering, and lively engine make it fun to drive. You can go a step further and fold the soft top to feel the wind through your hair. The Fiat is good for what it was designed to do – drive. With that being said, you may also want to check out rivals that offer more space, stronger engines, or better handling.
Should I Buy the Fiat 124 Spider?
The 124 Spider is designed for a very specific audience. It doesn't have an upscale cabin with the latest tech or overwhelming and blistering performance. Instead, it's minimalistic and comfortable, designed with a greater focus on agility than power. The Fiat 124 Spider is a compelling choice for shoppers seeking a nimble roadster.
Shoppers seeking a more muscular sports car may be underwhelmed by this Fiat. The 2019 Ford Mustang puts out much more horsepower, making for a greater punch when you need it. The Mazda MX-5 Miata was designed alongside the 124 Spider, and while it's not quite as comfortable, it is a little more engaging and gets a power boost for 2019.
Should I Buy a New or Used Fiat 124 Spider?
Fiat introduced the 124 Spider for the 2017 model year. Neither the 2018 nor the 2019 model saw any major updates. With the new Fiat being virtually identical to previous models, there's little reason to spend extra and buy new. If you're interested in a used model, be sure to check out our overview of the 2017 and 2018 Fiat 124 Spider. Also, check out our Used Car Deals page to learn about savings and discounts on used vehicles.
We Did the Research for You: 18 Reviews Analyzed
Our goal is to provide you with the information you need to make car shopping a breeze. You'll find everything you need to know about the Fiat 124 Spider in our comprehensive review. It combines concrete data (like fuel economy estimates, safety scores, and cargo space dimensions) with professional evaluations from 18 automotive sources. This Fiat 124 Spider review incorporates applicable research for all models in this generation.
Why You Can Trust Us
We've been reviewing cars since 2007, and our Best Cars team has more than 75 years of combined automotive experience. We also award the Best Cars for the Money, Best Cars for Families, and Best Vehicle Brands on an annual basis. To ensure our impartiality, a third party handles our advertising, and we don't accept expensive gifts from automakers.
How Much Does the Fiat 124 Spider Cost?
With a window sticker price around $25,000, the base Fiat 124 Spider Classica convertible stands out as one of the lowest-priced sports cars in the class. The Lusso trim of the 124 Spider starts at around $27,600, and the performance-oriented Abarth starts at around $28,300. The high-end trims in other sports cars are often even more expensive, making the higher trims of the Spider a good value proposition. For great savings at your local Fiat dealer, check out our U.S. News Best Price Program.
Fiat 124 Spider Versus the Competition
Which Is Better: Fiat 124 Spider or Mazda MX-5 Miata?
Because the 124 Spider is actually built on the same platform as the Mazda MX-5 Miata, the two share many similarities, including comparable interior space and fuel economy. The 2019 MX-5 makes a little more horsepower, while the 124 Spider offers slightly more trunk space. Both are great sports cars. The MX-5 features some of the most engaging driving dynamics and spirited performance in the class. Conversely, the 124 Spider is a little more comfortable and mild-mannered. Choosing between these two cars largely boils down to your preferences. That said, the MX-5 Miata is likely to be a little more expensive than the Fiat.
Which Is Better: Fiat 124 Spider or Subaru BRZ?
Like the Fiat, the Subaru BRZ is a sports car that prioritizes agility over power. It's not a convertible, but this coupe has seating for four. The back seat is barely usable, however. It also has a larger trunk than the 124 Spider, as well as available technology upgrades such as Apple CarPlay and Android Auto smartphone integration. The BRZ's engine produces a little more horsepower than the Fiat. However, the Fiat 124 Spider has more available safety features. Both of these cars are in the same neighborhood when it comes to price, so choosing between the two comes down to whether you want the BRZ's extra space or the 124 Spider's convertible style.
124 Spider Interior
How Many People Does the 124 Spider Seat?
The 124 Spider seats two and has standard cloth upholstery. Heated leather seats and Recaro sport seats are available. The placement of the engine and the car's low stance limit passenger space, so taller adults might find it difficult to get comfortable in the car. Still, the Fiat has a quiet cabin with well-cushioned seats, and it's a good roadster to cruise around in, perhaps a bit more so than the Mazda MX-5 Miata.
124 Spider and Car Seats
Like many two-seat sports cars, there are no LATCH car-seat connectors in the 124 Spider. While there is enough space for a child safety seat in the passenger seat, we do not recommend installing a car seat in a vehicle with only two seats.
124 Spider Interior Quality
The 124 Spider was designed alongside the MX-5 Miata, so their two cabins have a lot in common. The Fiat feels more upscale inside and has a quieter ride, though there are a few hard plastics here and there.
124 Spider Cargo Space
Sports cars aren't known for having a lot of cargo space, and the Fiat Spider supports that maxim. Its 4.9-cubic-foot trunk may not seem like much more than the Mazda Miata's roughly 4.6-cubic-foot trunk, but the extra space means you can pack a little more for your weekend trips. The Toyota 86 surpasses them both with a 6.9-cubic-foot trunk.
124 Spider Infotainment, Bluetooth, and Navigation
The 2019 Fiat 124 Spider comes standard with a 3-inch display, Bluetooth phone connectivity, and a four-speaker stereo. The available infotainment system is similar to the one found in the Mazda Miata, and both systems features the same layout of buttons and knobs that you can use instead of the touch screen. A nine-speaker Bose sound system, navigation, satellite radio, app services such as Pandora and Aha, and a larger 7-inch touch screen are all available. Apple CarPlay and Android Auto are not available.
124 Spider Performance
124 Spider Engine: Polite Enthusiasm
The Fiat 124 Spider is powered by a turbocharged 1.4-liter four-cylinder engine. Paired with a standard six-speed manual transmission or available six-speed automatic, the turbo-four delivers 160 horsepower and 184 pound-feet of torque. Fiat 124 Spider Abarth models squeezes out 4 extra horsepower but no additional torque.
The Fiat 124 Spider doesn't deliver the same brute power as rivals like the Ford Mustang or Chevrolet Camaro, instead focusing more on handling agility and comfort. The 124 Spider takes a moment to get going from a stop, but it's got plenty of pep once it gets up to speed.
124 Spider Gas Mileage: Sporty Fuel Sipper
With the standard manual transmission, the 2019 Fiat 124 Spider earns estimates of 26 mpg in the city and 35 mpg on the highway (25/36 mpg with the automatic). Those estimates are better than what you get with most other sports cars.
124 Spider Ride and Handling: Scurries Like a Spider
Handling is where the 124 Spider really shines. Its light curb weight contributes to its agility, and its sharp steering makes it even more fun to drive. The 124 has less body roll and a smoother ride than many of its rivals. Abarth models feature Bilstein performance dampers to enhance handling even further, and options like Brembo performance brakes can be added.
124 Spider Reliability
Is the 124 Spider Reliable?
The 2019 Fiat 124 Spider belongs to a generation that receives mostly average ratings for predicted reliability from J.D. Power.
Fiat 124 Spider Warranty
Fiat covers the 124 Spider with a four-year/50,000-mile limited warranty and a four-year/50,000-mile powertrain warranty.
124 Spider Safety
124 Spider Crash Test Results
As of this writing, neither the Insurance Institute for Highway Safety nor the National Highway Traffic Safety Administration has conducted crash tests on the 124 Spider. This is common among sports cars.
124 Spider Safety Features
Like with many class rivals, a rearview camera is the only standard features in the 124 Spider. There are a few driver assistance features available, such as blind spot monitoring, rear cross traffic alert, rear parking sensors, and adaptive headlights.
Which Fiat 124 Spider Model Is Right for Me?
The Fiat 124 Spider is a front-engine roadster. It seats two people and has a manually folding soft top. Three trim levels are available: the bare-bones Classica, the moderately well-equipped Lusso, and the dynamic Abarth. All three come with a turbocharged 1.4-liter engine, though Abarth models manage to wring a little more horsepower out of it. A six-speed manual transmission and rear-wheel drive are standard, and a six-speed automatic is available.
For most shoppers, the Lusso trim is the best pick. It ups the luxury quotient and technology features in the 124, which makes it worth the jump in price.
The Classica trim starts at around $25,000 and comes with 16-inch alloy wheels, remote keyless entry, premium cloth upholstery, manually adjustable seats, a leather-wrapped shift knob and steering wheel, push-button start, Bluetooth, a four-speaker stereo, a 3-inch display, and a rearview camera. The Technology and SiriusXM Group package (around $1,400) adds a 7-inch display, voice controls, proximity keyless entry, satellite radio, and app connectivity with Pandora, Aha, and Stitcher. You can opt for the automatic transmission for roughly $1,400.
With an MSRP around $27,600, the Spider Lusso gains a few luxuries over the Classica. In addition to all the equipment listed above, the Lusso adds larger alloy wheels, rain-sensing windshield wipers, automatic headlights, fog lights, leather upholstery, heated seats, and automatic climate control.
There are also a few packages. The Comfort and Convenience Group package costs around $1,500 and includes blind spot monitoring, rear cross traffic alert, rear parking sensors, auto-dimming mirrors, and a universal garage door opener. The Navigation & Sound Group package costs approximately $1,300, and it includes navigation and a 9-speaker Bose stereo. For around $1,000, the Visibility Group package adds LED daytime running lights and adaptive headlights.
The Spider Abarth retails for around $28,300. It's the sportiest model of the lineup and includes sport seats, a Sport mode selector, a performance suspension, and a limited slip differential. In addition to offering the same packages as the Lusso, Brembo performance brakes are also available for around $1,500, and Recaro sport seats with leather and Alcantara are offered for around $1,200.
Check out our U.S. News Best Price Program for great savings at your local Fiat dealer.
The Final Call
It wouldn't be much of a stretch to call the 2019 Fiat 124 Spider austere. This roadster's charm comes from its minimalism. Its clean European styling and simple technology both seem designed to blend in without being distracting, allowing you to enjoy the ride more than anything else. Offering a refined driving experience is what this Fiat does best. It has mild road manners compared to the Mazda MX-5 Miata and lacks the raw power of the Ford Mustang, but those seeking a lively ride with lithe handling will enjoy driving the 124 Spider.
Don't just take our word for it. Check out comments from some of the reviews that drive our rankings and analysis.
Read the full 2019 FIAT 124 Spider review on U.S. News & World Report for more details, photos, specs and prices.
More from U.S. News & World Report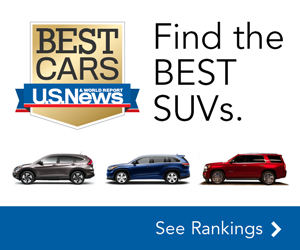 US News & World Report - Cars