2019 Nissan 370Z: What You Need to Know

US News & World Report - Cars
10/4/2018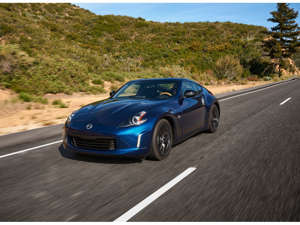 The 2019 Nissan 370Z finishes near the bottom of our sports car rankings. It has a powerful engine lineup, but it falls short of its rivals in terms of performance and interior quality.
The 2019 Nissan 370Z is ranked:
Is the Nissan 370Z a Good Car?
The 370Z is an OK sports car. Available in coupe and roadster (convertible) body styles, the two-seat 370Z moves quickly and provides an enjoyable driving experience. However, most rivals are more athletic and better on gas. This Nissan also has easy-to-use infotainment features, but competitors have more modern interiors with comfier seats and more available tech features.
Should I Buy the Nissan 370Z?
This is not a car you should buy. Not only are other sports cars better overall than the 370Z, but they're also cheaper since this Nissan's starting price is the highest in the class. You should instead consider rivals like the Ford Mustang and Chevrolet Camaro.
Should I Buy a New or Used Nissan 370Z?
The 2019 370Z is part of a generation that began with the 2009 model year. This sporty Nissan sees minimal updates for 2019, aside from a streamlined trim lineup and a newly standard rearview camera. Also, the 370Z convertible no longer offers a manual transmission. Updates for 2018 were also minor, which means you can shop for a used 370Z model and get essentially the same car while potentially saving thousands of dollars.
If you are interested in a used 370Z, check out our reviews of the 2018 Nissan 370Z and 2017 Nissan 370Z. Also skim through our Used Car Deals page to see what savings and discounts you can find on a used vehicle.
We Did the Research for You: 65 Reviews Analyzed
Our car reviews include everything you need to know before heading to the dealership. We combine the opinions of the automotive press with quantifiable data like crash test results and reliability ratings to form a complete picture of every vehicle we rank.
This review uses applicable research and data from all model years of the current 370Z generation, which runs from 2009 to 2019.
Why You Can Trust Us
U.S. News Best Cars has been ranking vehicles since 2007, and our team has more than 75 years of combined experience in the automotive industry. Our car reviews are objective. To keep them that way, our editorial staff doesn't accept expensive gifts or trips from automakers, and a third party handles all the advertising on our site.
How Much Does the Nissan 370Z Cost?
Starting at just under $30,000, this Nissan sports a higher starting price than every other nonluxury sports car. Pricing for the higher trims is more in line with the rest of the class, with the range-topping Nismo trim starting at nearly $46,000. However, this trim's improved horsepower is still far behind the ratings of heavy hitters in the class. Note that roadster models cost more than their coupe counterparts, and the Sport Touring Roadster is actually the most expensive 370Z, with a starting price of more than $49,000.
Check out our U.S. News Best Price Program for great savings at your local Nissan dealer. You can also find excellent manufacturer incentives on our Nissan deals page.
Nissan 370Z Versus the Competition
Which Is Better: Nissan 370Z or Chevrolet Camaro?
The Chevrolet Camaro's engine lineup offers everything from a four-cylinder to a V8, and several of them are more fuel efficient than the 370Z's V6. The Camaro is a dynamite performance vehicle, but it also has a rear seat and many more tech features than its Nissan rival. The Camaro is the obvious choice here.
Which Is Better: Nissan 370Z or Ford Mustang?
The Ford Mustang finishes near the top of our sports car rankings every year. It provides adept handling, a high-quality cabin, and a powerful engine lineup. Like the Camaro, it has a back seat that provides more space than the two-seat 370Z. The Mustang also gets great crash tests scores and has an above-average predicted reliability rating. Simply put, it's a much better choice than the 370Z.
370Z Performance
370Z Engine: Quick and Strong
A V6 engine powers this Nissan, and it puts out 332 or 350 horsepower, depending on the trim level. Either way, the 370Z feels quick off the line, and it's no slouch at higher speeds either. The engine does make plenty of noise at higher rpms, however.
370Z Gas Mileage: A Bit Thirsty
The 370Z gets 19 mpg in the city and 26 mpg on the highway. Every class rival gets better fuel economy. Though some competitors have four-cylinder engines, even V6-powered competitors get better fuel economy ratings than the 370Z.
Compared to the 370Z, the four-cylinder Toyota 86 will save you about $450 per year in gas money. Even a V6-powered Chevrolet Camaro will save you about $400 per year compared to this Nissan.
370Z Ride and Handling: Good… to a Point
The rear-wheel-drive 370Z doesn't lean much around turns, and it grips the road pretty well. But it still doesn't deliver the uber-agile handling of some other sports cars. The ride is firm but not unpleasant.
370Z Interior
How Many People Does the 370Z Seat?
The two-seat 370Z comes up short in the seating department. It's tough to get comfortable, especially for tall people, and the seats don't have enough support for long drives. Visibility is poor in every direction but in front of you.
370Z and Car Seats
There is not a full set of LATCH connectors in the 370Z, and we do not recommend installing a child seat in a vehicle with only two seats.
370Z Interior Quality
The 370Z definitely shows its age inside, and most rival cabins look more modern and stylish by comparison. The interior materials quality is OK, but there are some hard plastics here and there.
370Z Cargo Space
Even by sports car standards, this Nissan is light on cargo room. Its trunk gives you just under 7 cubic feet of space in coupe models and just over 4 cubic feet in convertible models. The sloping rear hatch limits cargo utility, giving you only enough room to stow a couple of grocery bags.
370Z Infotainment, Bluetooth, and Navigation
Standard features in the 370Z include a six-speaker audio system, Bluetooth, a USB port, and automatic climate control. Options include a 7-inch touch-screen display, navigation, satellite radio, and an eight-speaker Bose audio system.
Let's start with the good news: The 370Z's tech features are intuitive and user friendly. The bad news, however, is that every competitor has more modern infotainment tech and a longer features list.
370Z Reliability
Is the Nissan 370Z Reliable?
The 2019 370Z does not have a predicted reliability rating from J.D. Power as of this writing.
Nissan 370Z Warranty
Nissan covers the 370Z with a three-year/36,000-mile basic warranty and a five-year/60,000-mile powertrain warranty.
370Z Safety
370Z Crash Test Results
Neither the National Highway Traffic Safety Administration nor the Insurance Institute for Highway Safety has crash tested the 2019 370Z.
370Z Safety Features
The 370Z comes standard with a rearview camera, but it doesn't offer any additional driver assistance features.
Which Nissan 370Z Model Is Right for Me?
The 370Z comes in two body styles – coupe and roadster (convertible) – and four trims: base, Sport, Sport Touring, and Nismo. Think twice before you spring for a 370Z roadster model. These convertible models don't add any features, but they still carry a five-figure price increase.
As for trims, it's important to note that the trims don't offer any notable option packages, so changing trim levels is the only path to adding more features. With that in mind, the Sport Touring trim makes a great choice. It comes with every notable tech feature that you can get in a 370Z, and it still costs about $7,500 less than the 370Z Nismo.
The 370Z has a base price of $29,990. It comes with a 332-horsepower V6 engine, a six-speed manual transmission, and rear-wheel drive. Standard features include a rearview camera, a six-speaker audio system, Bluetooth, a USB port, and automatic climate control.
The 370Z Roadster starts at $41,820. It comes with a power-folding soft top and a seven-speed automatic transmission. Otherwise, it has the same features as the coupe.
The 370Z Sport has a starting price of $33,720. In addition to the base trim's features, the Sport trim comes with a limited-slip differential, sport brakes, and an eight-speaker Bose audio system. The 370Z Sport Roadster starts at $46,570.
The 370Z Sport Touring has a starting price of $38,090. This trim comes with leather upholstery, heated and power-adjustable seats, a 7-inch touch-screen display, satellite radio, and navigation. The 370Z Sport Touring Roadster starts at $49,400.
The 370Z Nismo has a starting price of $45,690. It features a 350-horsepower V6, improved suspension tuning, and Recaro sport seats. The Nismo trim is not available as a convertible.
Check out our U.S. News Best Price Program for great savings at your local Nissan dealer. You can also find excellent manufacturer incentives on our Nissan deals page.
The Final Call
The 2019 Nissan 370Z has a strong engine and sharp handling, but this aging sports car lags behind the competition in a variety of areas. It costs more than the competition, yet it lacks the modern features found in other sports cars. To make matters worse for the 370Z, its most powerful engine is dusted by the range-topping power plants of most rivals.
Don't just take our word for it. Check out comments from some of the reviews that drive our rankings and analysis.
Read the full 2019 Nissan 370Z review on U.S. News & World Report for more details, photos, specs and prices.
More from U.S. News & World Report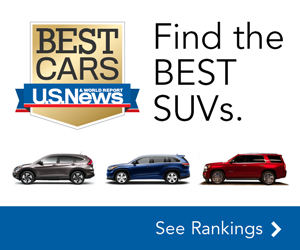 US News & World Report - Cars