2019 Porsche 911: What You Need to Know

US News & World Report - Cars
1/30/2019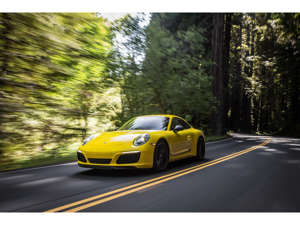 The high-ranking 2019 Porsche 911 exemplifies what a luxury sports car should be. It combines world-class athleticism and performance with a refined, posh interior.
The 2019 Porsche 911 is ranked:
Is the Porsche 911 a Good Car?
The 2019 Porsche 911 is an excellent luxury sports car that lives up to its iconic heritage. It offers a handful of muscular engine options and sharp, spirited handling to put them to good use. As a bonus, the 911 gets good fuel economy estimates for the class, at least in lower trims. The cabin has an abundance of premium, high-quality materials. The front seats are supportive, and while the rear seats are cramped, you can fold them down to create more cargo space – a luxury lacking in many 911 rivals. This car is expensive – very expensive – but if it's in your budget, it's worth a look.
Should I Buy the Porsche 911?
If you have the funds, you should definitely consider this Porsche. It's one of the most customizable cars on the market, offering dozens of trim levels and performance models, as well as three body styles. All 911s offer sharp handling and commendable driving dynamics. This iconic sports car carries an eye-popping price tag. Starting north of $90,000, the 911's base price is one of the highest among luxury sports cars. Prices can exceed $200,000 depending on how you configure the car. For example, the high-performance GT2 RS retails for slightly under $300,000.
This class has some of the best cars on the market, so some rivals are certainly worth a look. The Lexus LC has dynamic performance, a lavish interior, and a distinctive style, but it doesn't offer the same number of configurations as the 911. If you're looking for something a little friendlier to your wallet, check out the Jaguar F-Type. Its starting price is tens of thousands of dollars less than the Porsche, and its razor-sharp handling and range of supercharged engine options should satisfy most sports car enthusiasts.
Should I Buy a New or Used Porsche 911?
Unless you're a performance enthusiast interested in the new-for-2019 and insanely powerful 911 GTS RS, consider an older 911 to save thousands (or even tens of thousands) of dollars. Porsche did not introduce any major updates to the 2019 or 2018 models. For 2017, Porsche refreshed the 911. It added a new 3.0-liter twin-turbocharged base engine, increasing the power output in the base model as well as the Carrera S, Targa S, and GTS models. The rest of the lineup saw a power increase as well. The 911's current generation began with the 2012 model year, and though there have been numerous small tweaks through this generation, the 911's formula for performance and luxury has changed little.
To research some other models in this generation, check out our reviews of the 2016, 2017, and 2018 Porsche 911. If you decide an older model is right for you, check out our Used Car Deals page to learn about savings and discounts on used vehicles.
We Did the Research for You: 54 Reviews Analyzed
To make our car rankings and reviews as consumer-oriented as possible, we do not rely on our personal opinions. Instead, we analyze hard data such as crash test results and reliability ratings, as well as the opinions of the automotive press. This Porsche 911 review draws on 54 reviews and incorporates applicable research for all models in this generation, which spans the 2012 through 2019 model years.
Why You Can Trust Us
U.S. News & World Report has been reviewing cars, trucks, and SUVs since 2007, and our Best Cars team has more than 75 years of combined automotive industry experience. We care about cars, but we care more about providing useful consumer advice. To ensure our impartiality, an independent party handles our advertising, and our editorial team doesn't accept expensive gifts from automakers.
How Much Does the Porsche 911 Cost?
The Porsche 911 is one of the more expensive luxury sports cars in the class. The base Porsche 911 Carrera has an MSRP of $91,100. Prices skyrocket from there all the way up the GT2 RS, which starts at $293,200. The 911 is available in several midlevel trims with starting prices ranging from $102,100 (for the Carrera T) to $190,700 (for the 911 Turbo S). Many trims are available in cabriolet (convertible) models, which cost roughly $12,000 more than their coupe counterparts.
For comparison, the two most expensive cars in this class – the Acura NSX and Audi R8 – have base prices north of $130,000, and both can surpass $200,000 when outfitted with various options and packages. However, many other cars – like the Jaguar F-Type, Alfa Romeo 4C, and Chevrolet Corvette – have starting prices under $70,000.
Check out our U.S. News Best Price Program for great savings at your local Porsche dealer. You can also find excellent manufacturer incentives on our Porsche deals page.
Porsche 911 Versus the Competition
Which Is Better: Porsche 911 or Lexus LC?
While the Lexus LC can't match the 911's agility or fuel economy, it offers significantly more horsepower in its base engine. Higher 911 trims surpass it, but you'll pay a pretty penny for them. Even a fully loaded LC is likely to be significantly less expensive than higher trims of the 911, despite their similar starting prices. Like the 911, the LC has tiny back seats – it's not a good choice if you plan to regularly drive with rear-seat passengers. Both cars offer high-end materials and upscale cabins, but the LC offers more standard safety features, including some you won't find in the 911. Both are excellent cars, so choosing between them is largely a matter of what kind of performance or styling you prefer.
Which Is Better: Porsche 911 or Jaguar F-Type?
The Jaguar F-Type represents a more affordable luxury sports car. Like the Porsche 911, the F-Type is available as a coupe or convertible. Both vehicles offer a handsome interior with spacious front seats. The F-Type does not have rear seats, and the 911's are so small that they're better used for storing cargo than seating people. The Jaguar is also available with your choice of several powerful engines, culminating with the high-performance F-Type SVR trim's 575-horsepower V8. Though the F-Type is muscular and athletic, its ride gets a little rough at times. The big difference between the two is price. The Porsche 911 is the better car – but whether it's $30,000 better (at least) is up to you.
911 Performance
911 Engine: Really, Really Fast or Really, Really, Really Fast?
The 911 gives you a choice of three six-cylinder turbocharged engines with varying outputs between and among them. The base engine puts out 370 to 450 horsepower, depending on the trim, and it has all the power you need (and then some) for day-to-day driving. You'll find this engine in many of the staple trims, including the 911 Carrera, 911 Carrera S, and the various Targa trims.
The other two engines – found in the 911 GT3, GT2 RS, and Turbo, among others – are high-performance options that make 500 to 700 horsepower. With acceleration straight out of a "Fast and Furious" movie, these sporty cars feel right at home on the racetrack.
A seven-speed manual transmission comes standard in most trims, and a seven-speed automatic transmission (known as the Porsche Doppelkupplung, or PDK) is available. Both operate smoothly, and the automatic shifts right when you want it to.
911 Gas Mileage: Burn Rubber, Sip Fuel
The base engine is the 911's most efficient offering. According to EPA estimates, it gets 20 mpg in the city and 29 mpg on the highway (22/30 mpg city/highway with the PDK transmission). Both numbers are above average for the class.
The 911's fuel economy tends to decrease with the more powerful engines. The 911 Turbo gets 19 mpg in the city and 24 mpg on the highway, and the GTS R2 earns an estimated 15/21 mpg city/highway. Keep in mind that the 911 – as well as nearly every other luxury sports car – requires premium gasoline, so good mpg ratings don't necessarily translate to low fuel costs.
911 Ride and Handling: Blood-Pounding Fun
The 911 is a sports car and a Porsche. As you might guess, it's fun to drive. With a standard adaptive suspension, responsive steering, and agile cornering, zipping along winding roads will get your blood pumping. The sturdy brakes provide plenty of stopping power, and the available Sport Chrono package lets you select different modes that alter driving dynamics.
911 Interior
How Many People Does the 911 Seat?
Most 911 models have four seats (the GT3 seats two), but that doesn't necessarily mean they should be thought of as four-seaters. While rear seats are a rarity among luxury sports cars, the 911's are so cramped that they're better used as extra cargo space.
The front seats, however, are quite nice. They're easy to access and offer plenty of head- and legroom, even for tall adults. The standard sport seats are extremely supportive, though a few critics think the available 14- or 18-way power-adjustable seats offer less support in certain circumstances.
911 Interior Quality
The 911 lives up to Porsche's reputation as a luxury brand. Even small trim pieces look and feel premium, and the full leather interior and upscale cabin design are more than welcoming.
911 Cargo Space
Somewhat unusually, the 911 has a rear-mounted engine, which means the trunk is in the front. There's just over 5 cubic feet of room, which is enough for roughly four shopping bags. However, the 911 has the advantage of having folding rear seats, which create extra cargo space for smaller items.
911 Infotainment, Bluetooth, and Navigation
The 911 comes standard with the Porsche Communication Management infotainment system, which includes a 7-inch touch screen, navigation, Bluetooth, two USB ports, a Wi-Fi hot spot, satellite radio, and smartphone integration through Apple CarPlay. Available features include a sunroof and a 12-speaker Bose or Burmester audio system. The infotainment system has a learning curve, but it works well once you've mastered it. One knock against this vehicle is that it doesn't offer Android Auto, which many rivals do.
For more information, read What Is Apple CarPlay? and What Is Android Auto?
911 Reliability
Is the Porsche 911 Reliable?
The 2019 Porsche 911 earns a predicted reliability rating of 3.5 out of five from J.D. Power, which is a slightly above-average rating.
Porsche 911 Warranty
Porsche covers the 2019 911 with a four-year/50,000-mile warranty. That's similar to the warranties of many luxury sports cars.
911 Safety
911 Crash Test Results
The 2019 Porsche 911 has not been crash tested by the National Highway Traffic Safety Administration or the Insurance Institute for Highway Safety. That's common among luxury sports cars.
911 Safety Features
Standard active safety features include a rearview camera and front and rear parking sensors. Available features include adaptive cruise control, lane change assist, forward collision warning with automatic emergency braking, blind spot monitoring, and a speed limit indicator.
Which Porsche 911 Model Is Right for Me?
The Porsche 911 comes in approximately two dozen trims. Almost all of them come standard with rear-wheel drive and a coupe body style. All-wheel drive is available in most models, and many are available as a cabriolet (convertible). A few are offered as a 911 Targa model, with a power-retractable center roof panel.
Standard and available features are similar throughout the lineup. The differences between trims are largely about performance and style. Therefore, choosing the right trim will depend on what you're looking for. Several of the Carrera models (base Carrera, Carrera 4, and Carrera S) are a good value because they come with many tech and safety features, and they don't cost nearly as much as some of the higher 911 trims. As you move up the 911 ladder, the car's power and sportiness factors increase significantly.
The 911 Carrera is the base trim, featuring a 370-horsepower turbocharged six-cylinder engine, and it has a starting price of $91,100. It comes standard with dual-zone automatic climate control, leather upholstery, four-way power-adjustable front seats, and the Porsche Communication Management infotainment system with a 7-inch touch screen, navigation, Apple CarPlay, a Wi-Fi hot spot, Bluetooth, two USB ports, an eight-speaker stereo, HD Radio, and satellite radio. A rearview camera and parking sensors are also standard. Several other options and packages are available, ranging widely in price and features.
The Carrera 4 ($98,000) is essentially the same as the Carrera but it adds all-wheel drive. The Carrera and Carrera 4 come as a convertible or a 911 Targa 4, which features a power-retractable center roof panel (which retracts into the back of the car) and all-wheel drive.
The 911 Carrera S has a starting price of $105,100. While it offers basically the same standard and available features as the base Carrera, its engine produces an additional 50 horsepower (420 instead of 370). The 4S ($112,000) adds all-wheel drive. Like the Carrera, both versions are available as convertibles, and a Targa 4S model is available as well.
The 911 GTS has a starting price of $120,700. The main difference between the GTS and the lower trims is the engine. It has the same displacement, but it puts out 450 horsepower. The GTS also adds sport seats with additional side support, a restyled exterior, and the Sport Chrono package, which includes a stopwatch and additional driver assistance features. The GTS is available as a convertible or a Targa. Like the earlier trims, each can be outfitted with all-wheel drive.
The 911 GT3 has a base price of $143,600. One of the 911's high-performance trims, the GT3 features a 500-horsepower six-cylinder engine. The uprated GT3 RS is even more track focused. It has 20 additional horsepower and carries a starting price of around $187,500.
The 911 Turbo starts at $161,800. It features a 540-horsepower engine, a seven-speed automatic transmission, and all-wheel drive. The manual transmission is not available in the Turbo. Otherwise, the Turbo has many of the same standard and optional features as the lower trims. The Turbo S starts at $190,700. It squeezes even more power out of its engine for a total output of 580 horsepower, and it gains 14-way power-adjustable front seats, carbon fiber accents, and active stabilizer bars. Both the Turbo and Turbo S are available as convertibles.
The 911 GT2 RS has a starting price of $293,200. It offers the 911 Turbo's twin-turbocharged engine but cranks up its output to a blistering 700 horsepower and comes exclusively with rear-wheel drive. It accelerates from zero to 60 mph in 2.7 seconds.
Check out our U.S. News Best Price Program for great savings at your local Porsche dealer. You can also find excellent manufacturer incentives on our Porsche deals page.
The Final Call
The 2019 Porsche 911 is an excellent car. It's fast and nimble, it features an impressive lineup of strong and stronger engines, and its interior swaddles occupants in luxury. For all these reasons, the 911 finishes among the top of our luxury sports car rankings. However, this is a class full of exceptional vehicles, and many others are worth a look.
The Lexus LC delivers a terrific blend of performance and interior quality for about the same starting price as the 911. The Jaguar F-Type may not offer the same level of athleticism and luxury as the Porsche, but its starting price is $30,000 less. The Chevrolet Corvette gives the 911 a racetrack run for its money in terms of driving dynamics, and the Mercedes-Benz SL has one of the nicest interiors of any car on the road. If you do end up choosing the 911, it's a decision you're unlikely to regret.
Don't just take our word for it. Check out comments from some of the reviews that drive our rankings and analysis.
Read the full 2019 Porsche 911 review on U.S. News & World Report for more details, photos, specs and prices.
More from U.S. News & World Report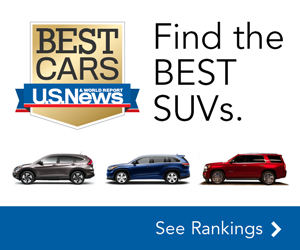 US News & World Report - Cars