2019 Porsche Cayman: What You Need to Know

US News & World Report - Cars
1/4/2019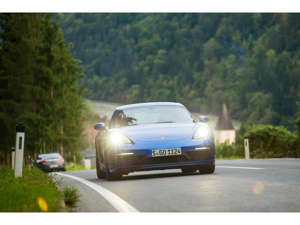 The 2019 Porsche 718 Cayman has authoritative powertrains, impeccable handling, and sophisticated styling. Its midpack status in our luxury sports cars rankings is partially a reflection of its relatively short list of standard features.
The 2019 Porsche Cayman is ranked:
Is the Porsche 718 Cayman a Good Car?
The Porsche Cayman is a phenomenal luxury sports car with thrilling handling and potent upgraded engines. The excellence continues inside, with a clean, classic interior finished in the finest materials. Overall, this two-seater is worth consideration from any driving enthusiast.
Should I Buy the Porsche 718 Cayman?
If you are after exhilarating handling, put the 2019 Porsche Cayman on your short list. Its midengine layout yields an optimal weight balance, though it also means you'll have less interior space than you would in a front-engine sports car. While the Cayan is a two-seater, a handful of rivals – including the Lexus LC, Audi TT, and Porsche 911 – have a back seat. Though these aren't typically spacious zones, they are handy for storing extra bags or carrying an occasional passenger. Another option is to consider a sporty small luxury car, such as the BMW M2 Competition or the Mercedes-AMG C 43. The BMW and Mercedes-Benz also come with far more safety and tech features than the Cayman.
Should I Buy a New or Used Porsche 718 Cayman?
The new 718 Cayman belongs to the model's third generation, which launched for 2017. Porsche hasn't made any major changes to the Cayman since then, so 2017 and 2018 models will be nearly identical to the new Cayman but likely cost less. You can save even more money by purchasing an older used Cayman, but we recommend staying within the current generation, as these have more standard and available features. There are a few high-performance editions from the previous generation you may want to consider, though, such as the Porsche Cayman GT4 and the Cayman GTS.
To research some older models, read our reviews of the 2016, 2017, and 2018 Porsche Cayman. If you decide a used Cayman is right for you, you can review our Used Car Deals page to learn about savings and discounts on used vehicles.
We Did the Research for You: 19 Reviews Analyzed
Our Porsche 718 Cayman review includes far more than just one person's opinion. We collected professional evaluations from 19 sources and combined them with concrete data like fuel economy estimates, safety features, and performance specs to help you make an informed buying decision. This review incorporates applicable research for all models in this generation, which spans the 2017 through 2019 model years.
Why You Can Trust Us
At U.S. News & World Report, we rank the Best Jobs, Best Hospitals, and Best Colleges to guide readers through some of life's most complicated decisions. We've been ranking and reviewing the Best Cars since 2007, backed by a team with more than 75 years of combined automotive experience. To keep favoritism out of the picture, we maintain a separate advertising team and decline expensive gifts and trips from car companies.
How Much Does the Porsche 718 Cayman Cost?
Retail prices start at about $57,000 for the 718 Cayman, $68,000 for the 718 Cayman S, and $81,000 for the 718 Cayman GTS. That makes it one of the least expensive vehicles in our luxury sports car rankings.
Check out our U.S. News Best Price Program for great savings at your local Porsche dealer. You can also find excellent manufacturer incentives on our Porsche deals page.
Porsche 718 Cayman Versus the Competition
Which Is Better: Porsche 718 Cayman or Porsche 718 Boxster?
The Porsche 718 Boxster is almost identical to the 718 Cayman, with one key distinction: The Boxster is a convertible. The Cayman also has a lower price by about $2,000. Both the Porsche Boxster and Cayman are excellent choices.
Which Is Better: Porsche 718 Cayman or Jaguar F-Type?
The Jaguar F-Type is a brawny sports car. Its available supercharged V6 and V8 engines – accompanied by a growly exhaust – are sure to get your heart racing. It lacks some of the Cayman's polish, however, and its taut suspension yields a stiff ride on uneven roads. Ultimately, both are good cars, so pick the one that speaks to you more.
718 Cayman Performance
718 Cayman Engine: Triple Threat
Each of the Cayman's three available engines is superb, even the base 300-horsepower engine. Still, speed demons will likely prefer the faster acceleration and throatier sound of the upgraded engines, which crank out 350 and 365 horsepower.
All three engines are turbocharged four-cylinders and have the same superb gearbox options. An easy-shifting and delightful six-speed manual transmission comes standard. For faster launch times, a seven-speed automatic is available for about $3,200.
718 Cayman Gas Mileage: Better Than Most
The Cayman's fuel economy ratings of 22 mpg in the city and 29 mpg on the highway are above average for a luxury sports car. The larger engine of the Cayman S gets 21 mpg in the city and 28 mpg on the highway, while the Cayman GTS is rated at 20 mpg city/26 mpg highway.
718 Cayman Ride and Handling: A Blast to Drive
The Cayman is the ideal rear-wheel-drive sports car for driving every day and occasionally taking to the racetrack. It's incredibly nimble, responsive, and composed, with a suspension system that keeps you comfortable. The optional Porsche Active Suspension Management system and the Sport Chrono package (which adds launch control and additional drive modes, among other treats) are well worth considering.
718 Cayman Dimensions and Weight
The Porsche Cayman is 14.4 feet long, with a curb weight that ranges from 2,944 to 3,054 pounds.
718 Cayman Interior
How Many People Does the 718 Cayman Seat?
You have to stoop and slide to get into the low-slung two-seat 718 Cayman, but once you do, you're rewarded with comfortable seats and good visibility. Though the standard sport seats come with only a few manual adjustments, most people will be able to find a suitable position. You can further pamper yourself by adding upgrades such as heated seats, 18-way power adjustments, and leather seats with Alcantara trimmings.
718 Cayman Interior Quality
The interior of the Porsche Cayman is first class. Its driver-focused cockpit includes top-shelf materials and handsome styling. Porsche offers an impressive number of interior customizations: You can even pick the color of your seat belts.
718 Cayman Cargo Space
The Cayman has more cargo space than the average midengine sports car. You can fit several small-to-medium bags in the 9.7-cubic-foot rear trunk, plus there's an additional 5.2 cubic feet of storage in the front of the car. Still, if you need more trunk space, you may want to consider a front-engine sports car instead.
718 Cayman Infotainment, Bluetooth, and Navigation
Most reviewers call Porsche's infotainment system high-tech and user-friendly, though a few note that the interface appears outdated and overly complicated next to some competitors. It comes standard with a 7-inch touch screen, two USB ports, satellite radio, and HD Radio. Upgrades worth considering include Apple CarPlay, an ultra-precise navigation system, and a Bose or Burmester surround-sound system.
For more information, read What Is Apple CarPlay?
718 Cayman Reliability
Is the Porsche 718 Cayman Reliable?
J.D. Power has yet to release a predicted reliability rating for the 2019 Porsche Cayman.
Porsche 718 Cayman Warranty
Porsche covers the 2019 718 Cayman with a four-year/50,000-mile warranty.
718 Cayman Safety
718 Cayman Crash Test Results
Like many high-end vehicles, the Porsche Cayman does not undergo crash test analysis by the Insurance Institute for Highway Safety or the National Highway Traffic Safety Administration.
718 Cayman Safety Features
Every Cayman comes with front and rear parking sensors and a rearview camera. Available safety upgrades include adaptive cruise control, lane change assist, and blind spot monitoring.
Which Porsche 718 Cayman Model Is Right for Me?
The 718 Cayman comes in three trims: base, S, and GTS. The main difference between the three is the horsepower rating, though upper trim levels also have added performance components. If you want your sports car to sound as good as it looks, start with the Cayman S. Its twin tailpipes and sports exhaust system generate a more satisfying growl than the base model. You'll also shave a half second off your zero-to-60-mph time, thanks to its meatier engine.
Powering the base Cayman ($56,900) is a 300-horsepower four-cylinder engine mated to a six-speed manual transmission. Manually adjustable sport seats are standard, as are Bi-Xenon headlights, a rearview camera, front and rear parking sensors, and a built-in garage door opener. The standard infotainment system includes the Porsche Communication Management interface, a 7-inch touch-screen display, eight speakers, two USB ports, satellite radio, HD Radio, and Bluetooth. A seven-speed automatic transmission is available for $3,210.
Power output increases to 350 horsepower with the Porsche Cayman S. In addition to its larger engine, the Cayman S features a twin tailpipe, sport-styled pedals, a sport-designed footrest, and red brake calipers. Prices start at $67,700 with the manual transmission and $70,901 with the automatic.
The range-topping Cayman GTS ($80,700) boasts a 365-horsepower four-cylinder engine, torque vectoring, an active suspension system, 20-inch alloy wheels, leather seats trimmed with Alcantara, and an Alcantara steering wheel. The Sport Chrono package – an option that includes a lap timer, launch control, and additional drive modes – is also standard. The GTS has the same transmission options as the lower trims.
Check out our U.S. News Best Price Program for great savings at your local Porsche dealer. You can also find excellent manufacturer incentives on our Porsche deals page.
The Final Call
Don't think the 718 Cayman is half the car the 911 is just because it's half the price. The Cayman is genuine Porsche, both in regard to performance and interior refinement. This sports coupe has no major marks against it, though shoppers should keep an eye on the final price when adding options, as these can be costly.
Don't just take our word for it. Check out comments from some of the reviews that drive our rankings and analysis.
Read the full 2019 Porsche Cayman review on U.S. News & World Report for more details, photos, specs and prices.
More from U.S. News & World Report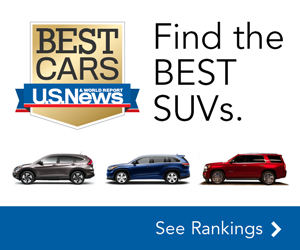 US News & World Report - Cars