2019 Porsche Panamera: What You Need to Know

US News & World Report - Cars
3/8/2019
Amid some outstanding super luxury car competitors, the 2019 Porsche Panamera stands out as a true driver's car. It's thrilling to drive, relaxing to ride in, and it has more luggage room than most competitors. Nonetheless, a few rivals feature a more lavish interior than this Porsche.
Research
The 2019 Porsche Panamera is ranked:
Is the Porsche Panamera a Good Car?
The Porsche Panamera is outstanding. While competition is tight in the super luxury car class, this Porsche's exceptional performance distinguishes it from the rest. From its base 330-horsepower V6 to its range-topping 680-horsepower plug-in hybrid powertrain, all of the Panamera's engine options are superb. This Porsche also gets high marks for handling. As it's both responsive and relaxing, you'll enjoy your time here whether you are the driver or a passenger. The cabin boasts luxurious materials, sumptuous seating for four, and sleek styling. Its configurations include three body styles: the standard four-door, the wagonlike Sport Turismo, and the extended-wheelbase Executive.
Should I Buy the Porsche Panamera?
If you prize sporty performance, a tranquil ride, and a modern design, the Porsche Panamera is a good fit for you. Its adaptive suspension allows the Panamera to be agile yet comfortable, appealing to both driver and passenger. The first-class cabin boasts luxurious materials and cutting-edge technology. That said, this is not the only alluring entry in the super luxury car segment. Other top-scoring editions worth considering include the Mercedes-Benz S-Class and the BMW 7 Series.  
Should I Buy a New or Used Porsche Panamera?
Since its debut for the 2017 model year, the current generation Panamera has changed very little other than the addition of some new configurations. That means you can buy a used 2017 or 2018 model and still get nearly the same experience that a new Panamera offers. When the Panamera was redesigned for 2017, Porsche improved its chassis, powertrain, and interior. For these reasons, we recommend the current generation over 2016 and older models.
If you're considering a used model, be sure to read our 2017 and 2018 Panamera reviews to help make your decision. Also check out our Used Car Deals page to learn about savings and discounts you can find on used cars.
We Did the Research for You: 14 Reviews Analyzed
Our goal is to make shopping for your next car as easy as possible. You'll find everything you need to know about the Porsche Panamera in our comprehensive review. It combines concrete data (like fuel economy estimates, horsepower specs, and cargo space dimensions) with 14 professional Porsche Panamera reviews.
This 2019 Porsche Panamera review incorporates applicable research for all model years in this generation, which runs from 2017 to 2019.
Why You Can Trust Us
The Best Cars team – a division of U.S. News & World Report – has been reviewing cars, trucks, and SUVs since 2007. With more than 75 years of combined automotive experience, our editors, writers, and analysts rank a wide variety of new and used cars and issue three annual awards: Best Cars for the Money, Best Cars for Families, and Best Vehicle Brands. To keep our recommendations unbiased, we decline expensive gifts from carmakers, and a third party handles our advertising.
How Much Does the Porsche Panamera Cost?
For 2019, starting prices of Panamera models start at $86,300 and soar north of $196,600. Trim levels include the Porsche Panamera 4 AWD ($90,900), Porsche Panamera 4S AWD ($104,000), Porsche Panamera Turbo ($151,500), and Porsche Panamera Turbo S E-Hybrid Sport Turismo ($190,200). To see more vehicle details on each trim, see our section below, Which Porsche Panamera Model Is Right for Me?
Check out our U.S. News Best Price Program for great savings at your local Porsche dealer. You can also find excellent manufacturer incentives on our Porsche deals page.
Porsche Panamera Versus the Competition
Which Is Better: Porsche Panamera or Mercedes-Benz S-Class?
The Mercedes-Benz S-Class is a phenomenal car. Its potent engine lineup ranges from a 362-horsepower twin-turbo V6 in the base model to the 621-horsepower twin-turbo V12 found under the hood of the Mercedes-AMG S65. Mercedes offers an array of lavish options, such as heated and cooled rear cup holders, a 26-speaker Burmester 3D audio system, and a split-view front entertainment system. The S-Class is a good choice if you value indulgence over sports-carlike performance, though both cars are superb.
Which Is Better: Porsche Panamera or BMW 7 Series?
Side-by-side, the BMW 7 Series is a better value than the Porsche Panamera. In addition to having a base price that's around $3,000 lower, the 7 Series comes with more standard features, including full leather upholstery and quad-zone automatic climate control. At this price point, though, a good value doesn't necessarily mean it's the better buy. Notably, this Bimmer's performance chops don't quite keep up with the Porsche's. We recommend comparing the driving experience and value proposition of each to see which fits your needs best.
Panamera Interior
How Many People Does the Panamera Seat?
All Panamera models seat four people, with a set of bucket seats in the rear. This Porsche's passenger accommodations are first-class, with supple cushions and lots of room to stretch out. For an even roomier rear seat, seek out a Sport Turismo model (which has more headroom) or an Executive model (which expands legroom). Leather-trimmed seats and heated front seats are standard.
Panamera Interior Quality
Porsche strays from its characteristic classic sports-car styling, crafting a space that is modern and minimalistic. Highlights include top-notch material, a button-free center stack, and a series of display screens that boast crisp graphics. In addition to traditional upgrades like Alcantara and carbon fiber, unusual options such as exotic wood inlays are available.
Panamera Cargo Space
You can carry more luggage in the back of a Panamera than in most other super luxury cars, especially if you select the Sport Turismo wagon or long-wheelbase Executive body styles. Behind the rear seats, the main hatchback-like and longer Executive body styles have 17.6 cubic feet of space, and the Sport Turismo has an 18.3-cubic-foot cargo area. Cargo space is quite small in E-Hybrid models, however, at 14.3 cubic feet.
Panamera Infotainment, Bluetooth, and Navigation
Porsche ditches convention when it comes to the Panamera's infotainment system. Instead of using the typical set of controls and knobs in the center stack, you make most adjustments using one of the touch screens. The display in the front is exceptionally crisp, and rear-seat passengers get a similar touch screen in the back. As innovative as this system is, using it requires more attention from the driver than conventional buttons do. Notable standard features include navigation and Apple CarPlay. An impressive 21-speaker Burmester surround-sound system is available.
Panamera Performance
Panamera Engine: The Benchmark in Performance
Porsche sets the standard for high-performance powertrains; any of its available engines will reward you with sizzling acceleration rates and a satisfying exhaust note. Base Panamera models get a 330-horsepower V6 engine that goes from zero to 60 mph in as little as 5.2 seconds. From there, power outputs only go up while sprint times shrink. At the peak is the Panamera Turbo S E-Hybrid. Its twin-turbocharged V8 engine and electric motor have a combined 680-horsepower rating, and it can sprint from zero to 60 mph in 3.4 seconds when outfitted with the optional Sport Chrono package. All engines come with an eight-speed dual-clutch automatic transmission that's exceptionally refined.
Panamera Gas Mileage: Not Yet Available
The EPA has not yet released fuel economy ratings for the 2019 model.
Panamera Ride and Handling: The Best of Both Worlds
Typically, luxury cars are athletic (and somewhat firm) or soothing (and not very agile). The Panamera leads the pack when it comes to blending sporty handling with a comfortable ride. It owes much of this achievement to the standard Porsche Active Suspension Management, a system that rapidly adjusts to changing road conditions. Performance upgrades include an adaptive air suspension system. All-wheel drive is standard on all but the base model, which comes with rear-wheel drive. 
Panamera Reliability
Is the Porsche Panamera Reliable?
The 2019 Panamera has a predicted reliability rating of 3.5 out of five from J.D. Power. This is an above average rating for all new cars.
Porsche Panamera Warranty
Porsche covers the Panamera with a four-year/50,000-mile warranty. Many luxury vehicles have similar warranty terms.
Panamera Safety
Panamera Crash Test Results
The Porsche Panamera has not undergone any crash tests from either the Insurance Institute for Highway Safety or the National Highway Traffic Safety Administration. That's normal for a super luxury car.
Panamera Safety Features
Standard safety features in the Panamera include a rearview camera as well as front and rear parking sensors. Available options include a surround-view camera, a head-up display, adaptive cruise control, lane change assist, traffic sign recognition, and night vision – a system that uses thermal imaging to detect people or large animals on a dark highway.
Which Porsche Panamera Model Is Right for Me?
Porsche offers this super luxury car in a dizzying array of configurations. The easiest way to decode each is to learn the key to Porsche's nomenclature. First, there are three body styles: the standard four-door, the wagonlike Sport Turismo, and the extra-long Executive. The model name – base, 4S, GTS, Turbo, and E-Hybrid, and Turbo E-Hybrid – reveals the car's engine. The base Panamera comes with rear-wheel drive. All upper trims have all-wheel drive, which gives you extra grip on slippery roads and also launches you faster from a stop.
The entry-level Panamera is a sublime choice, as it's equipped with a robust engine and lots of luxurious features. Interior amenities are mostly the same across the Porsche lineup, so getting a new Porsche is more about customization. The list of options is even more voluminous than the trim levels, with upgrades that include more than a dozen wheel designs, a bevy of leather seat colors, opulent extras like massaging seats, and even different seat belt colors.
Starting off the fleet is the Porsche Panamera at $86,300. It's powered by a 330-horsepower V6 engine. Editions include the Porsche Panamera 4 ($90,900), Porsche Panamera 4 Sport Turismo ($97,100), and Panamera 4S Executive ($115,300), all three of which come with all-wheel drive.
The twin-turbo V6 in the Porsche Panamera 4S has a 440-horsepower rating. Prices for this all-wheel-drive model start at $104,000.
The Panamera 4 E-Hybrid is a plug-in hybrid with a starting price of $102,900. Between its twin-turbo V6 and its electric motor, this edition has a total output of 462 horsepower.
The Panamera Turbo S E-Hybrid ($186,200) is also equipped with an electric motor, but swaps the V6 for a twin-turbo V8. Its 680-horsepower rating is at the top of the chart in the Panamera lineup. 
The Panamera GTS also sports a twin-turbo V8 engine. Prices start at $128,300 for this 453-horsepower model.
Under the hood of the Panamera Turbo ($151,500) is a twin-turbo V8 with a 550-horsepower rating.
Check out our U.S. News Best Price Program for great savings at your local Porsche dealer. You can also find excellent manufacturer incentives on our Porsche deals page.
The Final Call
The 2019 Porsche Panamera represents the acme of performance for a super luxury car. Its engine options are impressive, the automatic transmission is magnificent, and its handling is both agile and comfortable. Adding to its allure are exceptionally comfortable seats and high-tech features like a back-seat infotainment touch screen. As luxurious as the Panamera's interior is, a few rivals give it a run for the money. The Mercedes-Benz S-Class, for instance, is worth considering if you like adding over-the-top amenities.
Don't just take our word for it. Check out comments from some of the reviews that drive our rankings and analysis.
Read the full 2019 Porsche Panamera review on U.S. News & World Report for more details, photos, specs and prices.
More from U.S. News & World Report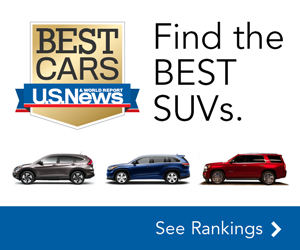 US News & World Report - Cars