2018 Cadillac Escalade – Audio and Infotainment

Car and Driver
8/14/2018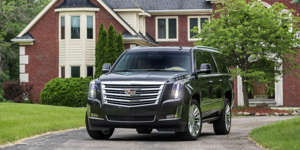 Audio and Infotainment Rating:

A luxury vehicle should provide relaxation as opposed to frustration of the sort embodied by the Escalade's CUE infotainment system. Its heavy reliance on touch-sensitive controls is always distracting and at times inaccurate. Otherwise, every model includes an array of charging outlets and standard features such as Apple CarPlay and Android Auto.
Research the Cadillac Escalade on MSN Autos | Find a Cadillac Escalade near you
Infotainment Features
Every Escalade in the lineup has an 8.0-inch touchscreen running the latest iteration of Cadillac's CUE infotainment software. While the interface has organized menus and clear graphics, it's less impressive that it shadows the systems found on lesser GM products such as the GMC Yukon. Every Escalade includes a 4G LTE mobile hotspot with three months of service or 3 GB of data (whichever comes first) before owners must purchase a subscription. The myCadillac mobile app is also standard, which allows users to remotely control and monitor their vehicle from a smartphone. This means you can lock or unlock the doors, start or stop the engine, find the vehicle on a map, check fuel range, and more.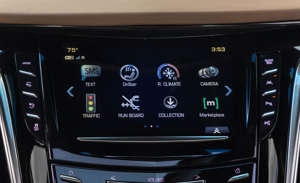 Audio and Infotainment
© Car and Driver
Bluetooth Phone Operation

Infotainment Performance
Unfortunately, the CUE system lacks user-friendly controls. While the touchscreen has haptic feedback and responded quickly to our inputs, for the most part we avoided changing the radio station on the screen or using the touch-sensitive volume bar on the center stack. Instead, we relied on the steering-wheel-mounted controls. However, the matter was unavoidable when we needed to adjust the climate settings, whereupon we were forced to interact with the Escalade's distracting and unintuitive controls.
Infotainment Controls

© Car and Driver Audio and Infotainment

© Car and Driver Audio and Infotainment
Test Results: Infotainment Response Time
By filming the infotainment screen while switching between various menus and then analyzing the high-speed video frame by frame, we are able to accurately measure the system's response time. We rate infotainment response, or latency, on the following scale:
We measure the electrical current that each USB port provides. All USB ports found in a vehicle provide 5.0 volts, per the USB standard. Current, measured in amps, varies and dictates the charge times of devices. The higher the amps, the quicker a device's charge time. Not all USB devices are created equal. Most modern smartphones can charge at 2.0 amps, while slow or stagnant charging can result from using current at 1.0 amp or lower when the device is in use.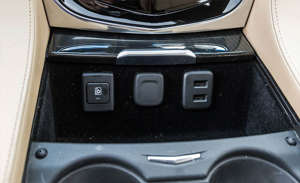 Test Results: First-Row USB Performance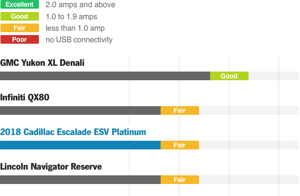 Test Results: Second-Row USB Performance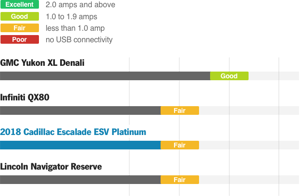 Audio System and Features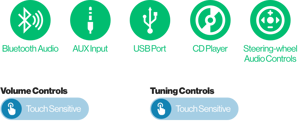 Available Audio Systems

© Car and Driver Audio and Infotainment  
Continue Reading:
• 2018 Cadillac Escalade – Overview
• Engine and Transmission
• Fuel Economy and Driving Range
• Performance and Driving Impressions
• Interior and Passenger Space
• Audio and Infotainment
• Cargo Space and Storage
• Exterior Design and Dimensions
• Safety and Driver Assistance
• Warranty and Maintenance Coverage
• Video Overview: Interior, Infotainment, Cargo Space