Audio and Infotainment

Car and Driver
8/30/2018
Audio and Infotainment Rating:
Nissan Connect may not be among the most beautiful infotainment interfaces on the market today, but it's intuitive and easy to learn. All Kicks models come with a seven-inch touchscreen infotainment system, a six-speaker stereo, and Bluetooth connectivity; two different premium audio systems are optional, as is onboard Wi-Fi.
Infotainment Features
Three USB ports allow for a variety of devices to be charged or connected to the infotainment system; Apple CarPlay and Android Auto are standard on the SV and SR trim levels. Users who need an internet connection for a laptop or tablet can have a 4G LTE Wi-Fi hotspot installed through their Nissan dealer for $450 on any Kicks model. What you won't find on the list of infotainment features, however, is navigation: Maps and turn-by-turn guidance can be projected onto the infotainment system using one of the aforementioned smartphone-integration features instead.

2018 Nissan Kicks Review – Nissan Connect Audio and Infotainment
© Car and Driver
Bluetooth Phone Operation

Infotainment Performance
We wish some of the on-screen icons were larger and easier to press while driving. But the system's simple operation and short list of features make it less daunting than the Honda HR-V's system and much quicker to respond.
Infotainment Controls

Test Results: Infotainment Response Time
By filming the infotainment screen while switching between various menus and then analyzing the high-speed video frame by frame, we are able to accurately measure the system's response time. We rate infotainment response, or latency, on the following scale: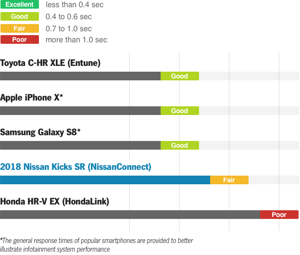 We measure the electrical current that each USB port provides. All USB ports found in a vehicle provide 5.0 volts, per the USB standard. Current, measured in amps, varies and dictates the charge times of devices. The higher the amps, the quicker a device's charge time. Not all USB devices are created equal. Most modern smartphones can charge at 2.0 amps, while slow or stagnant charging can result from using current at 1.0 amp or lower when the device is in use.
Test Results: USB Performance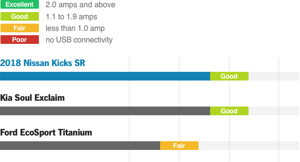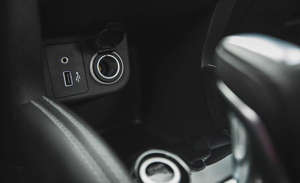 Audio System and Features
Nissan offers a six-speaker audio system as standard, but for $595, buyers can add a Rockford Fosgate subwoofer and a 300-watt amplifier. If that doesn't add enough punch to your Kicks, an eight-speaker Bose audio system is offered on the SR trim as a part of the $1000 Premium package. The Bose system cleverly incorporates speakers inside the front-seat headrests for a more personal audio experience.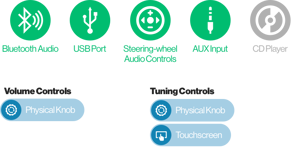 Available Audio Systems