Mini Cooper Clubman JCW – Audio and Infotainment

Car and Driver
8/21/2018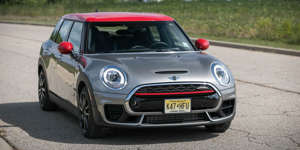 Audio and Infotainment Rating:

Minis have some of the most iconoclastic infotainment packaging on the market, with the screens and buttons housed in a giant round panel smack in the middle of the dash. The touchscreen resolution is high quality and can also be controlled by a rotating knob behind the shifter.
What's New for 2018?
Research the Mini Clubman on MSN Autos | Find a Mini Clubman near you
Mini has addressed one of the Clubman JCW's two glaring infotainment omissions by adding Apple CarPlay to its list of options for 2018. Unfortunately for non-iPhone folk, Android Auto is still missing in action.
Infotainment Features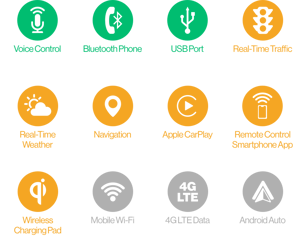 We measure the electrical current that each USB port provides. All USB ports found in a vehicle provide 5.0 volts, per the USB standard. Current, measured in amps, varies and dictates the charge times of devices. The higher the amps, the quicker a device's charge time. Not all USB devices are created equal. Most modern smartphones can charge at 2.0 amps, while slow or stagnant charging can result from using current at 1.0 amp or lower when the device is in use.
Infotainment Performance
Test Results: USB Performance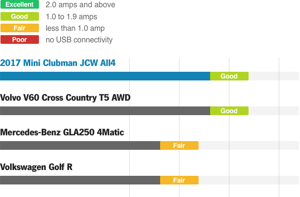 Other than the newly available Apple CarPlay, the 2018 Clubman JCW has the same audio and infotainment system and features as before. For details about the audio and infotainment system of the 2017 Mini Cooper Clubman JCW, see our in-depth review.

Continue Reading:
• Mini Cooper Clubman JCW – Overview
• Engine and Transmission
• Fuel Economy and Driving Range
• Performance and Driving Impressions
• Interior and Passenger Space
• Audio and Infotainment
• Cargo Space and Storage
• Exterior Design and Dimensions
• Safety and Driver Assistance
• Video Overview: Interior, Infotainment, Cargo Space