2018 Cadillac Escalade – Cargo Space and Storage

Car and Driver
8/14/2018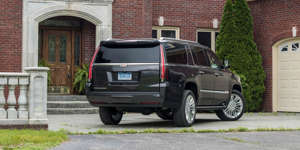 Cargo Space and Storage Rating:

With three rows and two body styles, the Escalade can handle a variety of passenger and package combinations. Inside, its cubbies can hold lots of loose items, but the cargo floor is high off the ground, making it difficult to load heavy items.
While both versions of Escalades have a power-folding third row, the extended ESV is more useful on family road trips. With an extra 24 cubes behind the last row, it held eight more bags back there than the shorter model.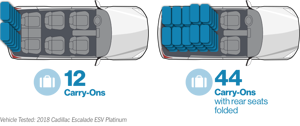 © Car and Driver Cargo Space and Storage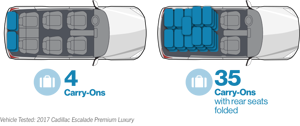 © Car and Driver Cargo Space and Storage
Research the Cadillac Escalade on MSN Autos | Find a Cadillac Escalade near you
Test Results: Carry-On Luggage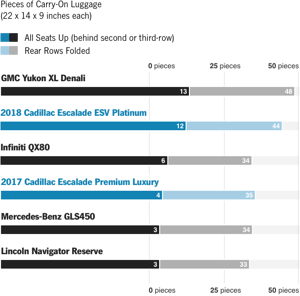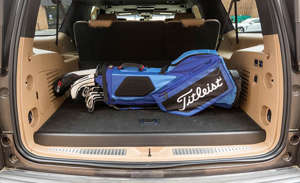 Cargo Configurations

Cargo Volume Comparisons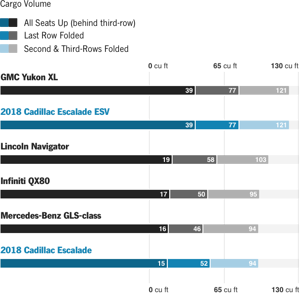 Lift-Over Height

Test Results: Lift-Over Height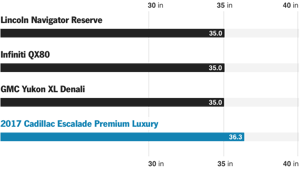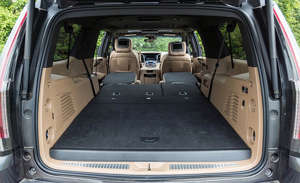 Interior Cubby Storage
All of these large luxury SUVs have substantial interior storage space. While the Caddy's cabin doesn't hold nearly as many ping-pong balls as the Lincoln Navigator we tested, it has a sizable center console that includes an optional refrigerated bin. There's also a hidden compartment behind the climate controls that powers open, which is perfect for storing smartphones that are paired with the infotainment system. The cargo area features a big underfloor bin that's useful for separated storage but also decreases carry-on capacity.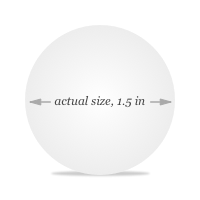 Why do we use ping-pong balls?
To determine the interior space available to stash travel essentials, we've devised a range of measuring protocols. We use six beverage containers ranging in size and shape to gauge cupholder accommodation. We stack, stuff, and arrange 9-by-14-by-22-inch cardboard boxes to quantify the number of airline-carry-on-size suitcases that will fit in a trunk or folded seat's cargo space. To measure irregularly shaped gloveboxes, door pockets, and console bins, we fill each container with 1.5-inch-diameter ping-pong balls. It's tempting to convert the number of spheres to a volume (cubic inches), but we resist that calculation because-as with the box of tissues, 12-ounce can of soda, or gallon of milk you might stash in these compartments-there are voids between the balls. Random packing (our procedure) nullifies approximately one-third of the available space. The negative space between the balls could theoretically be reduced to 25 percent of an irregular shape with precise stacking, but while we might be pedantic, we're not crazy.

Test Results: Maximum Cubby Storage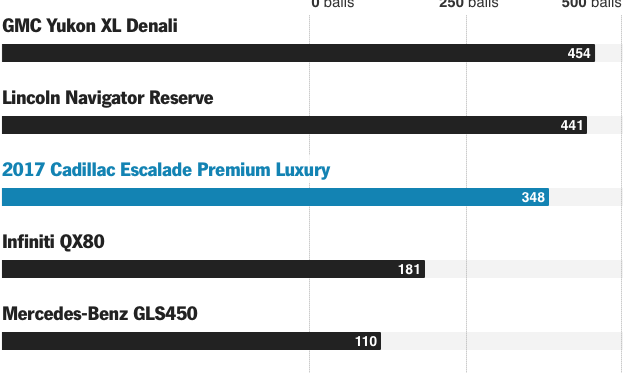 Cargo Space and Storage
© Car and Driver

Continue Reading:
• 2018 Cadillac Escalade – Overview
• Engine and Transmission
• Fuel Economy and Driving Range
• Performance and Driving Impressions
• Interior and Passenger Space
• Audio and Infotainment
• Cargo Space and Storage
• Exterior Design and Dimensions
• Safety and Driver Assistance
• Warranty and Maintenance Coverage
• Video Overview: Interior, Infotainment, Cargo Space