Cargo Space and Storage

Car and Driver
8/23/2018
Cargo Space and Storage Rating:

The Sentra offers enough space to keep up with the rivals tested here, but packaging issues prevent it from being truly great.
With 15 cubic feet of trunk space, the Sentra is excellent for storage. A 60/40 split-folding rear seat expands capability, but it does not fold into a flat load floor, making it less useful.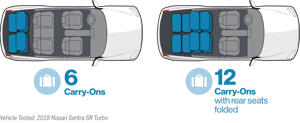 Test Results: Carry-On Luggage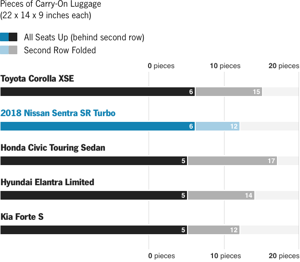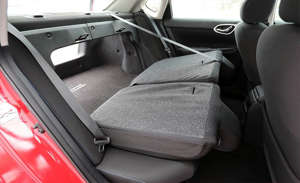 Cargo Configurations
Cargo Volume Comparisons
Compared with other vehicles tested here, the Sentra's trunk space is solid, but it handled significantly fewer carry-ons than it otherwise would have due to its uneven load floor.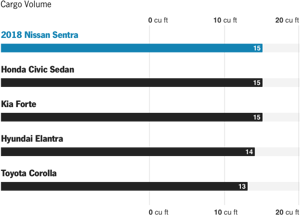 Lift-Over Height
The Sentra's tall overall profile does not affect the height of the load floor, which is comparable with other cars tested here.

Test Results: Lift-Over Height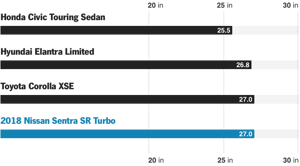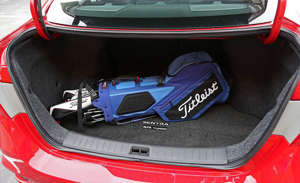 Interior Cubby Storage
The Sentra's front cabin lacks the cubby space a basic commuter car should have. When in use, an auxiliary-input cord cuts into the small space below the center stack. When the car is equipped with heated front seats, those buttons cut into the center-tunnel space, and the center-armrest cubby is small. That essentially leaves the cupholders for storage space, which is an obvious conflict for those who always bring a Monster or a Frappuccino with them.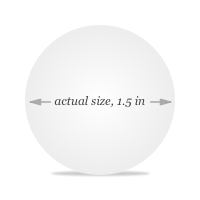 Why do we use ping-pong balls?
To determine the interior space available to stash travel essentials, we've devised a range of measuring protocols. We use six beverage containers ranging in size and shape to gauge cupholder accommodation. We stack, stuff, and arrange 9-by-14-by-22-inch cardboard boxes to quantify the number of airline-carry-on-size suitcases that will fit in a trunk or folded seat's cargo space. To measure irregularly shaped gloveboxes, door pockets, and console bins, we fill each container with 1.5-inch-diameter ping-pong balls. It's tempting to convert the number of spheres to a volume (cubic inches), but we resist that calculation because-as with the box of tissues, 12-ounce can of soda, or gallon of milk you might stash in these compartments-there are voids between the balls. Random packing (our procedure) nullifies approximately one-third of the available space. The negative space between the balls could theoretically be reduced to 25 percent of an irregular shape with precise stacking, but while we might be pedantic, we're not crazy.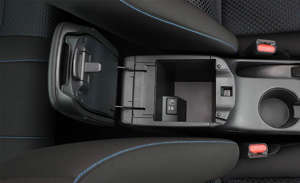 Test Results: Maximum Cubby Storage
Cargo Space and Storage
© Car and Driver