Engine and Transmission

Car and Driver
6/6/2018
Engine and Transmission Rating:

The Navigator has only one engine-and-transmission combination, but with 450 horsepower and 510 lb-ft of torque, one is all it needs. Measured by towing prowess and quickness, it's the best in this set. Buyers who don't track their monthly fuel costs will be happy indeed.
We found the Navigator to be reasonably responsive and genuinely speedy when provoked, and while the 10-speed automatic transmission never manages sporty programming, it does shuffle through gears adeptly enough to avoid perturbing dozing passengers. Every Navigator comes with six preprogrammed drive modes, including the obtusely named "deep conditions," which is labeled "snow" in most cars. Each mode adjusts steering effort, throttle-pedal response, suspension settings, and the all-wheel-drive system (if equipped), but during our drives in good weather on public roads we only noticed minor variations among the modes.
Test Results: Acceleration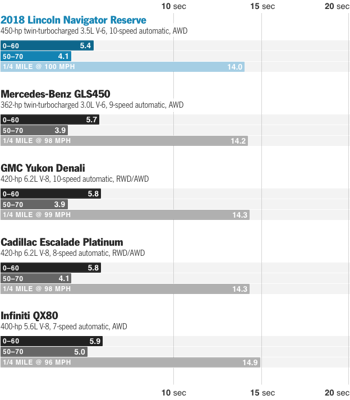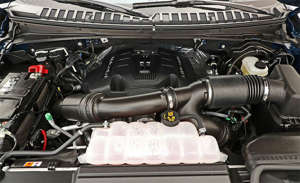 Manual Shifting Capability

Automatic Stop/Start

Tow Ratings Compared
Rated to tow 8700 pounds, the Navigator is the best workhorse in this set.