2018 Cadillac Escalade – Engine and Transmission

Car and Driver
8/14/2018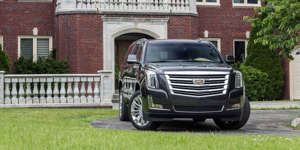 Engine and Transmission Rating:

Behind the Escalade's giant sparkling grille sits a mighty V-8 powertrain connected to a 10-speed automatic transmission that shifts with finesse. Together, they push this plus-size SUV with authority and can tow more than 8000 pounds.
With 420 horsepower pumping out of its 6.2-liter V-8 at full steam, the heavy Escalade and heavier Escalade ESV accelerate with aplomb. In our testing, the old-school pushrod engine was always responsive, and the transmission handled gearchanges without fuss. We also appreciated the hearty growl that exited the exhaust pipes after heavy throttle inputs. Still, the Slade was quiet and refined at cruising speeds.
Those who need the all-weather assurance of all-wheel drive can add it for $3000; otherwise, rear-wheel drive is standard. We've only tested an all-wheel-drive ESV, but it thundered from zero to 60 mph in 6.3 seconds. That time is the slowest among these competitors yet impressive nonetheless. Besides, the Escalade was more competitive in our 50-to-70-mph test, which simulates a vehicle's passing power.
Research the Cadillac Escalade on MSN Autos | Find a Cadillac Escalade near you
Test Results: Acceleration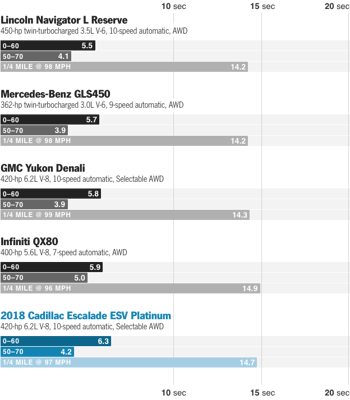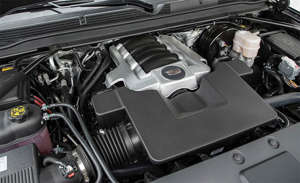 Manual Shifting Capability
The only way to manually shift the Escalade's 10-speed automatic is with buttons on the column-mounted shifter. Anyone who has ever driven the Chevrolet Tahoe or the GMC Yukon will be familiar since it's the same unremarkable setup.

Automatic Stop/Start

Tow Ratings Compared
The regular Escalade can tow up to 8300 pounds, but the ESV version is capped at 8100. While the Lincoln Navigator can handle another 400 pounds, the difference is negligible since all these luxury SUVs can tow considerable loads.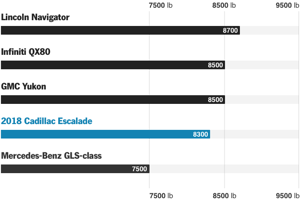 Continue Reading:
• 2018 Cadillac Escalade – Overview
• Engine and Transmission
• Fuel Economy and Driving Range
• Performance and Driving Impressions
• Interior and Passenger Space
• Audio and Infotainment
• Cargo Space and Storage
• Exterior Design and Dimensions
• Safety and Driver Assistance
• Warranty and Maintenance Coverage
• Video Overview: Interior, Infotainment, Cargo Space