2018 Audi R8 – Engine and Transmission

Car and Driver
8/16/2018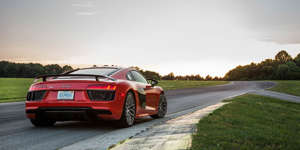 Engine and Transmission Rating:

The R8's 5.2-liter V-10 engine is offered in two strengths, both potent enough to knock the wind out of unsuspecting passengers and both capable of searing your eardrums with their otherworldly exhalations. The base coupe and the Spyder convertible get 532 horsepower to play with; the V10 Plus coupe and Spyder are upgraded to 602 horsepower.
What's New for 2018?
Research the Audi R8 on MSN Autos | Find an Audi R8 near you
The convertible Spyder model finally receives the upgraded engine from the V10 Plus coupe for 2018, but both versions of the R8's V-10 engine earn slightly lower horsepower ratings this year. Last year's 540-hp V-10 now makes 532 horses, while the V10 Plus models drop from 610 horsepower to 602. We still expect performance to be roughly the same as last year's models. A new entry-level model, which is rear-wheel drive rather than all-wheel drive, joins the lineup.
For details about the engines and transmissions of the 2017 Audi R8, see our in-depth review.
Test Results: Acceleration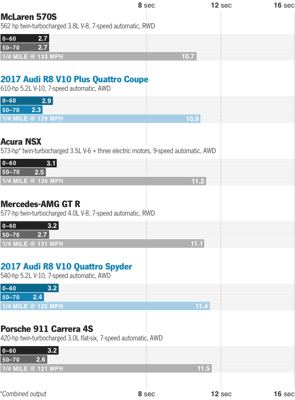 Continue Reading:
• 2018 Audi R8 Overview
• Engine and Transmission
• Fuel Economy and Driving Range
• Performance and Driving Impressions
• Interior and Passenger Space
• Audio and Infotainment
• Cargo Space and Storage
• Exterior Design and Dimensions
• Safety and Driver Assistance
• Warranty and Maintenance Coverage
• Video Overview: Interior, Infotainment, Cargo Space