Engine and Transmission

Car and Driver
8/23/2018
Engine and Transmission Rating:

It says something that a car wearing an Eco badge-the Hyundai Elantra-is quicker than the base Sentra in our testing. The Sentra 1.8-liter is slow, and it barks in protest when it's pushed. The six-speed manual transmission adds a modicum of spice to an otherwise mind-numbing experience, and the continuously variable automatic transmission (CVT) attempts to mimic the shifting feel of a conventional automatic by using simulated fixed ratios. The turbocharged engine provides significant improvement in off-the-line speed and response times, but the models powered by it are too expensive to justify.
Test Results: Acceleration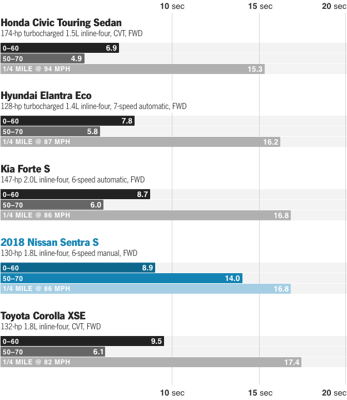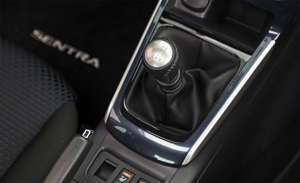 Manual Shifting Capability
The Sentra's CVT has an optional manual shifting mode on SR Turbo and NISMO models. The Sentra is also available with a manual transmissions, and those so inclined should buy that instead.

Automatic Stop/Start
The Sentra cannot be ordered with automatic stop/start technology.