2019 Honda Insight – Engine and Transmission

Car and Driver
9/7/2018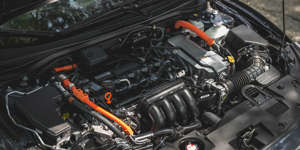 Engine and Transmission Rating:

The Insight does a better job balancing spry acceleration with miserly fuel economy than most hybrids do. It's about as quick as many conventionally powered compact cars (and way quicker than the other hybrid competitors tested here). Its combination of a gas engine and electric motors is rarely noticeable as anything out of the ordinary.
There's a lot going on underneath the hood in the Insight-a 1.5-liter four-cylinder gas engine works with two electric motors. The setup provides a combined 151 horsepower, which motivates the Insight from zero to 60 mph in just 7.7 seconds. It can run on its electric propulsion motor alone for roughly one mile at lower speeds, but request more power and the gasoline engine will kick in seamlessly. You might notice the engine getting loud under hard acceleration, but the Insight's powertrain is otherwise quiet and refined.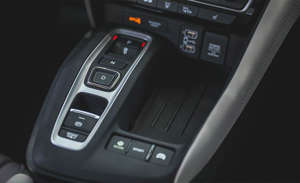 Research the Honda Insight on MSN Autos | Find a Honda Insight near you
Test Results: Acceleration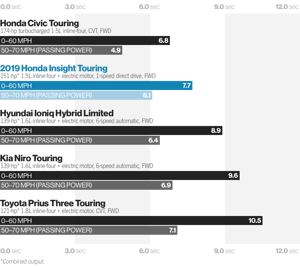 Continue Reading:

• 2019 Honda Insight - Overview and Pricing
• Engine and Transmission
• Fuel Economy and Driving Range
• Performance and Driving Impressions
• Interior and Passenger Space
• Cargo Space and Storage
• Audio and Infotainment
• Exterior Design and Dimensions
• Safety and Driver Assistance
• Warranty and Maintenance Coverage
• Video Overview: Interior, Infotainment, Cargo Space