Exterior Design and Dimensions

Car and Driver
8/14/2018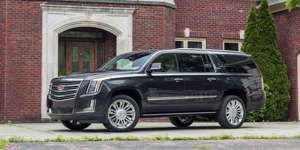 Exterior Design and Dimensions Rating:

As the brand's unofficial flagship and most recognized model, the Escalade nameplate is synonymous with Cadillac. Available in large and extra-large body styles, the Caddy's enormous silhouette and heavily chromed shell receive considerable curbside respect. Too bad its immense dimensions make the Escalade hard to handle in tight quarters.
Research the Cadillac Escalade on MSN Autos | Find a Cadillac Escalade near you
Exterior Dimensions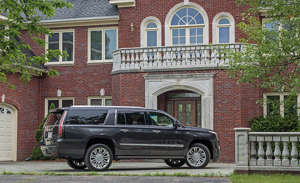 Exterior Measurement Comparisons
No matter the model, every Escalade fills a lane and shrinks parking spots. The extended ESV version has another 14 inches between the wheels compared with the regular model and is about 20 inches longer from stem to stern. As one would expect, this further complicates navigating in parking garages, bumper-to-bumper traffic, and certain drive-through corridors.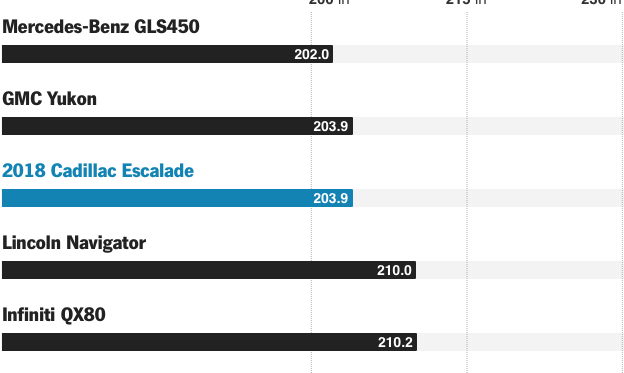 Exterior Design and Dimensions
© Car and Driver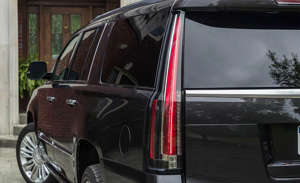 Exterior Features
The Escalade was a founding father of the bling phenomenon that gripped the country right after the turn of the century. Today, its gigantic Cadillac grille, bejeweled headlights, chrome trim, 20-inch-or-larger rims, and towering taillights come straight from the factory. While the Slade has many fancy standard features, the Radiant package adds a unique grille design, 22-inch wheels, and chrome exhaust tips.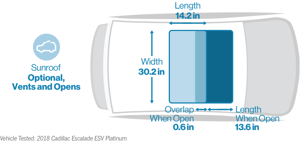 © Car and Driver Exterior Design and Dimensions

© Car and Driver Exterior Design and Dimensions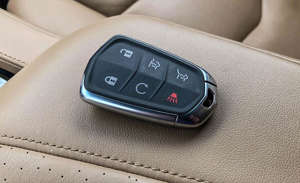 Active Key-Fob Commands

Passive Key-Fob Commands

• 2018 Cadillac Escalade – Overview
• Engine and Transmission
• Fuel Economy and Driving Range
• Performance and Driving Impressions
• Interior and Passenger Space
• Audio and Infotainment
• Cargo Space and Storage
• Exterior Design and Dimensions
• Safety and Driver Assistance
• Warranty and Maintenance Coverage
• Video Overview: Interior, Infotainment, Cargo Space