2018 Cadillac Escalade – Fuel Economy and Driving Range

Car and Driver
8/14/2018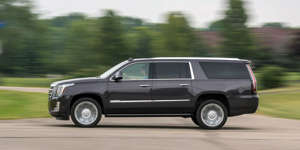 Fuel Economy and Driving Range Rating:

Despite a hefty curb weight and a hearty V-8, the Escalades' EPA estimates align with the competition. Also, the Caddy was one of the few vehicles here to meet expectations in our real-world testing.
Both Escalade body styles have the same city and combined EPA estimates, but the rear-drive versions earn 2 mpg more on the highway. However, we've only tested one with all-wheel drive.
Research the Cadillac Escalade on MSN Autos | Find a Cadillac Escalade near you
Fuel Economy Ratings Compared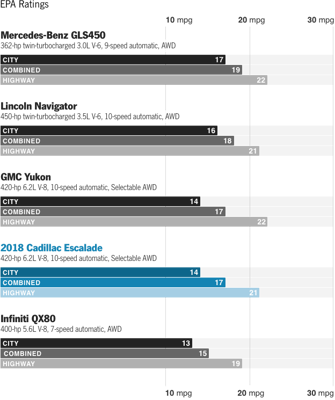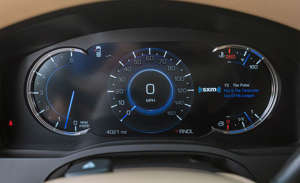 We've devised our own fuel-economy test in an attempt to replicate how most people drive on the highway. Our procedure entails a 200-mile out-and-back loop on Michigan's I-94 highway. We maintain a GPS-verified 75 mph and use the cruise control as much as possible to mimic the way many drivers behave during long trips.
The Escalade ESV we tested matched its EPA-estimated 21 mpg on our fuel loop. The only rival to do better was the Mercedes-Benz GLS450, which earned an impressive 25 mpg.
Test Results: Highway Fuel Economy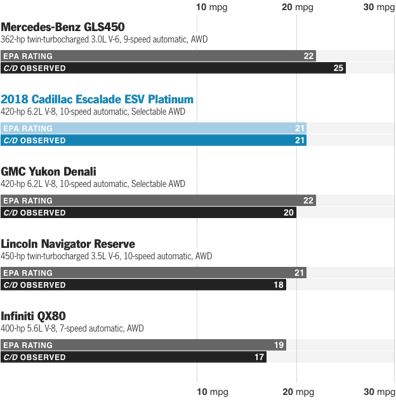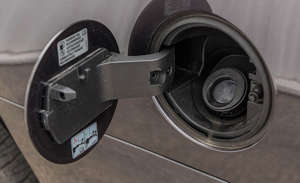 Our Escalade ESV test vehicle had a 31.0-gallon fuel tank, which gave it a range of 650 miles. The shorter version uses a smaller, 26.0-gallon tank. And the Caddy's V-8 outperformed the all-new Lincoln Navigator's twin-turbo V-6 by 3 mpg in our test, too.
Test Results: Highway Range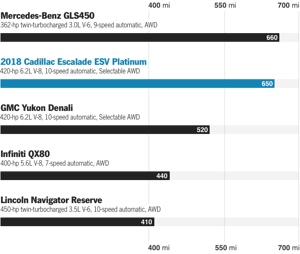 © Car and Driver Fuel Economy and Driving Range  
Continue Reading:
• 2018 Cadillac Escalade – Overview
• Engine and Transmission
• Fuel Economy and Driving Range
• Performance and Driving Impressions
• Interior and Passenger Space
• Audio and Infotainment
• Cargo Space and Storage
• Exterior Design and Dimensions
• Safety and Driver Assistance
• Warranty and Maintenance Coverage
• Video Overview: Interior, Infotainment, Cargo Space