Fuel Economy and Driving Range

Car and Driver
9/11/2018
Fuel Economy and Driving Range Rating:

While its EPA ratings place the E-class mid-pack among the rivals in this comparison, the four-cylinder E300 over-delivered on its highway rating in our testing with a 32-mpg result. The new V-6–powered E400 model isn't as efficient as the turbo four, but it's not far off either.
What's New for 2018?
The all-wheel-drive E300 4Matic model sees its city EPA rating drop by 1 mpg and the new E400 4Matic sedan joins the lineup with ratings that are barely lower than the four-cylinder models. We haven't had the chance to put an E400 sedan through our real-world highway fuel-economy test yet, but the coupe and convertible models each delivered an impressive 29 mpg.
EPA Fuel Economy Ratings Compared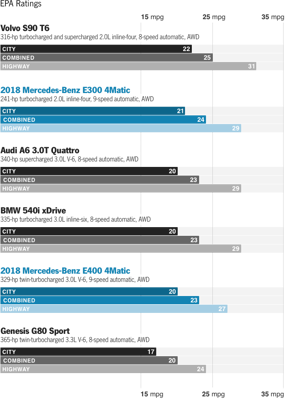 We've devised our own fuel-economy test in an attempt to replicate how most people drive on the highway. Our procedure entails a 200-mile out-and-back loop on Michigan's I-94 highway. We maintain a GPS-verified 75 mph and use the cruise control as much as possible to mimic the way many drivers behave during long trips.
Test Results: Highway Fuel Economy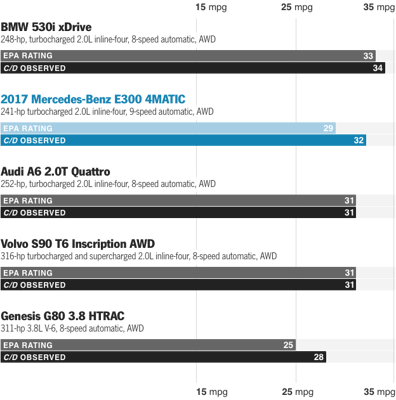 Test Results: Highway Range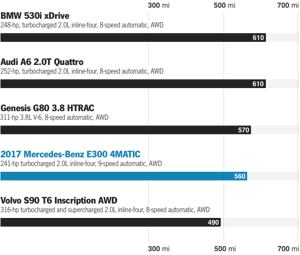 For more information on the fuel economy and driving range of the E-class, you can read our in-depth review of the 2017 model.