2018 Cadillac Escalade – Interior and Passenger Space

Car and Driver
8/14/2018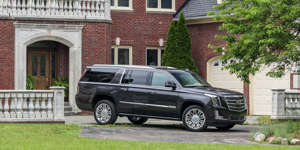 Interior and Passenger Space Rating:

Although the Escalade's interior is swathed in leather and fitted with desirable features, these traits only camouflage the many carryover parts it shares with cheaper corporate siblings. Likewise, both Escalade body styles have mediocre passenger space-comparatively speaking-in their second and third rows, which also diminishes the luxury experience.
Research the Cadillac Escalade on MSN Autos | Find a Cadillac Escalade near you
Interior Space Comparisons
The Escalade has ample front-seat space-provided that passengers don't scoot forward to increase the legroom for those behind them. A set of second-row captain's chairs are standard issue, but they can be replaced with a 40/60 split-folding bench seat. Families larger than four may want to choose the second-row bench seat, since the shorter Escalade's third row is only suitable for children. The longer Escalade ESV's third row offers an extra 9.7 inches of legroom, but those seeking maximum third-row space should see the extended Lincoln Navigator L. It has almost two more inches of third-row legroom than the Escalade ESV.
First-Row Passenger Space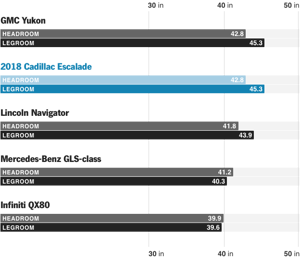 Second-Row Passenger Space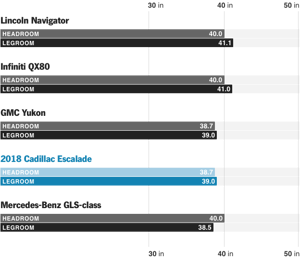 Third-Row Passenger Space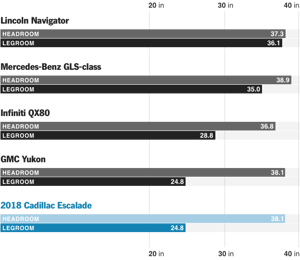 Interior Features
We like the Escalade's wealth of standard interior features, such as heated and cooled front seats and power-adjustable steering wheel and pedals. And the wide front seats will fit all manner of body styles. Too bad the available massage functions are reserved for the outrageously priced Platinum trim, which also includes a suede headliner, leather-wrapped upper-door panels and center console, and unique wood accents. Our Escalade ESV Platinum tester was equipped that way but still failed to feel much fancier than the premium yet less expensive GMC Yukon Denali. The Caddy's touch-sensitive and oft-frustrating climate controls were also unconvincing compared with the GMC's straightforward switchgear.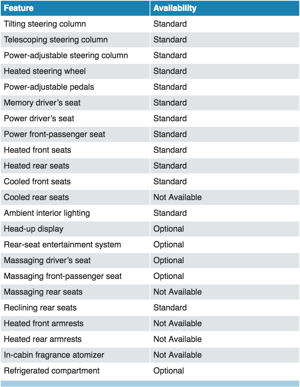 Seat Adjustments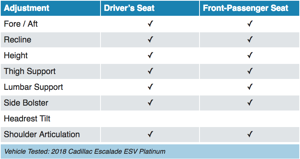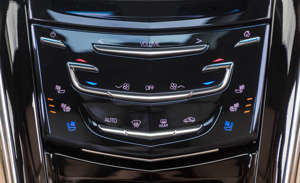 Climate Control

Cupholder Location

Interior Sound Level
To measure a vehicle's interior quietness, we use a sound meter to take two measurements at the height of the driver's ear while traveling at 70 mph. We then average the results. As illustrated by the graphic below, decibels are a logarithmic unit, so a rating of 60 decibels isn't 1.5 times the sound pressure of 40 decibels; it is 10 times the sound pressure.

Test Results: Interior Sound Levels at 70 mph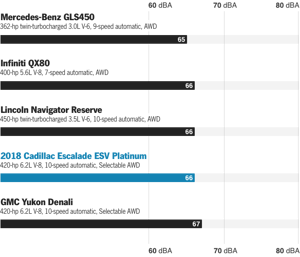 Seating and Step-In Height
To accurately measure seating height-the distance from the road to the driver's hip-we use an H-Point Machine (HPM), a precisely engineered device marketed by SAE International. This versatile tool, in conjunction with a laser device, reveals the width and location of roof-pillar visibility obstructions (blind spots). Our HPM and laser measurement tools determine the length of road obscured by the hood as well as the road obscured by the trunk or hatch (as seen through the rearview mirror).

© Car and Driver Interior and Passenger Space
© Car and Driver Interior and Passenger Space
Test Results: Seating Height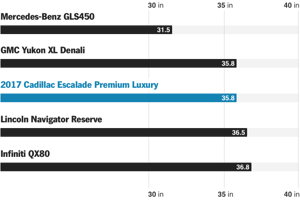 Test Results: Step-In Height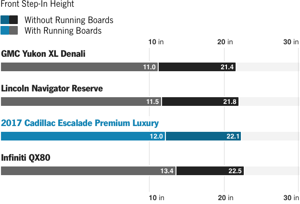 © Car and Driver Interior and Passenger Space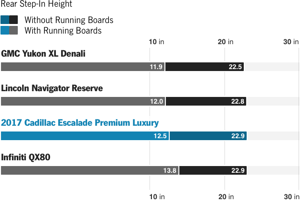 © Car and Driver Interior and Passenger Space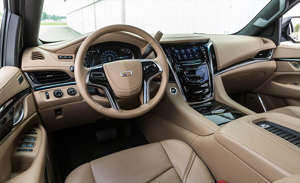 Blind Spots, Visibility, and Obscured Roadway
The Escalade's sheer size makes it difficult to keep track of all four corners in tight spaces. Thankfully, standard front and rear parking sensors reduce some anxiety in these scenarios. While the Escalade had worse rear visibility than the Infiniti QX80 and the Mercedes-Benz GLS450, it had the second-shortest rear obscured roadway.
Roof pillars protect occupants in a rollover crash, but they also create blind spots. We determine visibility by measuring the location and width of each pillar using an H-Point Machine and a laser beam (surrogates for a driver and eyeball, respectively). Front and rear visibility are calculated by subtracting the viewable area blocked by the pillars from a perfect 180-degree score.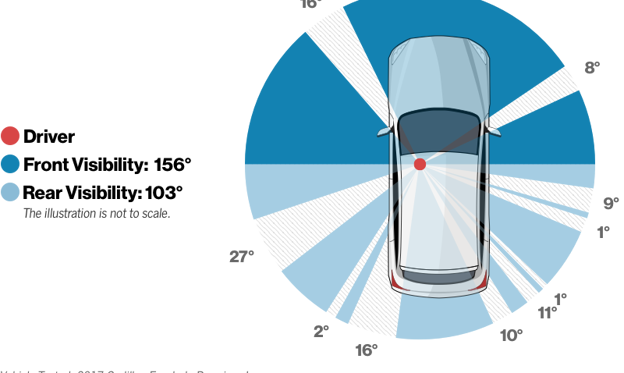 Interior and Passenger Space
© Car and Driver
Test Results: Obscured Roadway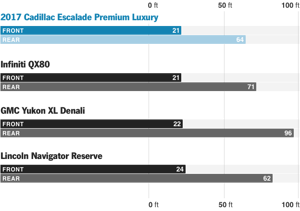 Continue Reading:
• 2018 Cadillac Escalade – Overview
• Engine and Transmission
• Fuel Economy and Driving Range
• Performance and Driving Impressions
• Interior and Passenger Space
• Audio and Infotainment
• Cargo Space and Storage
• Exterior Design and Dimensions
• Safety and Driver Assistance
• Warranty and Maintenance Coverage
• Video Overview: Interior, Infotainment, Cargo Space