Interior and Passenger Space

Car and Driver
8/30/2018
Interior and Passenger Space Rating:

Interior styling is less trendy than the Kicks's exterior design, but it's well-built, looks grown-up, and is ergonomically friendly. An adult-sized rear seat means it can haul people and cargo without the cramped feeling one might experience in rivals such as the Toyota C-HR.
Front-Seat Passenger Space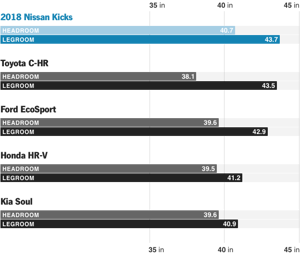 Back-Seat Passenger Space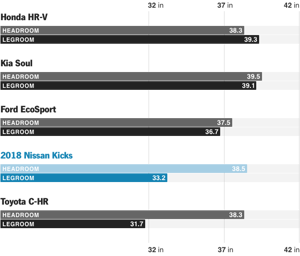 Interior Features
There are acres of black plastic inside the Kicks, but it's nicely textured and padded; panel fit and finish appear top notch, and everything looks well assembled. Our SR test vehicle featured nice orange fabric panels on the seats and doors, leather trim on the dashboard, and orange contrast stitching. The splashes of color do a nice job of breaking up the monotony of the all-black interior. While we wish the standard tilting and telescoping steering wheel offered more range in both of its adjustments, the driving position is comfortable and the layout of the controls is straightforward. A seven-inch digital display in the gauge cluster-standard on SV and SR trims-is reconfigurable to show a variety of information, including a tachometer and an eco-driving display. The front seats are well cushioned and comfortable for long-distance driving but are not offered with power adjustments.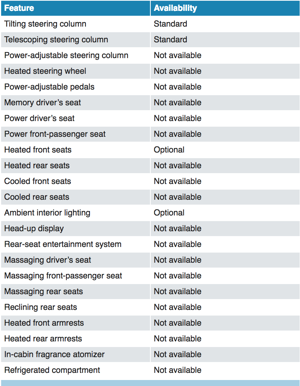 Seat Adjustments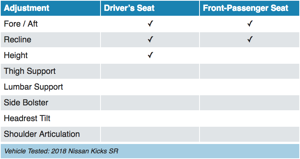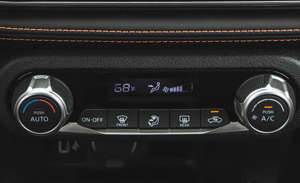 Climate Control

Cupholder Location

Interior Sound Level
To measure a vehicle's interior quietness, we use a sound meter to take two measurements at the height of the driver's ear while traveling at 70 mph. We then average the results. As illustrated by the graphic below, decibels are a logarithmic unit, so a rating of 60 decibels isn't 1.5 times the sound pressure of 40 decibels; it is 10 times the sound pressure.

Test Results: Interior Sound Levels at 70 mph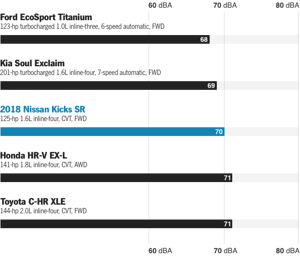 Seating and Step-In Height
To accurately measure seating height-the distance from the road to the driver's hip-we use an H-Point Machine (HPM), a precisely engineered device marketed by SAE International. This versatile tool, in conjunction with a laser device, reveals the width and location of roof-pillar visibility obstructions (blind spots). Our HPM and laser measurement tools determine the length of road obscured by the hood as well as the road obscured by the trunk or hatch (as seen through the rearview mirror).

Test Results: Seating Height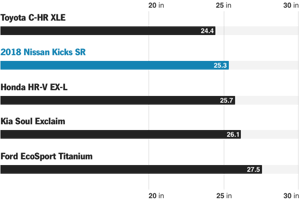 Test Results: Step-In Height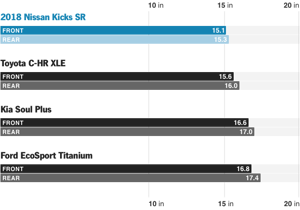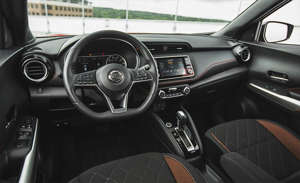 Blind Spots, Visibility, and Obscured Roadway
Roof pillars protect occupants in a rollover crash, but they also create blind spots. We determine visibility by measuring the location and width of each pillar using an H-Point Machine and a laser beam (surrogates for a driver and eyeball, respectively). Front and rear visibility are calculated by subtracting the viewable area blocked by the pillars from a perfect 180-degree score.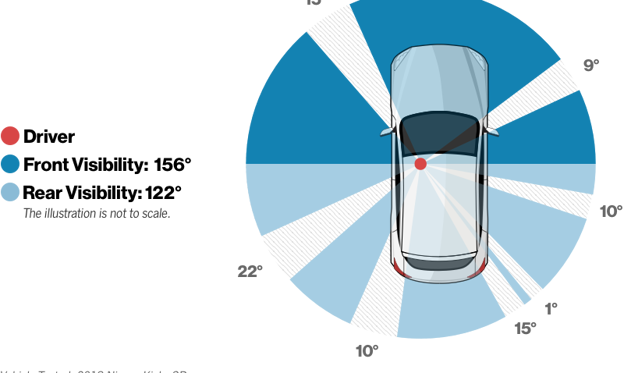 Interior and Passenger Space
© Car and Driver
Test Results: Obscured Roadway