Mini Cooper Clubman JCW – Interior and Passenger Space

Car and Driver
8/21/2018
Interior and Passenger Space Rating:

Mini makes sure that its off-the-wall personality is consistent both inside and out. Although some might be turned off by the unconventional interior setup, there's no denying it stands out from the blandtastic stylings of Volkswagens and Subarus.
What's New for 2018?
Research the Mini Clubman on MSN Autos | Find a Mini Clubman near you
Mini makes mini changes to the Clubman's interior, consisting mainly of relocated controls and a redesigned fuel gauge. The on/off control for the head-up display has been moved to the center screen, and the drive-mode selector becomes a toggle switch on the center stack. Manual lumbar support is no longer available on select models with specific upholstery combinations.
Front-Seat Passenger Space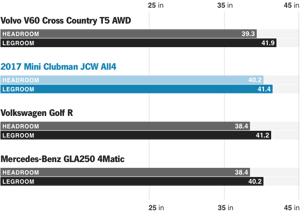 Back-Seat Passenger Space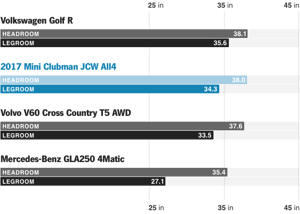 Interior Sound Level
To measure a vehicle's interior quietness, we use a sound meter to take two measurements at the height of the driver's ear while traveling at 70 mph. We then average the results. As illustrated by the graphic below, decibels are a logarithmic unit, so a rating of 60 decibels isn't 1.5 times the sound pressure of 40 decibels; it is 10 times the sound pressure.

Test Results: Interior Sound Levels at 70 mph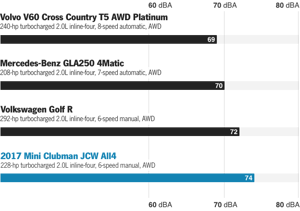 Roof pillars protect occupants in a rollover crash, but they also create blind spots. We determine visibility by measuring the location and width of each pillar using an H-Point Machine and a laser beam (surrogates for a driver and eyeball, respectively). Front and rear visibility are calculated by subtracting the viewable area blocked by the pillars from a perfect 180-degree score.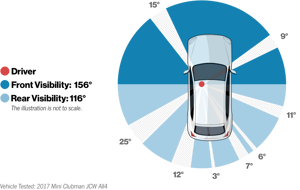 Apart from its minor interior updates for 2018, the Clubman JCW is unchanged from the 2017 model year. For details about the interior and the passenger space of the 2017 Mini Cooper Clubman JCW, see our in-depth review.

Continue Reading:
• Mini Cooper Clubman JCW – Overview
• Engine and Transmission
• Fuel Economy and Driving Range
• Performance and Driving Impressions
• Interior and Passenger Space
• Audio and Infotainment
• Cargo Space and Storage
• Exterior Design and Dimensions
• Safety and Driver Assistance
• Video Overview: Interior, Infotainment, Cargo Space