2018 Mercedes-AMG GLC43 – Interior and Passenger Space

Car and Driver
8/28/2018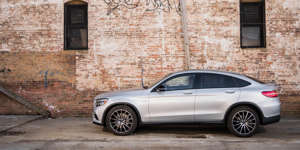 Interior and Passenger Space Rating:

The upscale quality of the GLC-class's interior gets sportified in the GLC43 models, with highly bolstered seats, paddle shifters, and optional interior enhancements such as red seatbelts and carbon-fiber trim.
What's New for 2018?
Research the Mercedes-Benz GLC or GLC Coupe on MSN Autos | Find a Mercedes-AMG GLC43 near you
Not a single thing is different inside the GLC43 or GLC43 coupe this year. Their high-zoot design is augmented by quality materials, comfy seats, and beautiful brushed-aluminum trim.
Front-Seat Passenger Space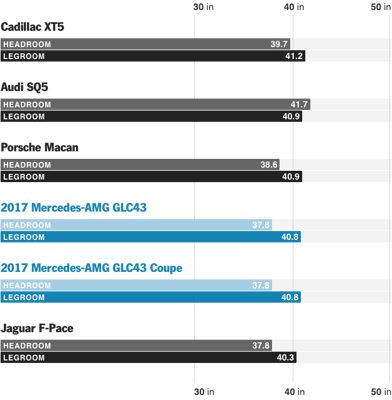 Back-Seat Passenger Space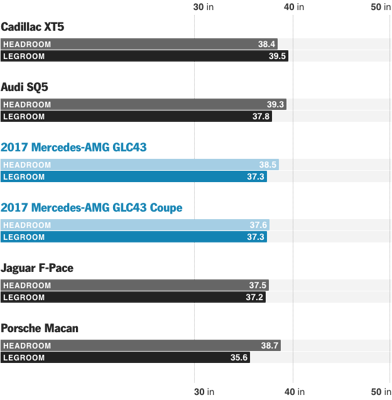 Interior Sound Level

Test Results: Interior Sound Levels at 70 mph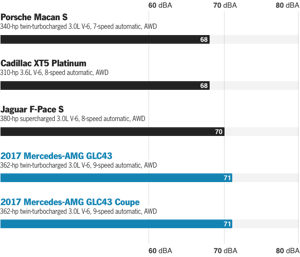 Roof pillars protect occupants in a rollover crash, but they also create blind spots. We determine visibility by measuring the location and width of each pillar using an H-Point Machine and a laser beam (surrogates for a driver and eyeball, respectively). Front and rear visibility are calculated by subtracting the viewable area blocked by the pillars from a perfect 180-degree score.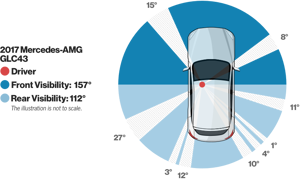 With no changes for 2018, the various interior tests we performed in 2017 apply to 2018 models as well. For details about the interior of the 2017 Mercedes-AMG GLC43, see our in-depth review.
Continue Reading:
• 2018 Mercedes-AMG GLC43 Overview
• Engine and Transmission
• Fuel Economy and Driving Range
• Performance and Driving Impressions
• Interior and Passenger Space
• Audio and Infotainment
• Cargo Space and Storage
• Exterior Design and Dimensions
• Safety and Driver Assistance
• Warranty and Maintenance Coverage
• Video Overview: Interior, Infotainment, Cargo Space
Follow MSN Autos on Facebook and Twitter