Jaguar XF – Engine and Transmission

Car and Driver
8/6/2018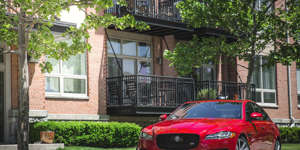 Engine and Transmission Rating:

The 380-hp supercharged V-6 is king of the XF powertrain monarchy, but it's slower than most high-performance rivals and lacks auditory authority. A set of smooth turbo four-cylinders provide alternative propulsion choices, and a diesel version rules the fuel-efficiency realm. Every engine pairs with a great eight-speed automatic transmission; a torque-vectoring all-wheel-drive system is available, too.
What's New for 2018?
Research the Jaguar XF on MSN Autos | Find a Jaguar XF near you
The XF lineup loses the 35t trim with its 340-hp supercharged V-6 for 2018 and adds a new gasoline turbocharged 2.0-liter inline-four with two states of tune. The new engine makes either 247 horsepower in the 25t or 296 in the 30t. While this creates more disparity among the available engines, it also means the pricey XF S is the only way to unlock supercharged performance. On the flip side, buyers can have a non-diesel XF for several thousand less than the old 35t.
We've only tested the 25t, but we immediately noticed how much quieter it was than both the diesel and supercharged alternatives. Too bad its acceleration times were much slower than those of comparable rivals, and it lacked their effortless acceleration around town and on the highway. Those with luxury priorities will be satisfied with the four-banger, but speed freaks will prefer the V-6's quickness.
Acceleration, Test Results: Jaguar XF 25t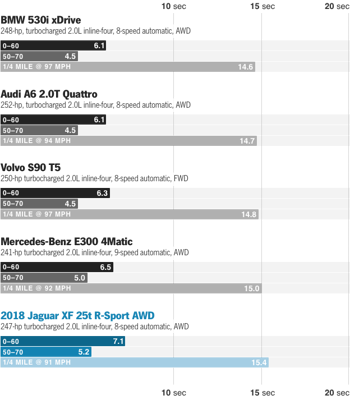 2017 Jaguar XF
The 180-hp diesel 2.0-liter inline-four is new for 2017 and can be identified by the 20d badging. The all-wheel-drive 20d R-Sport had by far the slowest acceleration of the vehicles we tested. We noted a buzzy idle on startup that was thankfully alleviated at cruising speeds. The supercharged 3.0-liter V-6 boasts two different horsepower ratings: 340 horsepower in the mid-level 35t model and 380 horsepower in the top-end S. Both make 332 lb-ft of torque. They share a polished demeanor, eager throttle response, and nearly identical acceleration times, making the 35t a significantly better performance value than the other vehicles reviewed here. However, neither the 35t nor the S treats our ears to the aggressive exhaust note we want in a performance sedan.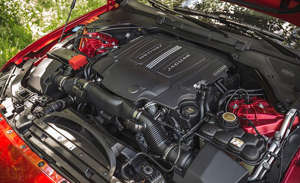 Every XF has an eight-speed automatic with a manual mode operated via paddle shifters mounted to the steering wheel. Shifts are barely noticeable, and the transmisison works best when left to its own devices, especially in the Sport setting with its extra-assertive shift points. Jaguar's torque-on-demand all-wheel-drive system is optional on all models. It controls the amount of torque sent to the wheels based on the available traction; this ranges from a 10 percent front/90 percent rear bias to a 50/50 power split.
Acceleration, Test Results:
Jaguar XF Supercharged 3.0L V-6, 340/380 HP, RWD/AWD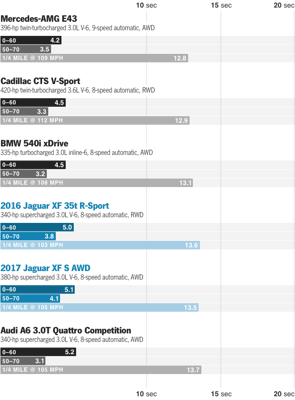 Acceleration, Test Results:
Jaguar XF Diesel 2.0L Inline-Four, AWD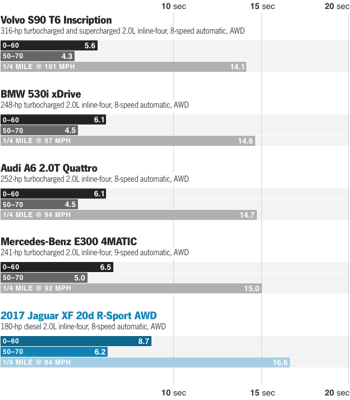 © CHRIS DOANE AUTOMOTIVE acceleration-xf-diesel-photo-684289-s-original  
Continue Reading:
1. Jaguar XF Overview
2. Engine and Transmission
3. Fuel Economy and Driving Range
4. Performance and Driving Impressions
5. Interior and Passenger Space
6. Audio and Infotainment
7. Cargo Space and Storage
8. Exterior Design and Dimensions
9. Safety and Driver Assistance
10. Warranty and Maintenance Coverage
11. Video Overview: Interior Infotainment, Cargo Space