Performance and Driving Impressions

Car and Driver
7/18/2018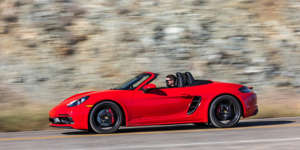 Performance and Driving Impressions Rating:
Quick, balanced, even transcendent: the Boxster is, in one small package, everything we love about driving. Even the base model drives like a thoroughbred and goes like a bottle rocket.
What's New for 2018?
Research the Porsche 718 on MSN Autos | Find a Porsche 718 Boxster near you
While the Boxster and Boxster S models are unchanged for 2018, Porsche has unleashed the new GTS model; it ups the performance ante with a 365-hp version of the 2.5-liter turbocharged flat-four, a torque-vectoring mechanical rear-differential lock, and an adaptive suspension with a slightly lowered ride height. The effects are stunning: The GTS outperformed the base Boxster and the midrange Boxster S in our acceleration and cornering-grip tests and even outaccelerated our long-term Chevrolet Corvette Grand Sport, which packs a 460-hp 6.2-liter V-8 engine.
Test Results: Acceleration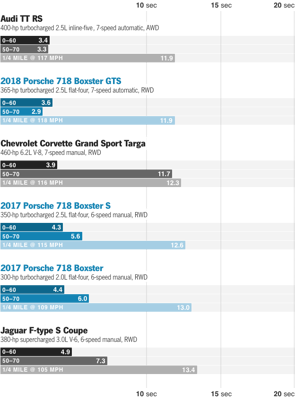 Test Results: Maximum Cornering Capability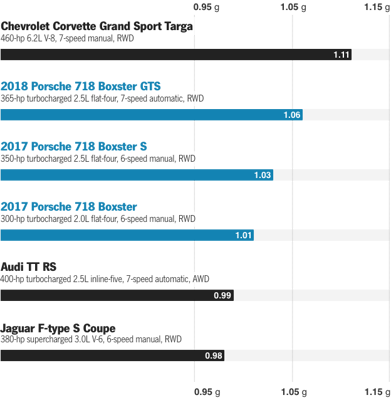 Test Results: Maximum Braking Capability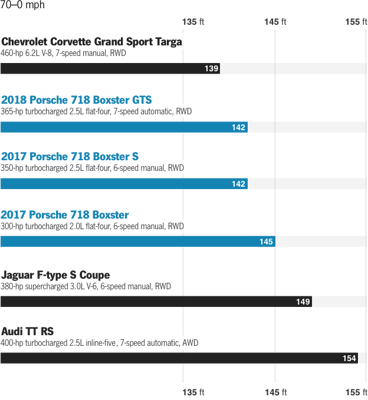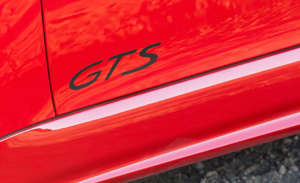 2017 Porsche 718 Boxster
They may not be the quickest of this set of very quick cars, but since every 718 Boxster we've tested made the sprint to 60 mph in less than 4.5 seconds, they're fast by any standard. In fact, the Boxster is just 0.1 second behind the Boxster S at the 60-mph mark. At higher speeds and traversing longer distances, that gap stretches slightly, but no one who buys a Boxster will walk away feeling shortchanged. Models with the PDK automatic transmission are even quicker, with the Boxster completing the zero-to-60 run in 4.0 seconds and the Boxster S sneaking in under the Corvette at 3.6 seconds.
Test Results: Acceleration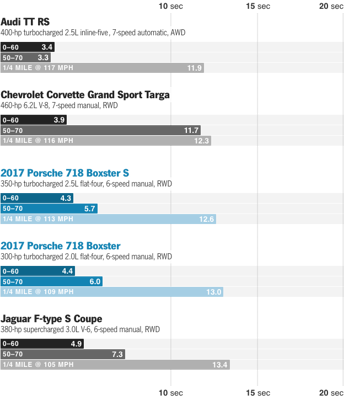 Both engines make maximum torque over a nearly 2600-rpm span in the middle of the rev range and produce peak horsepower at 6500 rpm. That means almost no matter what engine speed you're driving at, a Boxster will have punch to spare and will pull with authority all the way to the 7400-rpm redline. The standard six-speed manual has satisfyingly short and effortless throws and a perfectly weighted clutch, while the seven-speed PDK automatic delivers shifts so slick and well timed that you may forget it's working its magic. It's a joy to wring out this roadster on back roads no matter which engine or transmission you choose.
Ride, Handling, and Steering
The Boxster's handling and steering prowess are the characteristics that most inspire our affections. The mid-engine layout helps the Boxster feel balanced and stable through corners, while the brilliantly communicative, firm steering reacts quickly and accurately to even small inputs. Both Boxster models corner as if the tires are smeared with Gorilla Glue, calmly topping 1.00 g on our skidpad-a test of a car's ability to hold the road while cornering. Extras such as Porsche's adaptive damper system and an available torque-vectoring rear differential may help improve handling even further, but even base-spec Boxsters behave precisely the way we want them to, even (perhaps especially) when pushed hard.
Test Results: Maximum Cornering Capability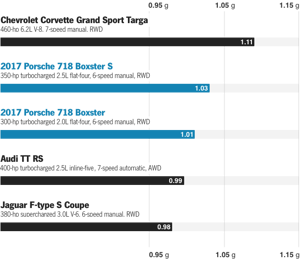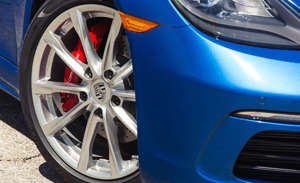 Braking
Porsche's command of the firm, progressive brake pedal is as masterful as ever, and that confident attitude is backed up by super-short braking distances. A Chevrolet Corvette managed to stop even shorter than the Boxsters tested here in an also stellar result.
Test Results: Maximum Braking Capability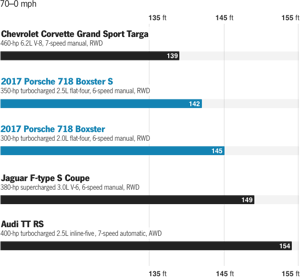 Continue Reading:
• 2018 Porsche 718 Boxster Review
• Engine and Transmission
• Fuel Economy and Driving Range
• Performance and Driving Impressions
• Safety and Driver Assistance
• Warranty and Maintenance Coverage