Performance and Driving Impressions

Car and Driver
6/20/2018
Performance and Driving Impressions Rating:

Look, it's no 911. But for drivers who can't or don't want to live with the purer Porsches-or fork over their high asking prices-the Macan is a great option. It's unquestionably more engaging and livelier than almost any other crossover on the road-and many cars, for that matter.
What's New for 2018?
Porsche preserves the Macan's powertrains and chassis for 2018-which is great news, because they're what make it so magical to drive. We still haven't tested the entry-level four-cylinder model on the track.
2017 Porsche Macan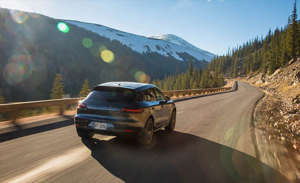 Acceleration
The Macan isn't the quickest compact crossover we've tested, but at 5.1 seconds from zero to 60 mph in S trim and 4.4 seconds to 60 mph in GTS guise, that hardly matters. We've yet to drive the base Macan with the turbo four, but the twin-turbo V-6 that powers the S and GTS is smooth, responsive, and fairly quiet at cruising speeds. Porsche's PDK seven-speed dual-clutch automatic transmission is standard in every Macan, and it's a willing companion for full-throttle accelerations and traffic jams alike.
Test Results: Acceleration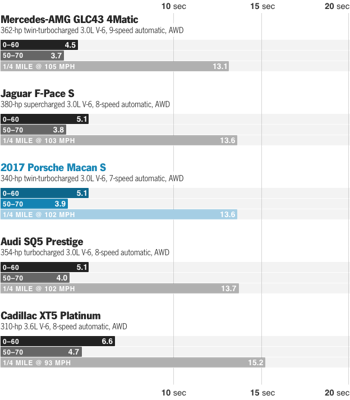 Ride, Handling, and Steering
Quickness is important in a crossover with sporting intentions, but we wouldn't be nearly as impressed with the Macan if it weren't for its all-around competence on the road. The ride is wonderfully smooth and carefully controlled, and it's rare for a jolt from the road to make its way up through the cabin. The 0.91 g of grip that we measured illustrates the Macan's tenacious attitude in corners, where it feels stable and planted. The steering is a little lighter than in Porsche's sports cars, but still hyperaccurate and pleasantly tactile. You can drive this Macan hard, and it responds like a top-rank sports sedan.
Test Results: Maximum Cornering Capability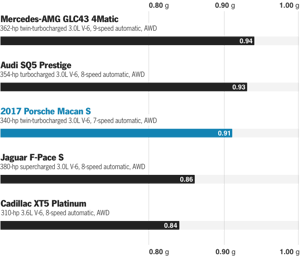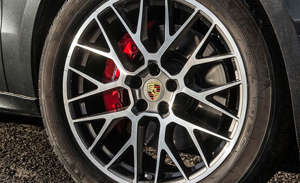 Braking
Requiring 160 feet to come to a stop from 70 mph in our tests, the Macan performed well. That those strong brakes are backed up by a firm, linear brake pedal only adds to the sense of driver engagement and fun.
Test Results: Maximum Braking Capability