2018 Cadillac Escalade – Performance and Driving Impressions

Car and Driver
8/14/2018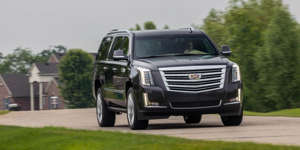 Performance and Driving Impressions Rating:

Unfortunately, the Escalade's luxury aesthetics don't translate to luxury dynamics. Underneath its shiny façade are truck-based underpinnings that simply can't compare with the smooth ride of rivals such as the Mercedes-Benz GLS-class. While the Caddy's powertrain is potent and the cabin is quiet, its solid rear axle allows shivers to reach passengers and unsettle the steering.
Research the Cadillac Escalade on MSN Autos | Find a Cadillac Escalade near you
Acceleration
Tipping the scales at more than 6000 pounds, our Escalade ESV test vehicle was still impressively quick. Along with all-wheel drive, its 420-hp V-8 and 10-speed automatic transmission made a dependable team that pushed the big Caddy away from stoplights with ease and provided confidence-inspiring passing power. The Escalade wasn't the quickest among these rivals, but it was quicker than many vehicles half this size.
Test Results: Acceleration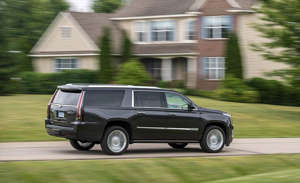 Ride, Handling, and Steering
Despite a set of standard adaptive dampers, the Escalade never felt as convincingly comfortable as its branding and price would suggest. Sure, it rode just fine over smooth pavement, but as soon as things became bumpy, the luxury layer disappeared. The large 22-inch wheels on our test vehicle (standard on every trim above the base version) didn't help ride quality, either. To be clear, the Caddy never felt explicitly uncomfortable. However, the way it shivered over uneven surfaces and how harsh bumps infiltrated the cabin are unacceptable. At least the Escalade is composed around corners-just don't launch it onto an exit ramp above the posted speed limit. The steering effort felt lighter than we found in its Chevy and GMC siblings; thus, it was easier to operate at low speeds. Too bad that reduced directness allowed the Cadillac to wander in its lane on the highway.
Test Results: Maximum Cornering Capability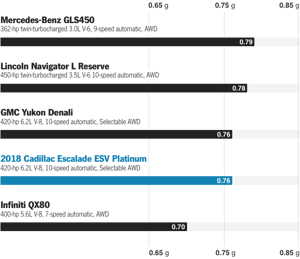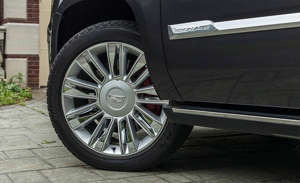 Braking
In our emergency-braking test, we've had Escalades that needed as much as 202 feet and as little as 188 feet to stop from 70 mph. The ESV version we recently tested required 194 feet, which was the longest among these rivals but not an outlier. Still, the Slade's brake pedal had smooth and strong responses that we appreciated on daily commutes.
Test Results: Maximum Braking Capability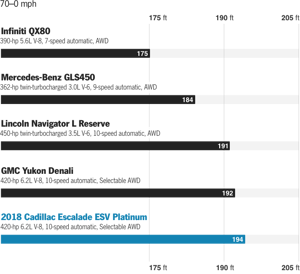 Test Results: Curb Weight and Weight Distribution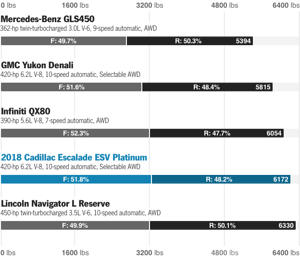 Continue Reading:
• 2018 Cadillac Escalade – Overview
• Engine and Transmission
• Fuel Economy and Driving Range
• Performance and Driving Impressions
• Interior and Passenger Space
• Audio and Infotainment
• Cargo Space and Storage
• Exterior Design and Dimensions
• Safety and Driver Assistance
• Warranty and Maintenance Coverage
• Video Overview: Interior, Infotainment, Cargo Space