Performance and Driving Impressions

Car and Driver
8/30/2018
Performance and Driving Impressions Rating:

As an SUV, the Kicks's driving dynamics are satisfactory: The ride is smooth, potholes are damped out nicely, and the steering is light and direct. Enthusiast drivers will find the Kicks capable but not exactly thrilling when faced with a curvy back road.
Acceleration
Don't expect blistering acceleration from the Kicks, as it is powered by a measly 1.6-liter four-cylinder engine that makes just 125 horsepower. At our test track, it made a leisurely run to 60 mph in 9.7 seconds. We'd call it slow if it weren't for the three-cylinder Ford EcoSport and the painfully lethargic Toyota C-HR. The Kicks feels sprightly around town when compared with those two rivals, but drivers will need to be very liberal with the gas pedal to get up to highway speeds quickly.
Test Results: Acceleration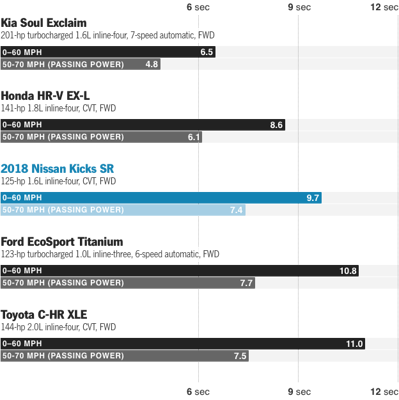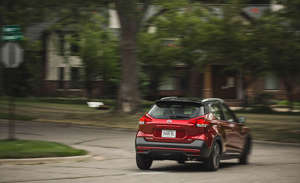 Ride, Handling, and Steering
The Kicks is nimble and more fun to throw around than larger SUVs, but it's not exactly a thrill ride on a twisty road. The suspension is tuned more for comfort, and it provided a well-cushioned ride even over the pitted and crumbling roads in downtown Ann Arbor. The steering is direct and accurate, but there's very little feedback that comes up from the road to the driver's hands.
Test Results: Maximum Cornering Capability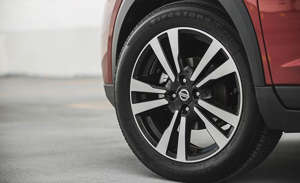 Braking
The brake pedal isn't as firm as we'd like, and the Kicks's performance in our emergency-braking test was below average.
Test Results: Maximum Braking Capability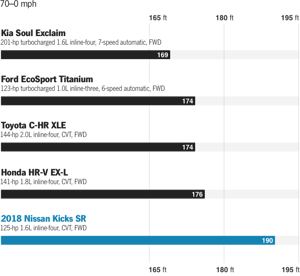 Test Results: Curb Weight and Weight Distribution