2018 Mercedes-AMG CLA45 – Performance and Driving Impressions

Car and Driver
9/5/2018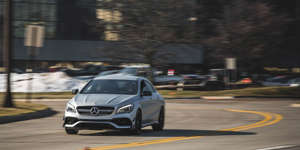 Performance and Driving Impressions Rating:

AMG-the esteemed Mercedes-Benz brand that morphs stately cruisers into psychotic chariots-has done it again. After joining the Affalterbach lineup as the compact CLA-class, this version gets special powertrain and chassis enhancements to help create the relentless CLA45. While its insane acceleration and tenacious grip are thrilling on the racetrack, the merciless Mercedes punishes passengers on uneven tarmac, and its performance is closely matched by more merciful-riding rivals.
What's New for 2018?
Research the Mercedes-Benz CLA-Class on MSN Autos | Find a Mercedes-AMG CLA45 near you
The CLA45 has the same powertrain and chassis tuning, which means the same explosive acceleration and tremendous grip. However, its masochistic ride remains, too.
Test Results: Acceleration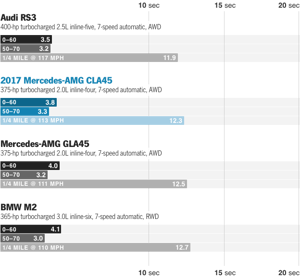 Test Results: Maximum Cornering Capability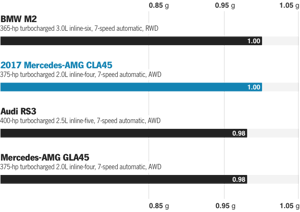 Test Results: Maximum Braking Capability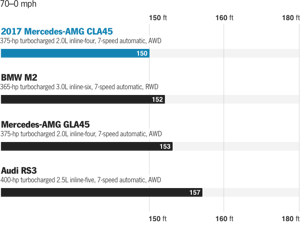 Since this model is unchanged for 2018, we don't expect the performance numbers to differ. To see how the 2017 Mercedes-AMG CLA45 performed, you can read our in-depth review.
Continue Reading:

• 2018 Mercedes-AMG CLA45 – Overview and Pricing
• Engine and Transmission
• Fuel Economy and Driving Range
• Performance and Driving Impressions
• Interior and Passenger Space
• Audio and Infotainment
• Cargo Space and Storage
• Exterior Design and Dimensions
• Safety and Driver Assistance
• Warranty and Maintenance Coverage
• Video Overview: Interior, Infotainment, Cargo Space