2018 Mercedes-AMG GLC43 – Performance and Driving Impressions

Car and Driver
8/28/2018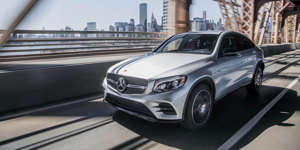 Performance and Driving Impressions Rating:

The GLC43s come by their AMG badging honestly, with powerful acceleration, dynamic handling, and robust brakes. In spite of their sporting personalities, neither version offers an overly harsh ride.
What's New for 2018?
Research the Mercedes-Benz GLC or GLC Coupe on MSN Autos | Find a Mercedes-AMG GLC43 near you
The GLC43 models remain as athletic as ever for 2018 but can now be augmented with a performance exhaust system for $1250. We haven't sampled it, but we already love the sharp crackles and pops emitted from the standard exhaust system when the GLC43 is running at full chat. The AMG Track Pace app is also new for 2018 and costs $150 in addition to the required Multimedia package ($2200). The app records lap times, cornering forces, steering angles, pedal movements, and much more to help drivers analyze their performance. This technology functions much like the far more expensive equipment we use here at Car and Driver for our instrumented testing. Can you beat our 4.3-second zero-to-60-mph time?
Test Results: Acceleration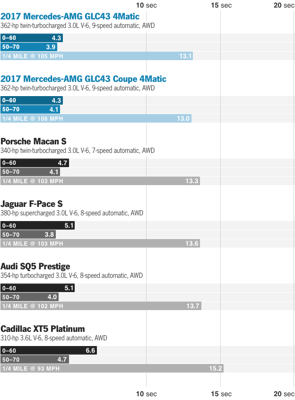 Test Results: Maximum Cornering Capability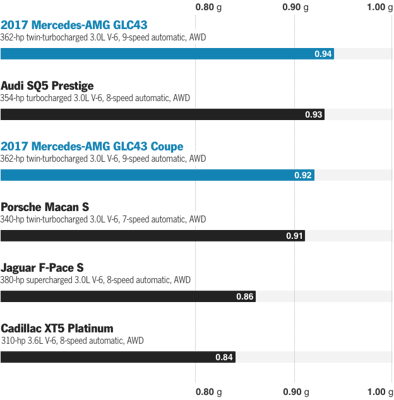 Test Results: Maximum Braking Capability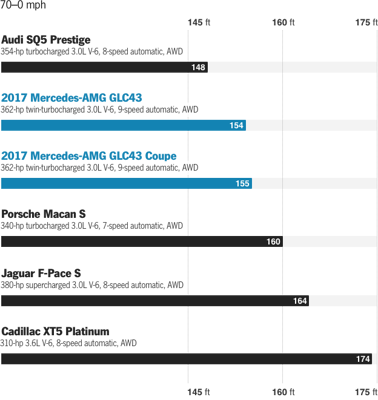 We expect that 2018 GLC43 models will perform similarly to the 2017s that we tested last year. For details about the performance and driving impressions of the 2017 Mercedes-AMG GLC43, see our in-depth review.

Continue Reading:
• 2018 Mercedes-AMG GLC43 Overview
• Engine and Transmission
• Fuel Economy and Driving Range
• Performance and Driving Impressions
• Interior and Passenger Space
• Audio and Infotainment
• Cargo Space and Storage
• Exterior Design and Dimensions
• Safety and Driver Assistance
• Warranty and Maintenance Coverage
• Video Overview: Interior, Infotainment, Cargo Space