2019 Honda Insight – Performance and Driving Impressions

Car and Driver
9/7/2018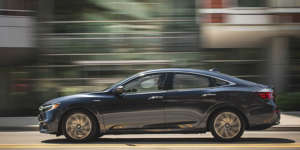 Performance and Driving Impressions Rating:

The Insight is an exceedingly pleasant vehicle to drive. It is quiet, comfortable, and refined, and it handles confidently. That's no wonder, considering it's mechanically similar to the Honda Civic sedan, which shares these positive attributes.
Acceleration
Research the Honda Insight on MSN Autos | Find a Honda Insight near you
The Insight's hybrid powertrain is complex, but you won't notice its inner workings much in everyday driving. It can run quietly on the electric motor alone at times, if you're gentle with the gas pedal; the gasoline engine kicks in when needed for more acceleration. The transition between running on electricity alone and then switching over to the gas engine is smooth, although the gas engine can sometimes rev noisily when you get deeper into the throttle. In addition the Insight is quicker than all other hybrid competitors and can easily keep up with conventionally powered compact cars (even if it's somewhat slower than the speedy Honda Civic with the optional turbo engine).
Test Results: Acceleration
Ride, Handling, and Steering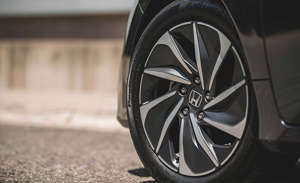 Although it's not overtly sporty, the Insight has a nicely controlled ride and solid handling. Its supple suspension soaks up bumps well, and its quick steering helps it change direction responsively.
Braking
The predictable and progressive brake pedal in the Insight suffers from little of the wonkiness that plagues many other hybrids' brakes. The Insight's brakes feel just as good as in a traditional, gas-powered vehicle.
Test Results: Braking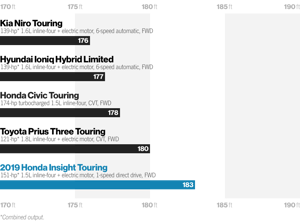 Continue Reading:

• 2019 Honda Insight - Overview and Pricing
• Engine and Transmission
• Fuel Economy and Driving Range
• Performance and Driving Impressions
• Interior and Passenger Space
• Cargo Space and Storage
• Audio and Infotainment
• Exterior Design and Dimensions
• Safety and Driver Assistance
• Warranty and Maintenance Coverage
• Video Overview: Interior, Infotainment, Cargo Space