Porsche Panamera Sport Turismo Engine and Transmission

Car and Driver
7/27/2018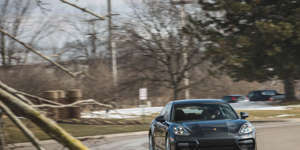 Engine and Transmission Rating:

Whether opting for the entry-level 330-hp turbocharged V-6 of our test vehicle or spending the coin to get into the quicker twin-turbocharged 440-hp 4S or 462-hp gasoline-electric E-Hybrid, every Panamera Sport Turismo offers all the oomph needed for daily driving-and in most cases a lot more. A clairvoyant eight-speed dual-clutch automatic transmission is the icing on top of the Sport Turismo's powertrain cake.
Refinement is never wanting in the Panamera Sport Turismo, and each of the Porsche's powertrains packs a polished punch. Noise, vibration, and harshness are kept in check throughout the Sport Turismo lineup, the engines' sounds are expensive and sweet, and the transition between power sources in the hybrid model is almost imperceptible.
Test Results: Acceleration
Charging System
The Panamera 4 E-Hybrid Sport Turismo can charge at either a 120-volt or a 240-volt outlet. A full charge requires 12.5 hours on standard 120-volt house current but only 4.0 hours on 240 volts. Springing for the optional 7.2-kW onboard charger ($840) shortens the charge time on 240 volts to 2.4 hours.
Manual Shifting Capability
Manual shifting is available by tapping at the Panamera Sport Turismo's stubby console-mounted shift lever or flicking at a pair of well-weighted steering-wheel-mounted paddle shifters.

© Car and Driver Engine and Transmission

© Car and Driver Engine and Transmission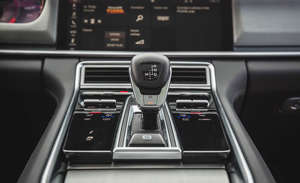 Automatic Stop/Start

© Car and Driver Engine and Transmission
© Car and Driver Engine and Transmission  
Continue Reading:
• Porsche Panamera Sport Turismo - Overview
• Porsche Panamera Sport Turismo - Engine and Transmission
• Porsche Panamera Sport Turismo - Fuel Economy and Driving Range
• Porsche Panamera Sport Turismo - Performance and Driving Impressions
• Porsche Panamera Sport Turismo - Exterior Design and Dimensions
• Porsche Panamera Sport Turismo - Safety and Driver Assistance
• Porsche Panamera Sport Turismo - Warranty and Maintenance Coverage