Porsche Panamera Sport Turismo Fuel Economy and Driving Range

Car and Driver
7/27/2018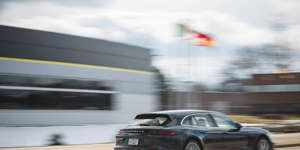 Fuel Economy and Driving Range Rating:

Fuel efficiency is not the Panamera Sport Turismo's strong suit. That being said, the Porsche wagon drinks fuel at a rate that's par for the class. Those looking for more efficiency can opt for the V-6 4 E-Hybrid. Although it actually did worse than the base Panamera 4 on our real-world highway fuel-economy test, it does offer limited all-electric driving range before needing to fire up its gasoline engine.
Fuel Economy Ratings Compared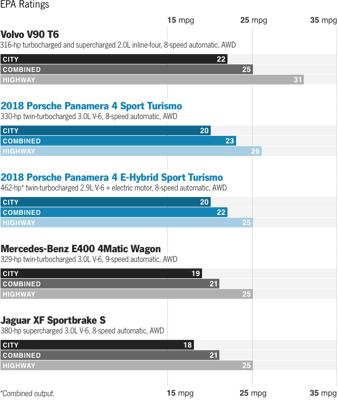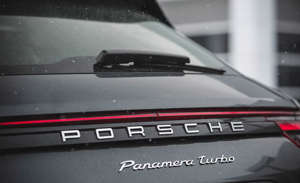 Electric-Only Range
The Panamera 4 E-Hybrid Sport Turismo can travel 16 miles on a full charge of its 14-kWh lithium-ion battery pack, according to EPA testing.
Electric-Only Range Ratings Compared

We've devised our own fuel-economy test in an attempt to replicate how most people drive on the highway. Our procedure entails a 200-mile out-and-back loop on Michigan's I-94 highway. We maintain a GPS-verified 75 mph and use the cruise control as much as possible to mimic the way many drivers behave during long trips.
Test Results: Electric-Only Highway Range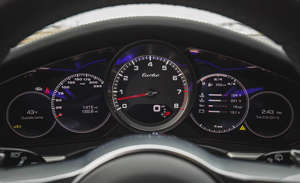 Test Results: Highway Fuel Economy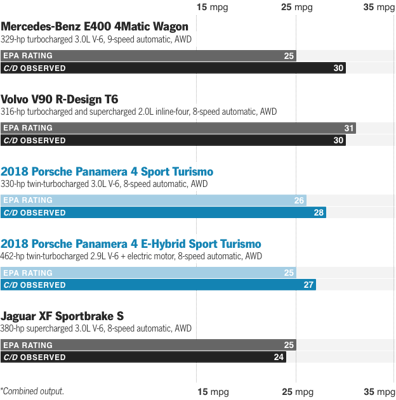 Thanks to a large 23.7-gallon fuel tank, the Panamera Sport Turismo can travel far between fill-ups. The plug-in E-Hybrid model has a slightly smaller 21.1-gallon tank but is also able to travel an EPA-estimated 16 miles on electricity alone, which is average for the class. In our real-world highway testing, it beat its estimate by a creditable four miles.
Test Results: Highway Range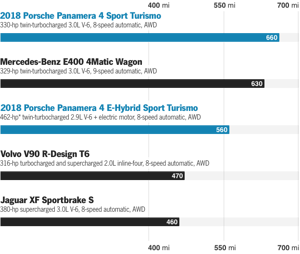 Continue Reading:
• Porsche Panamera Sport Turismo - Overview
• Porsche Panamera Sport Turismo - Engine and Transmission
• Porsche Panamera Sport Turismo - Fuel Economy and Driving Range
• Porsche Panamera Sport Turismo - Performance and Driving Impressions
• Porsche Panamera Sport Turismo - Exterior Design and Dimensions
• Porsche Panamera Sport Turismo - Safety and Driver Assistance
• Porsche Panamera Sport Turismo - Warranty and Maintenance Coverage