The 2018 Kia Stinger GT Continues to Grow on Us

Car and Driver
9/6/2018
WHAT WE LIKE: If we had to sum up the Stinger in a single word, that word would be progress. Because, more than anything else, that's what this four-door grand tourer represents. Progress in quality. Progress in execution. And progress in boldness. Boldness is required to build a car like the Stinger. Though it doesn't quite fit perfectly into any pre-defined segment-it's not really a luxury sedan and it's not completely a sport sedan. Technically, it isn't even a sedan at all-it is a big four-door hatchback GT car with ample power and comfort. And it doesn't embarrass itself in moderately hard driving, either. That's progress.
But beyond the step forward the Stinger represents for the brand, it's also a pleasure to live with. Comfortable, quick, and easy to use, it's an excellent high-velocity road-trip companion. Associate online editor Joseph Capparella might have put it best in his logbook entry: "I love this car. It's a quick, refined, elegant, and stylish grand tourer that cruises effortlessly at high speeds while offering tons of space for both people and cargo."
At our prompting, Kia delivered a set of summer tires for our all-wheel-drive Stinger GT-an OE set of 19-inch Michelin Pilot Sport 4 rubber-which improved its performance in both instrumented testing and daily use. Acceleration remains largely the same, with 60 mph arriving in 4.6 seconds rather than 4.7. The quarter-mile time, at 13.2 seconds, didn't change, but both roadholding (0.89 g versus 0.85) and 70-mph-to-zero braking (170 feet versus 179) were measurably better. Happily, the transmission-overheat warning we experienced almost immediately in our first trip to the track remained at bay this time until our last few runs. The Stinger's on-road performance gives no indication that its transmission is heat sensitive, which leads us to believe this isn't a problem that will crop up in even the most grueling on-road duty cycle.
WHAT WE DON'T LIKE: Remarkably few negative comments color the Stinger's logbook. One editor disapproved of the graining on the center of the steering wheel-a nit if we've ever found one to pick-and several of us noticed that the touchscreen is a long, awkward reach from the driver's seat. Removing and replacing the all-season tires has largely eliminated any grumbles about dry-weather performance, although the empirical improvements aren't as great as some had hoped.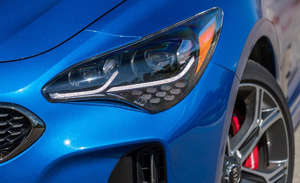 WHAT WENT WRONG: Aside from the aforementioned transmission-overheat warning, which resolved itself when the track beating subsided, exactly zero mechanical issues have plagued our Stinger. We've changed the oil twice to date-the first visit included a cabin air filter replacement and both included inspections-for a total of $162.
WHERE WE WENT: Here's the thing about the Midwest that left and right coasters might miss: It's pretty close to Kentucky and West Virginia, both of which offer a surfeit of driving roads, many of which are well suited to the Stinger's smooth-but-fast corner-slaying abilities. Interstate 77 through West Virginia offers just the right balance of speed and twist to appreciate the Stinger's talents. The Stinger made the trip to our annual Lightning Lap track battle at Virginia International Raceway, and has also made several additional trips to Kentucky and Ohio. Sweetening all its miles is our Stinger's 22-mpg observed fuel economy, 1 mpg better than the EPA combined estimate.
Months in Fleet: 5 months Current Mileage: 13,121 miles
Average Fuel Economy: 22 mpg
Fuel Tank Size: 15.9 gal Observed Fuel Range: 350 miles
Service: $162 Normal Wear: $0 Repair: $0
Damage and Destruction: $0