The 2019 Infiniti QX50 and Its Unique Engine Settle In for the Long Haul

Car and Driver
10/9/2018
The addition of a computer-controlled linkage between the crankshaft and the connecting rod makes the Infiniti QX50's VC-T 2.0-liter inline-four the first mass-production engine capable of varying its compression ratio. Not since the dawn of the automobile has anyone messed with anything so fundamental to the suck, squeeze, bang, and blow cycle of the internal-combustion engine. We needed to see if this hugely complex device can deliver its promised fuel-economy boost and also if its electronically controlled linkage can survive our leaden hooves.
In its base Pure trim, the QX50 starts at $37,545. The major additions to the $40,395 mid-level Luxe trim are a massive sunroof that spans two rows of seats and a blind-spot warning system. Our QX50 is the top-of-the-line Essential model, which comes with leather seats, navigation, and the bird's-eye Around View Monitor. All-wheel drive is $1800 on all trim levels, bringing our base price to $46,145. The $7500 Sensory package includes heating and cooling for the front seats, 20-inch wheels, a motion-activated hatch, a power-tilting and -telescoping steering wheel, and a 16-speaker Bose audio system. White leather with blue Ultrasuede accents adds $2000, and another $2550 package outfits our QX50 with nearly every active-safety technology shy of photon torpedoes. Add welcome lighting and illuminated sill plates and the total rises to $59,085.
Ultrasuede Blues
Opinions are divided on the color combination-we've previously driven a QX50 with brown where our long-termer has blue-but everyone agrees that the QX50's interior is beautiful. Interior design often has been one of Infiniti's strengths, and some of us consider this to be the brand's best yet. It's more restrained than some past efforts, dialed back to perfection, and the material pairings and attention to detail are outstanding. A band of silver wood divides the dashboard horizontally and is complemented by a satin-chrome lip, and the double stitching along the windowsills and seats sports one row of silver stitching and one of brown. Even the brown headliner and pillar trim looks rich, a welcome change from the default black in pretty much every vehicle on the road.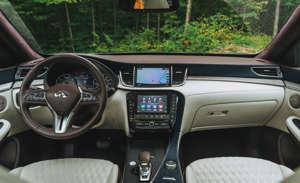 Infiniti's two-tier infotainment system has already galvanized the critics, however. In theory, maybe you want to look at a navigation screen and something else from time to time, but how often does that really happen? And the mismatched fonts, resolutions, and even screen sheens between the two displays are jarring.
At the track for its first visit, the QX50 hit 60 mph in 6.4 seconds on its way to a 15.0-second quarter-mile, clearing the traps at 94 mph. That's par for the compact-luxury-SUV class. Same goes for its 0.84 g of skidpad grip and the 173 feet it needed to stop from 70 mph. That's fine, because from a performance perspective, this is one of the most homogenous classes in the market. But there's nothing at all commonplace about the engine that motivates the QX50. We're excited to see how this goes.
Months in Fleet: 3 months Current Mileage: 5113 miles
Average Fuel Economy: 21 mpg
Fuel Tank Size 16.0 gal Observed Fuel Range: 330 miles
Service: $0 Normal Wear: $0 Repair: $0