2018 Audi R8 Video Overview: Interior, Infotainment, Cargo Space

Car and Driver
8/16/2018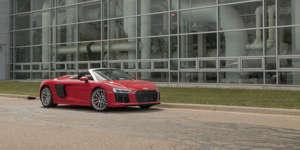 No matter how many reviews you read or pieces of data you consume, it's hard to accurately visualize, say, 40.9 inches of front-seat legroom or a 25.6-inch lift-over height. Because our aim is to demystify and illuminate, we've gathered together all of the videos we shot for the Audi R8 to help illustrate what those specs look like in reality. We've sat in every seat, manipulated every infotainment system, and filled every trunk and cargo hold. Look below to see the results for yourself.
Front-Seat Passenger Space
Our six-foot-one tester demonstrates how difficult it is to enter and exit the driver's seat of the R8.
Infotainment Performance
Our Infotainment Response Time test measures how quickly you can switch among home, audio, and navigation screens.
Carry-On Luggage
We use carry-on-luggage-size boxes to measure cargo capacity.
Convertible Top
Our tester demonstrates operation of the R8 Spyder's power-operated soft top.
Lift-Over Height
Our six-foot-one tester loads a standard piece of carry-on luggage into the cargo area to demonstrate the low lift-over height of the R8.
Continue Reading:
• 2018 Audi R8 Overview
• Engine and Transmission
• Fuel Economy and Driving Range
• Performance and Driving Impressions
• Interior and Passenger Space
• Audio and Infotainment
• Cargo Space and Storage
• Exterior Design and Dimensions
• Safety and Driver Assistance
• Warranty and Maintenance Coverage
• Video Overview: Interior, Infotainment, Cargo Space

Research the Audi R8 on MSN Autos | Find an Audi R8 near you