Kit Harington Teaches Ginger Spice a Famous 'Game of Thrones' Line and the Result Is Hilarious: Watch!

ETOnline
9/5/2017
Geri Halliwell is learning that dramatic acting isn't as easy as it looks.
The former Spice Girls star was hanging out with Kit Harington at the Italian Grand Prix in Monza, Italy, on Sunday, and she got the handsome Game of Thrones star to teach her how to deliver one of the show's most iconic (and popular) lines: "You know nothing, Jon Snow."
Halliwell, formerly known as Ginger Spice, tried several times to recite the simple phrase, but couldn't really make it believable. Harington, in turn, would repeat it back with the gravitas the line required.
Eventually, she came close and Harrington gave her his tepid approval, exclaiming, "That's it! You got the part."
However, when she tried again, the magic just wasn't there. "Now you've lost it again," Harington joked. 
The line is of particular significance to Harington, and not just because it is directed at his beloved character.
Related slideshow: 50 best 'Game of Thrones' quotes ever (Provided by Photo Services)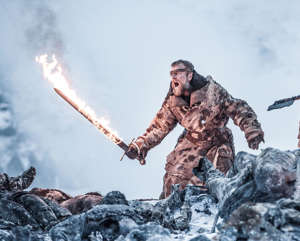 55 memorable quotes from 'Game of Thrones' "You know nothing, Jon Snow," was a line spoken numerous times by the would-be King of the North's Wildling love interest, Ygritte (played by Harington's real-life girlfriend, Rose Leslie). The line became a kind flirtatious banter between the pair (and eventually, a heartbreaking last exchange).

It only makes sense that Ginger Spice would try to take on the mantle of one of GoT's most beloved ginger characters, but it doesn't look like fans are likely to see any Ed Sheeran-esque cameos from Halliwell anytime in the final season.