Kristen Stewart Breaks the Cannes Rules — Even More Defiantly This Time

US Weekly
5/18/2018
(Video provided by E!)
Showing Us that some rules are meant to be broken, Kristen Stewart one again seemed to defy the unwritten (though highly questionable) dress code of the Cannes Film Festival that requires men to sport tuxedos and women to wear heels.
Earlier this week, KStew opted to ditch her sky-high stilettos and go barefoot on the red carpet, and she took her mini footwear rebellion a step further at the Un Couteau Dans Le Couer (Knife + Heart) screening on Thursday, May 17, by rocking a pair of Sarah Flint loafers with her sexy Chanel suit.

© John Phillips/Getty Kristen Stewart Stewart hasn't commented on either wardrobe choice, but we know she is no fan of the Cannes formalwear policy. There have long been rumors that the French film festival maintains an ambiguous but regularly enforced black-tie dress code that essentially means women must be in high heels on the red carpet.
But we're not so sure. Just last year, KStew reportedly lamented the footwear rule at a roundtable event, saying that while she understood "the black tie thing," attendees "should be able to do either version — flats or heels."
This year, the actress, who is serving as a jury member, seemingly took matters into her own hands. At a screening of Spike Lee's BlacKkKlansman on Monday, May 14, the former Twilight star bent the rules by removing her Christian Loutboutin heels after posing for photogs and walking barefoot on the rain-soaked red carpet.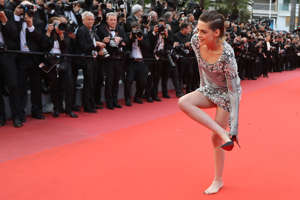 © VALERY HACHE/AFP/Getty Images TOPSHOT - US actress and member of the Feature Film Jury Kristen Stewart removes her shoes on the red carpet as she arrives on May 14, 2018 for the screening of the film "BlacKkKlansman" at the 71st edition of the Cannes Film Festival in Cannes, southern France. (Photo by Valery HACHE / AFP) (Photo credit should read VALERY HACHE/AFP/Getty Images)
See more Cannes fashion: