Garland refuses to examine civil rights claims of Jan. 6 defendants: 'I don't know anything'

FOX News
3/29/2023
Attorney General Merrick Garland on Wednesday declined a request to examine whether the civil rights of some Jan. 6 defendants have been violated due to the lack of a speedy trial and said it's the job of their lawyers to make that argument in court.
At a House Appropriations subcommittee hearing, Rep. Andrew Clyde, R-Ga., said he toured the D.C. Department of Corrections last week and met with some of the 20 prisoners still being held because of their participation in the Jan. 6, 2021 Capitol Hill riot. Clyde argued that detaining these people for so long violates the 6th Amendment to the Constitution, which guarantees the right to a "speedy and public trial."
"You work to uphold the civil rights of all Americans," Clyde added. "I think in this case, their civil rights are being violated, and I would appreciate you looking into that."
TOP FBI OFFICIAL DODGES WHEN CRUZ ASKS IF AGENTS PARTICIPATED IN JAN. 6 RIOT
A report from Just Security this month said 11 of the 20 being held have not accepted a plea agreement and have not been brought to trial, while the other nine have been convicted or have pleaded guilty.
But Garland didn't commit to examining the defendants' cases, and instead argued that their lawyers have the right to argue before a judge that their 6th Amendment rights have been violated.
GOP SENATORS PUSH BACK AS DOJ ROLLS OUT EXPANDED DOMESTIC TERRORISM UNIT DUE TO JAN. 6 RIOT
"I don't know the specifics of individual cases," Garland said. "The beauty of the 6th Amendment is that each of those people is entitled to a lawyer, has a lawyer who can make a speedy trial argument in the court."
"Oftentimes lawyers ask for more time, oftentimes they ask for exceptions for discovery," Garland added. "There was an enormous amount of discovery in those cases. But I don't know anything about those particular cases."
When Clyde asked whether a two-year wait meets the "speedy trial" clause of the 6th Amendment, Garland replied, "It can if the exceptions to the Speedy Trial Act are met. Those are the responsibility of the lawyers for those defendants."
"I would like you to look into that, because to me, I don't think waiting two years for your trial complies with the 6th Amendment of the Constitution," Clyde said.
TWO YEARS LATER: AN OVERVIEW OF JAN. 6 AND WHAT TOOK PLACE AFTER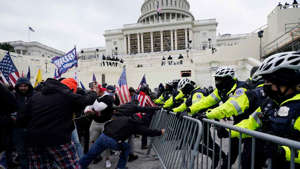 "This is an argument to be made before the judge," Garland replied. "The judge has the authority to dismiss a case for a violation of the Speedy Trial Act."
Several House Republicans met with the Jan. 6 defendants in the Washington, D.C. jail last week, including Rep. Marjorie Taylor Greene, R-Ga., who said after her visit that the rights of the prisoners have been ignored.
"Their due process rights are being violated and they have been mistreated and treated as political prisoners," she said.