14 Best Open-World Games On Steam

TheGamer
8/15/2022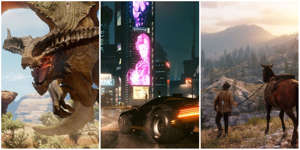 Video games offer an outlet, a place devoid of the stresses of daily life, where you can delve into the stories they have to tell. But none does this better than the open-world genre, where the possibilities are endless, and the scope is unimaginable. Whether you're a fantasy geek keen to become a dragonslayer in Dragon Age or a sci-fi lover wanting to explore the galaxy, you certainly won't get bored so easily.
RELATED: Open-World Games With The Best Storylines
From Valheim to the post-apocalyptic Dying Light 2, there are a vast array of open-world games available on Steam that bring no end to exciting adventures and captivating storylines. And with special promotions and weekend deals circulating frequently, there's always a golden opportunity to snatch one of these games at half the price.
Updated on August 15, 2022: Steam continues to be the hub for the best and newest games on offer, and its unmatched range of open-world games is one of their most impressive. Offering story-rich games that send you down a cavalcade of new adventures never experienced, we have decided to update this already extensive list with more open-world classics that'll blow your mind.
The Elder Scrolls 5: Skyrim
Skyrim has long-established itself as a fantasy juggernaut, with a lifelong legacy that is unmatched. Playing as The Dragonborn traversing the rough, yet beautiful, world of Skyrim, you are faced with fulfilling a god-like destiny. From preventing a bloodthirsty Vampire Lord from blotting out the sun to tackling the hardest quests in the land, The Dragonborn never rests.
Having received numerous awards including the 'PC Game of the Year' award, Skyrim continues to be a fan favorite over a decade after its launch. With its in-depth lore and unparalleled storytelling, Skyrim is an open-world game that you'll never get tired of.
Cyberpunk 2077
Cyberpunk 2077 is an open-world game set in the futuristic dystopian world of Night City, where violence is part and parcel of everyday life. You play as a gun-toting mercenary named V, who tries to make a name for himself/herself, only to fight for survival after a mission gone wrong. Aside from the main quest, there are various other activities V can look into. Night City is a Blade Runner-esque metropolis that offers tons of side quests to boost your street cred and earn some eddies.
Despite initial complaints of bugs and unfinished storylines, the game has gone through numerous fixes, with modders even pitching in. All in all, Cyberpunk 2077 is definitely an open-world game you should look into if you're into futuristic, high-tech worlds.
Subnautica
Subnautica is an open-world game that takes things to a whole new level. Set in a future where mankind has the technology to colonize other planets, you play as Ryley Robinson. Stuck on a beautiful - but treacherous - ocean planet, Ryley must find a cure for the disease ravaging the planet, all while trying to find a way home. In a survival game that takes place in the deepest depths of an uncharted sea, Ryley is confronted with new and terrifying creatures.
RELATED: Best Open-World Games Where You Can Build A House
From aggressive leviathans to adorable cuddlefishes, the game puts your resourcefulness to the test. So if you're keen on underwater survival games, Subnautica is not one to miss.
Horizon Zero Dawn
Another futuristic number in the open-world genre, Horizon Zero Dawn sees the world filled with high-tech machines in various animal forms. Set in the year 3020, mankind has been dealt a huge setback and divided into tribal factions. Playing as Nora outcast Aloy, who is on a mission to discover her origins, while saving the world from HADES' rogue machines.
Horizon Zero Dawn gives you a post-apocalyptic look into a world where nature has taken over the reins. With top-notch, immersive graphics and amazing atmospheres, slip into the shoes of Aloy and experience a world like never before.
Dying Light 2
Dying Light 2 sees you in the shoes of a new protagonist, Aiden Caldwell, whose main objective is to find and reunite with his sister Mia. Set over two decades after the events of the first game, the journey of battling Volatiles and other spooktastic monsters means the prospect of more chase sequences.
The outbreak did not stop in Harran, spreading to the rest of the world after a few greedy scientists couldn't be bothered to tell the truth. Aside from destroying hordes of zombies, Aiden has the opportunity to do a couple of lucrative side jobs and glide about a post-apocalyptic city on the brink of instability.
Dragon Age: Inquisition
The third instalment in the Dragon Age series, Dragon Age: Inquisition felt like a breath of fresh air. Set in the fantastical realm of Thedas, you have the option of roaming expansive lands in both Orlais and Ferelden, even delving deep into The Deep Roads.
With a selection of different races to choose from, set out as the determined Inquisitor, on a quest to vanquish Corypheus. From the elegant and gilded Val Royeaux to the barren wasteland of the Hissing Wastes, BioWare certainly spared no expense. Alongside the complex storylines, every character in the Inquisitor's party is very well fleshed out.
Valheim
Valheim takes the Nordic afterlife to a whole new level in this survival extravaganza. Placed in the shoes of a deceased Viking, this warrior must put in the work in order to reach Valhalla, the resting place fit for the mightiest warriors. But of course, this all won't be accomplished in the span of a day.
RELATED: Best Open World Games With Character Creation
With various biomes for you to explore, there are bosses within for you to defeat in order to obtain their powers. The game also offers other activities for you to explore, from building your own boat to navigate the Ocean Biome to attempting to finish your house. Indeed, it seems reaching Valhalla takes an entire lifetime to do.
Sherlock Holmes Chapter One
Sherlock Holmes takes both a modern twist and a blast into the past. The past games in the Sherlock Holmes franchise by Frogwares have amounted to Sherlock Holmes Chapter One, an open-world spectacle set in fictional Cordona. Sherlock is a young, budding detective, but a rising star in the detective world.
While solving the mystery of his mother's death, Sherlock takes on the trials and tribulations of the residents of Cordona. From kidnapping to outright murder, there's always a mystery at hand for Sherlock to solve.
Sea Of Thieves
Sea of Thieves brings your pirate fantasies to life in this swashbuckling adventure. Channel your inner Blackbeard or Jack Sparrow by taking the helm of your very own pirate vessel, roaming the seas, and looting other ships for treasure. With new seasons jam-packed with a boatload of new updates and additions, there's always something novel to look forward to.
Whether you're keen to raid a Sea Fort or simply would like to earn a heck of a lot of money, Sea of Thieves is definitely one of the best pirate games to ever grace our computer screens.
The Elder Scrolls Online
If you're looking for a fantasy MMORPG of vast proportions, The Elder Scrolls Online is the perfect open-world game for you to indulge in while waiting for The Elder Scrolls 6. With other regions to travel to in the sprawling lands of Tamriel, you can even go back to Skyrim and immerse yourself in the nostalgia.
RELATED: Best Open World Games Where You Can Get A Pet
From the magical island of Summerset Isle to the sweltering heat of Alik'r Desert, The Elder Scrolls Online offers an adventure like no other, with The Elder Scrolls lore explored in a more in-depth manner than ever before. Whether you choose to be a Necromancer or a Templar warrior, you're in for one hell of a fantasy ride.
Kingdom Come: Deliverance
One of the most realistic open-world games set in medieval times, Kingdom Come: Deliverance certainly delivers a largely accurate depiction. Our protagonist Henry's adventure starts after his village was torn apart by the forces of King Sigismund, sparking a fire in him for vengeance and justice.
Kingdom Come definitely does not pull its punches when it comes to realism in the medieval era. From its tricky combat mechanics to having the best mounts, Henry also finds the time to help those around him in multiple side quests.
Red Dead Redemption 2
If the Wild West is one of your favorite historical periods, then Rockstar Games has captured its essence in its Red Dead Redemption series. Red Dead Redemption 2 follows the steps of our protagonist Arthur Morgan and the dying days of the Van der Linde gang in the years before the original game.
While battling the vicious factions that threaten the lives of Arthur and his loved ones, Red Dead Redemption 2 truly captures the 'kill or be killed' atmosphere of the Wild West. From hunting down deadly creatures to taking part in shootouts, the aspect of mortality is embedded into the very soul of Wild West America.
Grand Theft Auto 5
The danger-ridden saga of Grand Theft Auto 5's riveting trio is sure to never result in boredom. Set in the open-world area of Los Santos, San Andreas, and Blaine County, the prospect of exploration is both vast and unending. Following the stories of Michael, Trevor, and Franklin, who are besieged at all sides by government or criminal factions that intend to use and eliminate them.
RELATED: Best Open World Games With Turn-Based Combat
The main story aside, the city itself allows for an immersive, everyday experience. When you're not organizing a heist or being shot at, mundane activities such as getting a haircut or purchasing property makes it so much more realistic and relatable. Even criminals need some downtime, after all.
Elden Ring
FromSoftware has returned to the fore with its launch of Elden Ring, and it's the start of a fantasy series that's bigger and better than any before. As the lowly Tarnished roams The Lands Between with the goal of ascending to Elden Lord, many stand in their way of ultimate glory.
From the Hogwarts-esque magical region of Liurnia to the starry underground metropolis of Nokron, Eternal City, the Tarnished has a long journey ahead of them. But with the perks of powerful Ashes of War and an array of legendary Spirit Ashes, all Shardbearers shall fall to the might of the lowly Tarnished.